National Covid-19 update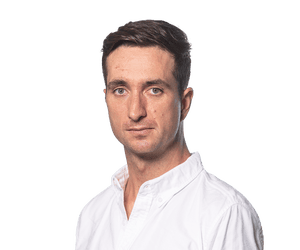 Nino Bucci
Here are the latest coronavirus case numbers from around Australia on Saturday, as the country records 46 deaths from Covid-19
ACT
Deaths: 1
Cases: 859
In hospital: 89 (with 3 people in ICU)
NSW
Deaths: 14
Cases: 9,632
In hospital: 1,187 (with 41 people in ICU)
Northern Territory
Deaths: 0
Cases: 224
In hospital: 19 (with 2 people in ICU)
Queensland
Deaths: 4
Cases: 6,221
In hospital: 420 (with 12 people in ICU)
South Australia
Deaths: 5
Cases: 3,171
In hospital: 211 (with 11 people in ICU)
Tasmania
Deaths: 0
Cases: 962
In hospital: 50 (with 1 person in ICU)
Victoria
Deaths: 21
Cases: 11,925
In hospital: 552 (with 25 people in ICU)
Western Australia

Deaths: 1
Cases: 14,245
In hospital: 301 (with 12 people in ICU)
Well, this is lovely.
We asked Guardian readers yesterday who they thought would win today's election. In this (very unscientific) poll of 813 readers, 66% thought Labor would win a majority, 26.1% pointed to a hung parliament and just 5.6% believed it would end in a Coalition majority.
Respondents thought Labor would end up with 76 seats (just enough to form government), while the Coalition would end up with 66 seats, leaving the crossbench with nine.
We also polled readers on a number of key seats. They overwhelming believed Labor would win in Brisbane, Braddon, Boothby, Reid, Swan, Chisholm and Gilmore, and independents would triumph in Goldstein, Wentworth and Kooyong.
It's only a few hours now until we find out how accurate their predictions are.
Snags abound, this time round.
Young Australian Desiree tried to talk to Scott Morrison about climate change this morning as he cast his vote at Lilli Pilli public school, in the electorate of Cook.
In news that will shock no one, he didn't stop to chat.
Meanwhile, Australians who were admitted to hospital unexpectedly in the lead-up to the election have found themselves struggling to cast a ballot.
The Australian Electoral Commission announced before the campaign that it would not be sending mobile teams into hospitals to take votes in the lead-up to polling day, in an attempt to balance voting access with the risk of spreading Covid in vulnerable settings.
Those on long-term hospital stays were told to either vote early or use postal voting.
But the change has caught out Australians who went to hospital unexpectedly in recent days, who had not pre-polled or postal voted, and have no access to telephone voting, a service only available to Covid positive cases.
Dr Katy Barnett, a legal academic in Melbourne, was hospitalised unexpectedly on Thursday with a lung infection unrelated to Covid. When she realised she would be in hospital on polling day, she reached out to the AEC to ask whether she could use the phone voting service.
They told her she could not.
The nurses at her hospital initially believed that mobile polling teams – which typically visit health facilities in the lead-up to polling day – would be arriving as usual. They later learned the AEC had aborted the practice for the 2022 election.
Barnett said she and other patients were "caught unawares".
I am surprised by how distraught I am at the thought of being unable to vote. I have never missed a vote before – even when I lived in England."
You can read the full story here:
Thank you Nino, and happy democracy day to you and everyone following along.
I'm going to begin by drawing your attention back to this remarkable, last-minute attempt to politicise humans seeking asylum.
Interestingly, Saturday Paper journalist Karen Middleton reports that she received a message last month from a Sri Lankan-Australian man alleging two boats had left Sri Lanka for Australia. The passengers had been loaded under the watch of police and that they were due to arrive just before 21 May as "an election stunt".
Middleton says she has been unable to verify the allegation. The Guardian has also not verified the report.
That's it from me, thanks for reading. Christopher Knaus, a true afficionado of election day smallgoods if ever there was one, will take you through the afternoon.
Anthony Albanese has said he wants to "change politics … to change the way it operates" in Australia, as he gave his last press conference of this election campaign.
"I lead a team that will give Australia a government which Australians will be proud of. My big concern with this government is, what's there to be proud of?" he told journalists and supporters outside Marrickville town hall, where he cast his vote – obviously for himself, in the seat of Grayndler.
Joined by son Nathan and partner Jodie, the Labor leader called it an "incredible privilege" to run the campaign he had, saying he "loved" the last six weeks (and three years as opposition leader).
Standing in the forecourt of the town hall, with numerous cars along busy Marrickville Road beeping and yelling support for their local member, Albanese said he aimed to stay "grounded" if he won.
Asked by Guardian Australia how he would act as PM while also being the member for Grayndler, he said he'd still try to catch Newtown Jets rugby league games at the local Henson Park whenever he could, and looked forward to rejoining his local tennis competition.
"I'm hoping to get a couple of games in over the next over the next little while," he laughed.
"My heart is here. I grew up, I've lived in this area, the inner west, my whole life."
In the back of the press conference, several Albanese advisors hugged and smiled, appearing drained after a gruelling campaign. Albanese said he wasn't being presumptuous about tonight's outcome, but appeared confident.
"I believe we have the wind at our back, and I'm very positive about and hopeful about a good outcome," he said.
I guess we'll find out tonight if people smugglers are as good at political predictions as the defence minister thinks they are.
Anthony Albanese's final press conference of the campaign
Anthony Albanese has spoken to the media for the last time this campaign, after casting his ballot in Grayndler.
Reporter: A lot of Australian voters won't vote for you today. If you win tonight, you'll still be their prime minister. What's your message for people who haven't supported Labor?
Albanese:
My message is I want to represent all Australians. I want to unite the country. There's been a lot of division in recent times. It's one of my criticisms of the current government is that Scott Morrison looks for division and difference rather than unity and common purpose. I want to bring people together and regardless of how people vote in our great democracy, it's good that people express their views at the ballot box. Once it's done, then we need to unite and move forward as a nation. I believe that we can.
Reporter: Mr Albanese, if you win tonight, will Toto live at the Lodge or Kirribilli House?
Albanese:
We're not getting ahead of ourselves. One thing that can be certain is that Toto is a very loyal dog, I think as you have seen here and just the absence of a few minutes means you get a great greeting and it's very uplifting.
Reporter: Anthony, Mr Albanese, tonight you could be just the fourth Labor leader in about 80 years to win government from opposition. How much is that weighing on your mind, the sense of history tonight?
Albanese:
I feel a great sense of responsibility. I remember as a young boy, when Gough Whitlam won in 72. I just remember my mum telling me that, you know, our team had won. It was a bit like the 71 grand final when our other team won against St George when Souths won. I grew up with a passion for Labor. My mum was a rank-and-file member. Never held a position. I have her life membership certificate in my office. And my grandfather was president of Camperdown of the Labor party. I was raised with three great faiths and Labor was one of them and I've held to it my whole life. I believe that Labor governments make a positive difference in people's lives.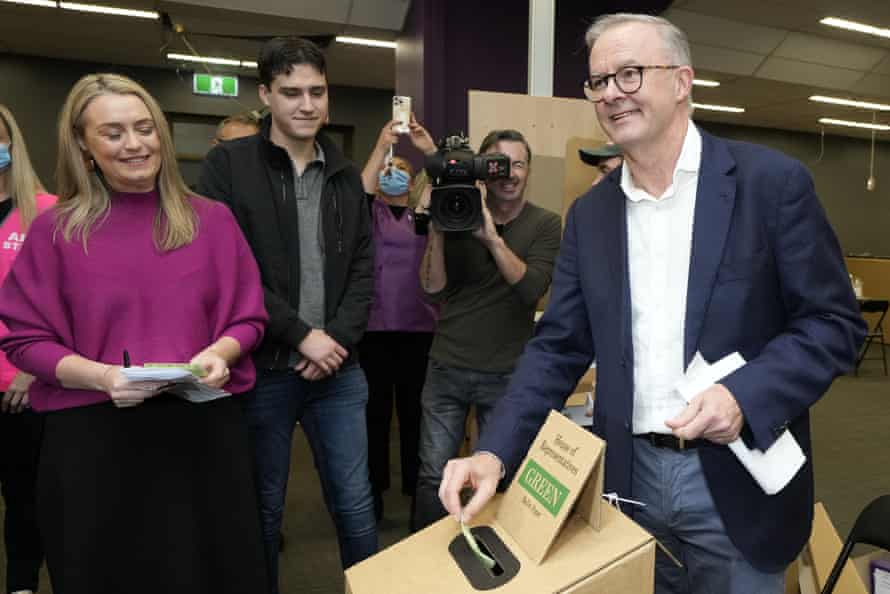 Reporter: Six weeks. It's been a long campaign. How would you assess your campaign just hours from polls closing?
Albanese:
Well, people will assess it when they cast their votes but we've been positive. We put forward a plan for a better future. I still have not seen a poster of Scott Morrison on any polling booth put up by the Liberal party and I've been to six states and a territory in the last week.
Reporter: Have you received a message of support from Mr Shorten at all who has been in a similar position?
Albanese:
Yeah, I spoke to Bill this morning on the way to the MCG where I did breakfast TV. Bill knows what it's like to be opposition leader on election day and Bill rang me to wish me well and we had a good chat. He's played an important role in the campaign.
Reporter: You spoke about the weight of responsibility. You're here with your partner, Jody, your son, Nathan, your dog, Toto. How did you sleep last night?
I slept quite well I've got to say. Yesterday we began in New South Wales. We began in Marrickville. We went to Adelaide. We went to Launceston. We went to Melbourne. We did the last event – I think we finished with you guys about 8.00 or thereabouts. I did the 7.30 report. I did Raf Epstein down there in Melbourne.

What I wanted to know in myself was that I hadn't left anything on the field and I've done that. I've done my best for the cause of Labor I'm passionate about. I feel a sense of responsibility. I think Australians want a change of government and when you have a prime minister who a week ago said vote for him and he'll be someone different, vote for him and he'll change. Well, the way that you change the country is to change the government.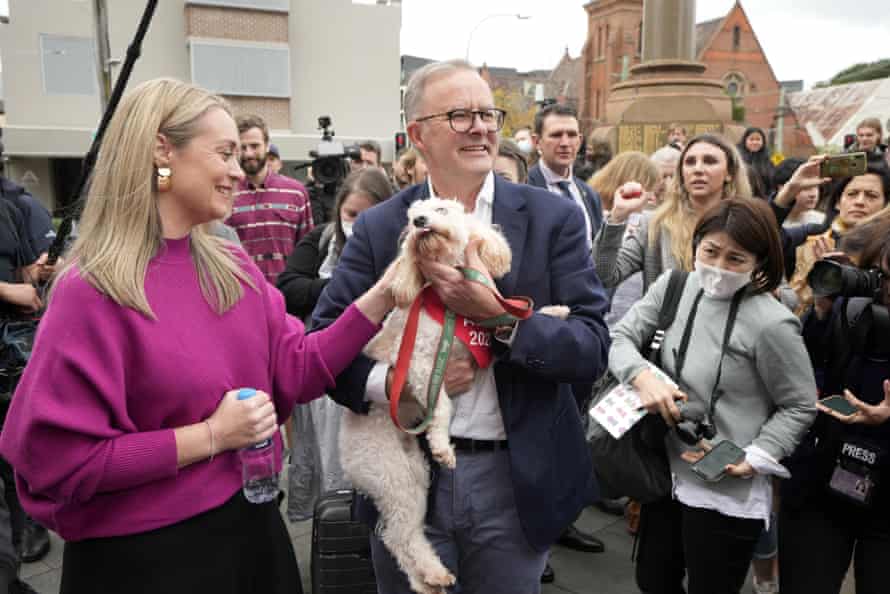 Reporter: Over the last three years, you've been through the arduous task of streamlining Labor's platform, bringing the party to the centre, injecting a dose of pragmatism into the agenda. That was controversial in some quarters but now that Labor is standing or you're standing here in a … competitive position, do you feel like the strategy has been vindicated?
Albanese:
I said on the day that I became leader that I wanted to head in a different direction. I wanted to talk about the creation of wealth not just its distribution. That I wanted to reach out to the business community as well as to the union movement. I've done that. I've put us in a position where at worst we're competitive today. We're in the hunt here. I must say there were some commentators wrote us off at various times over the last three years. I have done exactly what I said I would do when I went to the National Press Club in 2019 and outlined a fourth quarter strategy, if you like, to use the AFL strategy. I said in the fourth quarter I wanted to kick with the wind at my back. I believe we have the wind at our back and I'm positive and hopeful about a good outcome tonight.
Reporter: One on Grayndler. You talk about the support you've gotten in Grayndler.
Without being presumptuous, what sort of local member will you be if you become become prime minister tomorrow? Will we see you at Jets games at Henson Park?
Albanese:
I'll always make the Jets games at Henson Park when I can. The Sydney-badge district tennis comp started six weeks ago … it plays around the corner there in Livingstone Road. I haven't yet made it to the court. I'm hoping to get a couple of games in over the next little while. My heart is here. I've lived in this area, the inner west, my whole life. The great thing about this area, as you can see with people voting here today, is it's a mix of Australia. It reflects it. People from outside sometimes don't understand it. It is multicultural. It has a mix of professionals and quite wealthy people, who are doing well, but it also has more boarding house residents than any electorate in Australia. It has more artists than any electorate in Australia. It has people who are doing it really tough and people also who have done OK, and what I want to do is to continue to represent them. I don't take it for granted. That's why I'm here in Marrickville at Marrickville Town Hall right now. It's an electorate I love. They're generous people. They're demanding, as they should be, of their local member.
Reporter: [I missed the start of this, but I believe it was a question about Liberal-held marginal seats]. Is that a show of confidence that you can flip those? And if you do, what is it about your policy platform that you think will resonate in those suburban and regional states like Tasmania, for example, that hasn't in terms of what Morrison is offering?
Albanese:
I think we have a plan for the future. This government have scare campaigns over and over again. They can go through my university essays to try and find things they want to run on. People don't care about that nonsense. They want someone who's fair dinkum, someone who will fess up if they make a mistake, someone who will try to make things better. This guy won't even concede. He thinks it's controversial that a Labor leader says that people on minimum wages should get an extra dollar an hour rather than a real wage cut. To me, of course that's what I would do. That's who I am.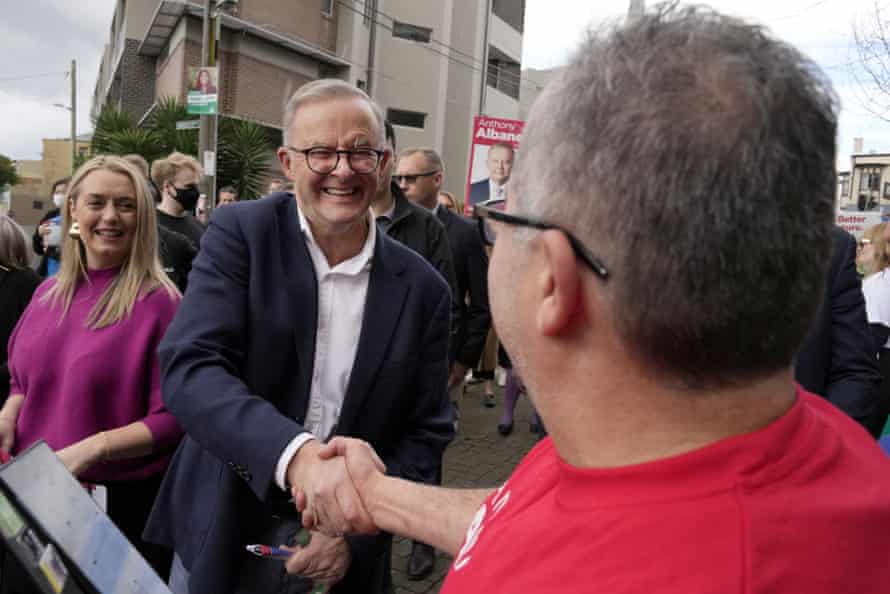 Reporter: I know you don't want to get ahead of yourself, but have you fantasised about Scott Morrison calling you to concede?
Albanese:
No, I haven't got ahead of myself. I'm making sure that I keep grounded. When you come from where I've come from, one of the advantages you have is that you don't get ahead of yourself. Everything in life is a bonus. Some people have said to me, a couple of people – and I'll say on the record now what I've said privately. You know, it's a tough campaign, have you found it difficult? I've loved it. This is an incredible privilege and an honour to lead the Australian Labor party, a party that I love, a party that I have committed my life to and we'll see how we go tonight, whether I lead Labor into government. I know that I have given my best, I know I've left nothing on the field, I know I lead a team that will give Australia a government of which Australians will be proud.

My big concern with this government is what is there to be proud of? You know, the sort of nonsense that we've seen of playing wedge politics against vulnerable people that Scott Morrison's been prepared to do during this campaign and the other wedge politics throughout this. We're a better country than that. I want to change politics. Be very clear. I want to change politics. I want to change the way it operates. I want parliament to function properly. I want democracy to function properly. That's why I'm in this. I'm in it to change the country and that's what I'm here to do. Thanks very much.
Scott Morrison's final press conference of the campaign
After casting his vote in Cook, Scott Morrison gave his final press conference for the campaign.
He said of his electorate, in Sydney's south:
I love this community. This community has given me so many opportunities and our family so many opportunities and I'm grateful to my local electorate here in Cook in the Sutherland shire. People here work very hard. So many small business people here.

People building families, building homes, supporting each other as this community always has. It's got one of the highest rates of volunteerism anywhere in the country.

Strong values and it's such an honour to be able to represent the local electorate of Cook.

It has been an incredible honour to do that and I look forward to continuing to do it after today especially as we've gone to the polls.

At the end of the day, no one gets to serve in the positions that I've had the great privilege and seek to continue to have, as prime minister or minister or treasurer, unless you are first supported by your local community.

And this community has informed my values significantly – those values of fair go if you have a go, values of working hard, values of family and community has informed so much of my outlook on the future that I seek for Australia.

So today Australians are making a big choice about their future. They're making a choice about who they believe is best able to manage the economy, who is best able to manage finances, who is best able to secure that strong economy that's so critical for a stronger future.

I want aspirations of Australians to be realised and the way that occurs is by backing Australians in, not telling them how to live and what to do and getting government in their face. It's ensuring you're backing them in to achieve everything they hope to achieve.

It's a great honour to be here in my very, very local community here in Lilli Pilli and to see so many friends, some I haven't seen for a little while –and not just six weeks but a bit longer than that. I want to thank the community here for their tremendous support.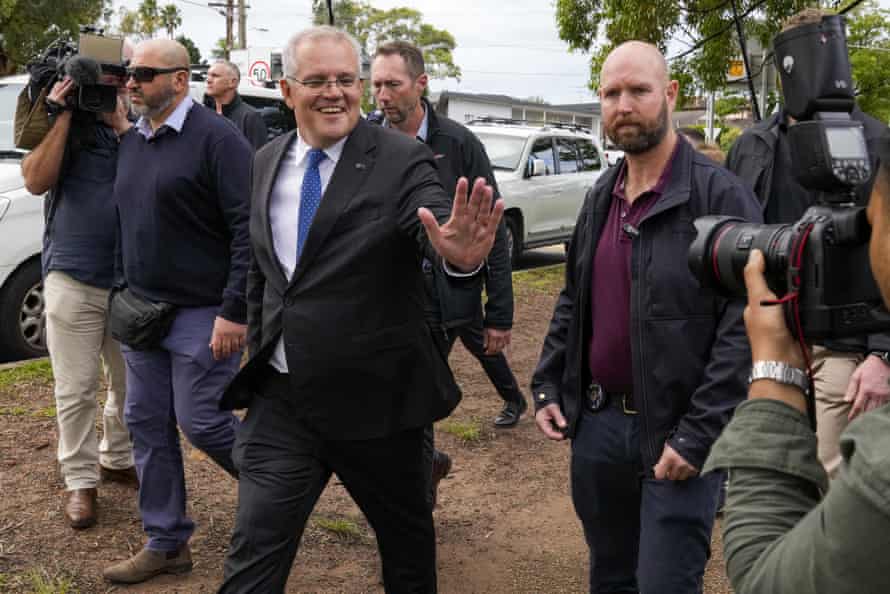 Morrison was asked: "Prime minister, you've cast your vote now, campaigning is finished, you're heading home this afternoon. How are you feeling about your position right now?" He responded:
Well, this election has never been about me or my feelings or anything like that. It's always been about the Australian people. That's what our government is all about and will continue to be about.

Because I've seen Australians, with Jenny, at their best and in some of the worst of times for them. And on every occasion I have seen the great strength and resilience of Australians, and that's what pulled through. Supported by a government that believes in Australians, that's enabled Australia to be one of the strongest-performing economies in the advanced world today. That's why we have one of the lowest death rates from Covid today and the highest vaccination rates and why we can look to the future with confidence.

I look forward to supporting people in their aspirations, particularly to own their own home. There are many hours of voting to go. If you want to own your own home by getting access to your superannuation, there's only one way to do that and that's voting Liberal National today.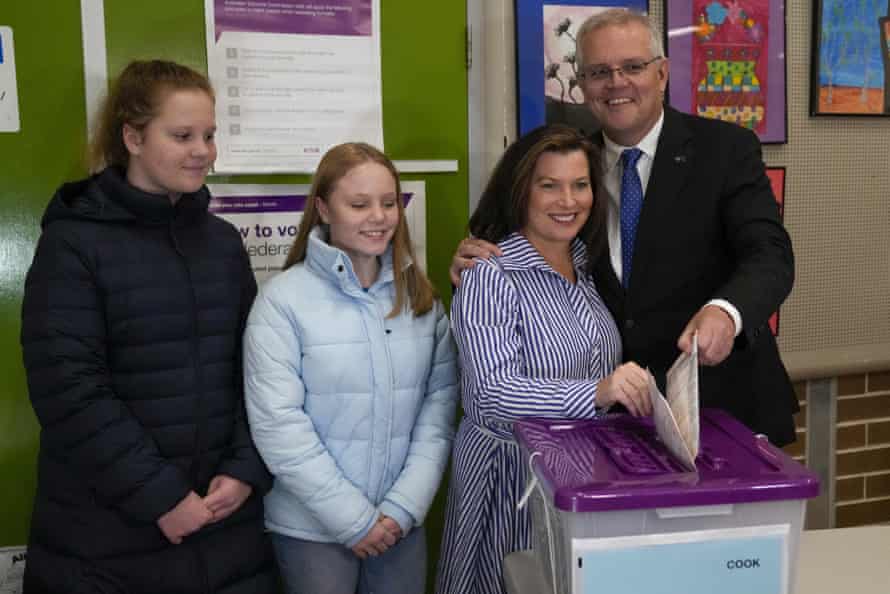 Reporter: "A vessel has been intercepted in an attempt to illegally enter Australia from Sri Lanka. What's your response to that?"
Morrison:
I can confirm that there's been an interception of a vessel en route to Australia. That vessel has been intercepted in accordance with the policies of government and they're following those normal protocols and I can simply say this.

I've been here to stop this boat but in order for me to be there to stop those that may come from here, you need to vote Liberal and Nationals today. In the interests of full transparency in the middle of an election campaign, the Labor Party was advised of this and a statement has been issued by the border protection authorities.
Reporter: "If you lose tonight, your critics will remember your prime ministership for your handling of Black Saturday, the handling of the start of the vaccine rollout, the handling of the Britney Higgins allegations, sports rorts, carpark rorts, Alan Tudge, Christian Porter. If you lose, how do you want your prime ministership to be remembered?
Morrison:
That will be for others to determine. What I know is each and every day I have approached this job with a great sense of responsibility. On every day I've sought to do it with a great sense of humility out of respect for the Australian people who I serve and that's the same spirit I continue to seek to do that job and I've put myself forward for again today.

I'm the first prime minister in a long time that's been able to go through a term and face the people on a second time and I'm seeking that support because I know this country is facing strong and difficult and challenging times and Australia needs someone who knows how to manage money, knows how to deal with national security interests, knows how to move forward and secure that strong economy because a strong economy means a stronger future. The alternative is a weaker economy. The alternative is, as Labor themselves have confirmed, higher debt and deficit that only puts upward pressure on interest rates and inflation.

We've had the opportunity for many press conferences over the course of this election, and right now I'm going to go home and spend some time with my family. Thanks very much everyone.
Perhaps this is part of the shift from bulldozing?