36th over: New Zealand 107-9 (de Grandhomme 28, Boult 3) On his England debut, Matty Potts is having a potty match. For a minute there he had four for eight – now it's four for 13. And two catches! No wonder the Mound Stand is rising to him.
WICKET! Patel lbw b Potts 7 (NZ 102-9)
Thanks Jim… Potts starts his second spell – and strikes with his first ball! Angled in, thumping the back pad, hitting the top of leg. And Andrew Lloyd Webber's Cinderella has just reopened in the West End.
That's me done, thanks for your company. The esteemed Tim de Lisle is here to take you through the rest of the day. Bye!
35th over: New Zealand 102-8 (de Grandhomme 26, Patel 7) Big Colin flicks Anderson over mid-wicket for four to bring up the hundred for New Zealand. No dice for Jimmy.
34th over: New Zealand 95-8 (de Grandhomme 20, Patel 6) Four singles off Broad, New Zealand inching towards three figures. Anderson to continue in his hunt for a 32nd Test five-wicket haul.
33rd over: New Zealand 91-8 (de Grandhomme 18, Patel 4) Anderson comes within a gnat's eyebrow of getting five wickets! He pins Patel with one that jags back and Umpire Rod Tucker raises his finger. Patel sends it upstairs and there's a tiny, teeny-tiny edge on hot spot. NOT OUT. Hard lines, Jim.

32nd over: New Zealand 90-8 (de Grandhomme 17, Patel 4) Ajaz Patel is straight down to brass tacks, leaning on a drive that squirts to the cover boundary. Anderson to continue, he needs one more to snare a five-fer.
WICKET! Southee c Potts b Anderson 26 (New Zealand 86-8)
Southee clobbers Anderson through mid-on but the next ball the gnarled seamer has his man, a top edge flying to Potts who takes another steepling catch on the fence. Useful cameo from Southee, Anderson sitting pretty on four wickets…
31st over: New Zealand 86-8 (de Grandhomme 17, Patel 0)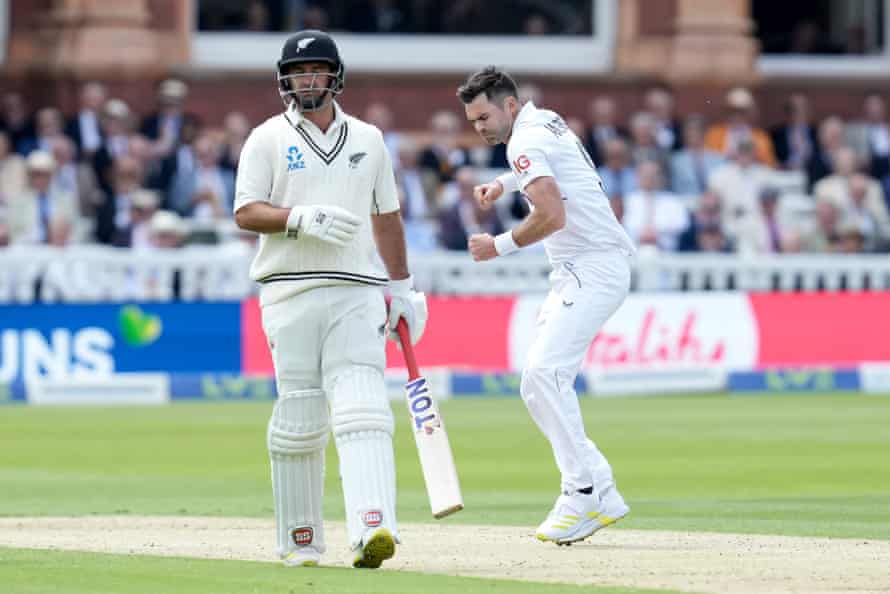 30th over: New Zealand 78-7 (de Grandhomme 17, Southee 18) Just a single to Southee off Broad.
29th over: New Zealand 77-7 (de Grandhomme 17, Southee 17) Two welcome boundaries for the Kiwis as Southee guides one away over a leaping Ollie Pope at backward-point. England will want to close this out now, these two batters are dangerous and they've been bitten before by lower order cameos… Shardul Thakur at the Oval and Shami and Bumrah at Lord's last summer spring to mind.
Latest on Leach:
28th over: New Zealand 68-7 (de Grandhomme 16, Southee 8) Southee plays a dismissive pull off Broad, the ball skimming pebble-like to the fence. Can New Zealand eke their way to three figures? Southee will certainly have a swing.
This would be fun, James Walsh:
27th over: New Zealand 61-7 (de Grandhomme 16, Southee 3) De Grandhomme splices Anderson away in the air but it lands safe and three more are added.
26th over: New Zealand 56-7 (de Grandhomme 13, Southee 1) The shots keep coming, New Zealand have defintiely decided that attack is the best form of defence. CdeG crunches a short ball from Broad to the boundary. Fifty up for the visitors… but for those seven pesky wickets.
WICKET! Jamieson c Potts b Anderson 6 (New Zealand 45-7)
Anderson has his third, Jamieson not hanging around after lunch, playing a shot a ball to Jimmy, managing to hoick him away for one boundary before holing out to Potts on the fine-leg fence.
Hmm maybe New Zealand have decided to throw the bat and get as many runs as possible, quickly. Their best hope of staying in this Test match is to get the ball in hand and do the exact same to England? Madness? Maybe.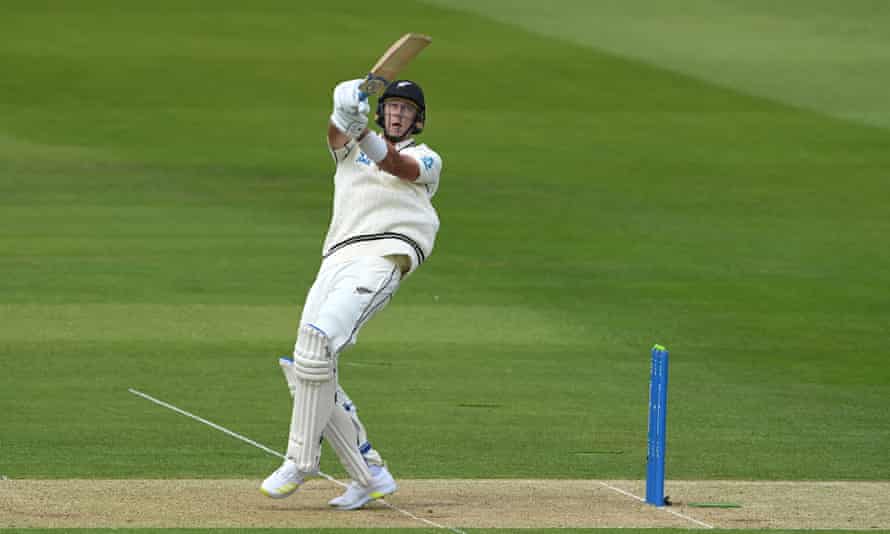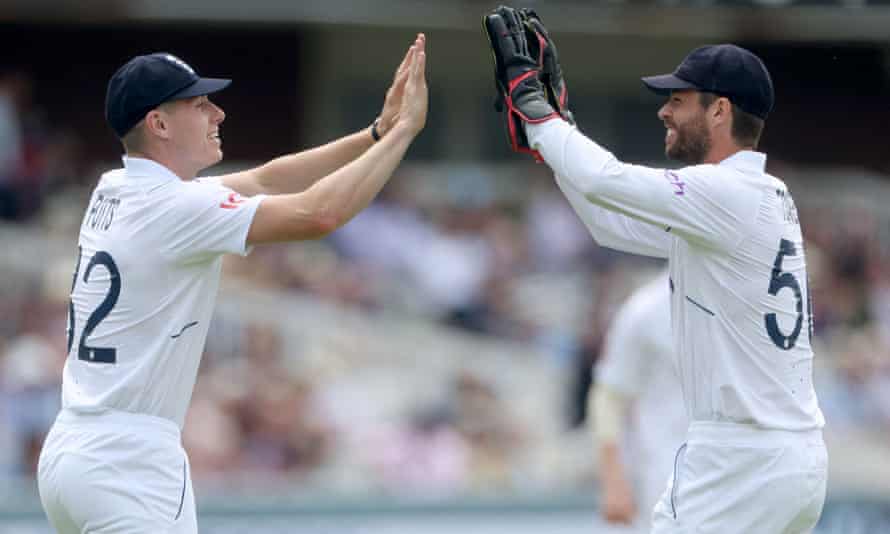 25th over: New Zealand 49-7 (de Grandhomme 7, Southee 0)
The players head out after lunch. Sun beating down. Anderson has the ball in his mitts.
Enjoy this:
A breathless first morning of the Test match summer, thanks for the emails and tweets, I've barely had chance to have a gander with all the action on the field but I'm flicking through now.
Time for a breather and some delectable Lord's nourishment. Here's some lunchtime reading, a lovely tribute to Jim Parks, a bellwether for wicketkeeper-batsmen.
Back in two shakes of a Kiwi's tail-feather.
LUNCH – New Zealand 39-6 (de Grandhomme 3, Jamieson 0)
Potts nearly has another in the final over before lunch. Another nagging delivery, full and on off stump and the ball thuds into de Grandhomme's bungalow sized pads. Umpire Gough says no but the England players like it and go upstairs. Ahh there's an inside edge. NOT OUT. Potts finishes with a short ball that rears up and CdeG does well to keep it down, the young bowler heading into lunch in fine style.
Brendon McCullum stands on the Lord's balcony to applaud his men in. Easy this Test copaching cricket lark eh? A scintillating morning for Potts and England.
Lord's stops to remember Shane Warne
A special and poignant moment as Lord's stops to remember Shane Warne at the end of the 23rd over, The players and umpires stand in a line and applaud for 23 seconds, Warne's shirt number. The big man would have liked that I reckon.
WICKET! Blundell b Potts 14 (New Zealand 36-6)
Potts has three! Full and at the top of off stump… and Blundell shoulders arms only to see the ball thunk into his off peg. Good ball, poor judgement from the batter. This is dreamland for Potts and England.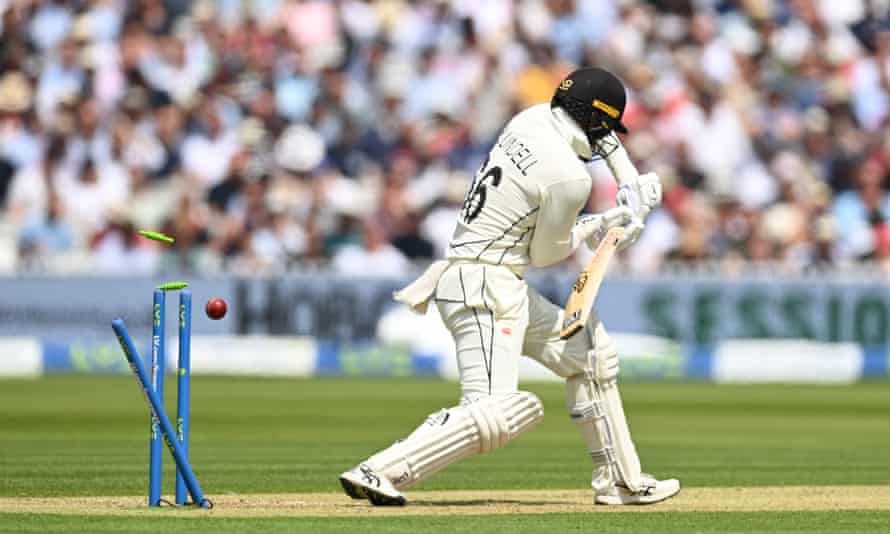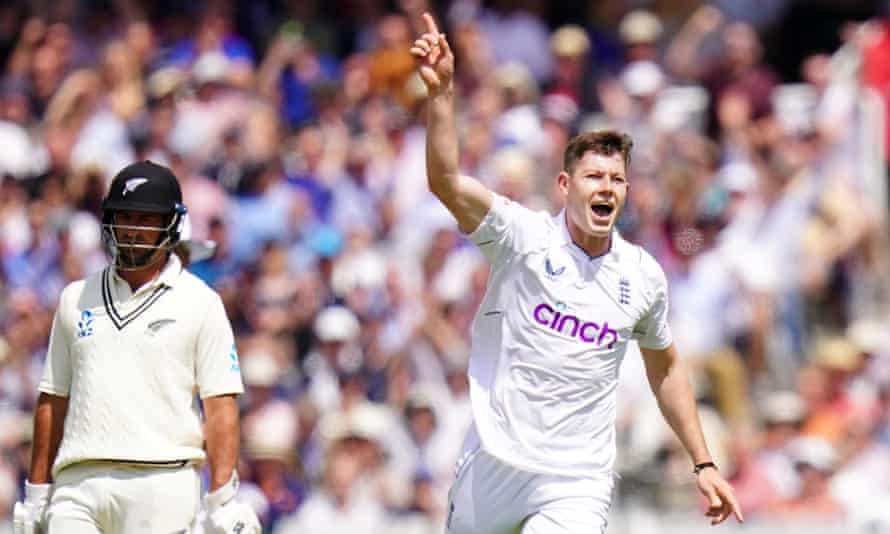 22nd over: New Zealand 36-6 (de Grandhomme 0, Jamieson 0)
Matt Parkinson will replace Jack Leach as concussion substitute
He will join the squad today and go straight into the XI. He's hotfooting down to London from Manchester as we speak. Imagine what he's feeling right now?!
21st over: New Zealand 36-5 (Blundell 14, de Grandhomme 0) Anderson back into the attack and yes, you guessed it, a maiden.
20th over: New Zealand 36-5 (Blundell 14, de Grandhomme 0) Potts sends down an eventful maiden – he traps Blundell on the back leg and the umpire has a think before raising the finger…bbbut Blundell makes the T-sign straight away suggesting he's got a tickle on it. Yep – NOT OUT. Another fine over from the debutant.
19th over: New Zealand 36-5 ( Blundell 14, de Grandhomme 0) Colin the big man is the new batter with New Zealand in all sorts. He's at the non-strikers end to watch Blundell cream two drive fours off Stuart Broad.
Here's that TMS overseas link.
Thanks to Grace Pickering!
WICKET! Mitchell b Potts 13 (New Zealand 27-5)
Potts has two! Back of a length, banged into the pitch and Mitchell chops on! Potts leaps high into the air to celebrate. What a first spell he's having here.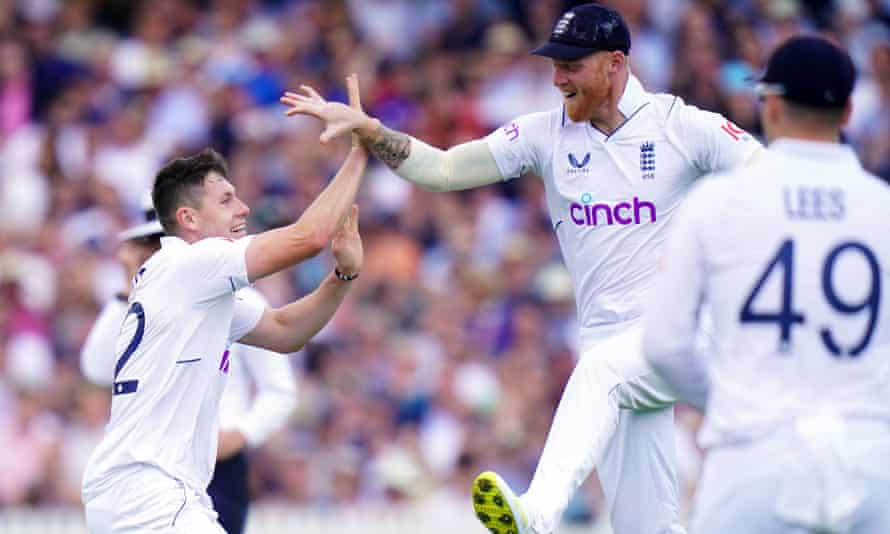 18th over: New Zealand 27-5 ( Blundell 5, de Grandhomme 0)
17th over: New Zealand 22-4 ( Mitchell 9, Blundell 5) Poor Leach, he can't seem to catch a break.
A dramatic morning at Lord's. Penny for the thoughts of Matt Parkinson… and Moeen Ali OBE.