Allow me to correct myself: I forgot what Lake Superior taught me yesterday.
Oh dear. There's a wet patch and puddle on the square, the covers still on are loaded with the wet stuff, and the forecast for tomorrow isn't great. I'm sorry, I'm a real hoot.
Elsewhere, Daniel Bell-Drummond has been talked about as a Test batter for quite some time now. I doubt Crawley misses out against India, but another poor match may force a decision to be taken, especially if he bats as skittishly as in the second innings at Headingley.
I just cannot watch Jonny Bairstow smash it about enough times. He's just got out at Trent Bridge, but I won't hold it against him given he's such an obviously top bloke, and I'm so glad he's finally found his Test-match groove.
I mentioned this yesterday, but it bears repeating today: yesterday, Eton played Harrow at Lord's, and north London has been dry all day save for some rain around 10am. This match is at Taunton.
I cannot get enough of these.
Oh just look at this!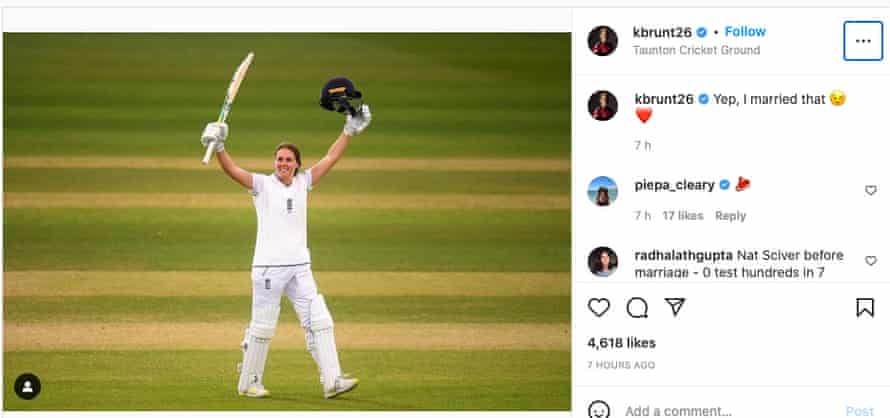 Daniel returns: "It's pretty bright now. We can see the hills again."
Sessions tomorrow: 11-1:30; 14:10 – 16:10; 16:30 until a minimum of 92 overs have been completed
"Still not looking good," laments our Daniel Gallan, who's at the ground. "7pm is the scheduled close. If possible we'll take the extra 30 minutes." There'll be a pitch inspection at 5.50pm.
It's brightened up in the last few minutes, report Cricinfo, but there's still no word as to what's going to happen next.
Those of us with Sky are watching England's chase at Trent Bridge; there's been no news about the 5.10pm inspection, which doesn't fill me with hope. My guess is that any more rain closes play, but we might get back for a bit if there's no more.
"Tell the ICC idiots that people support women's tests and make them five-day pretty please!" asks David Keech, perhaps overestimating my imaginary rolodex. "Four-day format cannot survive a massive rain-restricted day like today. Also if this were five-day, Sciver gets the chance to reach 200 and England to bat SA out of the game. Four days forced the early declaration and spoilt the match. Now, after all this rain, SA only have to bat sensibly and the match will peter out to a bore draw."
I can't argue with most of this.
More reading for you…
Meanwhile…
Follow the county stuff here:
News! Sky report that there'll be a pitch inspection at 5.10pm, so it mustn't be raining. We might yet get an hour or two.
I can see an umbrella up, though if it's raining, it's not doing so heavily because I can't see much water action on the covers.
"I'm content." I'll bet!
But now we look up, and the sky looks like it despises cricket.
Aha, the umpires are on their way out with brollies furled. Let's hope they like what they see.
Ach, it's not raining but no one is doing anything to get us back on the field because the clouds are, apparently, closing in.
Here's a weather update from

Francis Wilson
our man at Taunton, Daniel Gallan.
We can see the Quantock Hills in the distance and that means things have cleared enough for a chance of play later. But we're running out of time. It's not raining now but the ground is very wet. Super Sopper doing its thing."
I also loved this from Brendon McCullum, because he doesn't start with the rhapsodising, he starts with the hard-nosed reality of elite sport and elite sportsfolk.
Time stands still for no man. The impact he has had on English cricket and world cricket has obviously been significant. The players he has brought through – some of the most exciting players, superstars of the modern game – they might have got there anyway, but I think he got them there quicker. He's a tremendous leader, a fine human being, and I am looking forward to catching up with him, sharing a couple of reds and celebrating what's been a remarkable career."
Eoin Morgan, though. I love everything he's done, and also how he's gone out. What lines these are!
"I remember going to bed having written notes about various different things – team-oriented towards the World Cup, how to get there, what we're doing, normal run-of-the-mill stuff that I do. And I slept well," he said.

"I woke up the next morning with just a completely different feeling, one that I've never had before. And it's hard to describe unless you go through it. I've done a lot of research over the last three years, talking to a lot of different players about it. The most common theme is: it's a feeling. When you know, you know. And I always thought they were full of shit. But on the Monday, that's how it felt."
Cricinfo report that it's no longer raining and is generally brighter, but more rain looks likely. The question, I guess, is whether we can get cleaned up and on again before it arrives.
Other news:
On Sky just a few minutes ago, Charlie Dagnall was gently criticising South Africa for playing too defensively this morning, allowing Sophie Ecclestone to settle at the crease. He's right, and in similar vein, I felt like this match slipped away from the tourists last evening when, waiting to attack with the new ball, they allowed Sciver and ADR to settle against the old after tea. By the time their best bowlers were charging in, they were miles behind the game and were faced by two quality batters, set.
Aha! The rain is much lighter now, but there might be more behind it. There's no movement from the groundstaff.
It's properly hosing it down now. Godspeed, mates.
Grim news:
Oh dear: "It's raining really heavily at the moment … it's looking ominous," we learn from Sky, then hear the dreaded words "set in". But given the need to clean up once the rain stops, I'd say play isn't proximate at best, and at worst we're done for the day. If you're asking me to guess, I'm leaning towards the latter I'm afraid.
And here's our report on a fascinating day in Galle.
Did you see this from earlier? If not, do.
And tennis…
However, we do still have cricket lovely cricket for you…
Aaaargghhh, it's raining pretty hard now, so they're covering the outfield as well as the square. I'm concerned, I don't mind telling youse.
But the umpires and some of the players stay out there.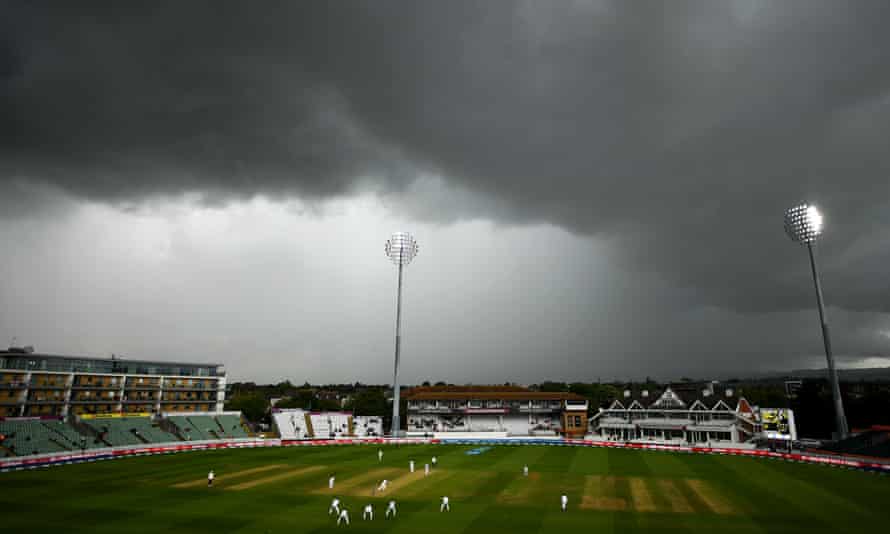 13th over: South Africa 27-1 (Wolvaardt 12, Goodall 12) The umpires confer again, agree to stick with it again, and did I see a little bit of lighter sky? The Quantocks are shrouded in weather as Bell charges in again, inducing Wolvaardt to inside-edge low, and that I'm afraid, is all we're getting for the next bit – it's not raining heavily but it is raining properly, so off go the teams.