Dellien has beaten Thiem 2,3, and 4; he was really solid today, more than earning the right to meet Borges or Khachanov next. Thiem, meanwhile, needs to play matches – his best shots are there, but the consistency is miles away.
Linette whams a backhand into the top of the net, and Jabeur has her break-back! she's found something when she needed it most – that's the new Ons I was talking about earlier! She now trails 3-4 in the decider while, on Lenglen, Stephens leads Niemeier 3-0 in the decider and it's raining pretty heavily.
Linette misses two forehands in a row, but at 30-40, hangs in there, skids into a drop, and puts away the overhead; that is excellent behaviour, but at advantage, Jabeur takes a backhand return early, hauling it cross-court, then finds a drop set up by a whipped forehand, that saves the next game point. Increasingly, it feels like the match is here…
Niemeier is struggling with injury here – her left thigh is heavily strapped, and she's even struggling to walk properly. It's 1-0 Stephens, on serve, in the decider.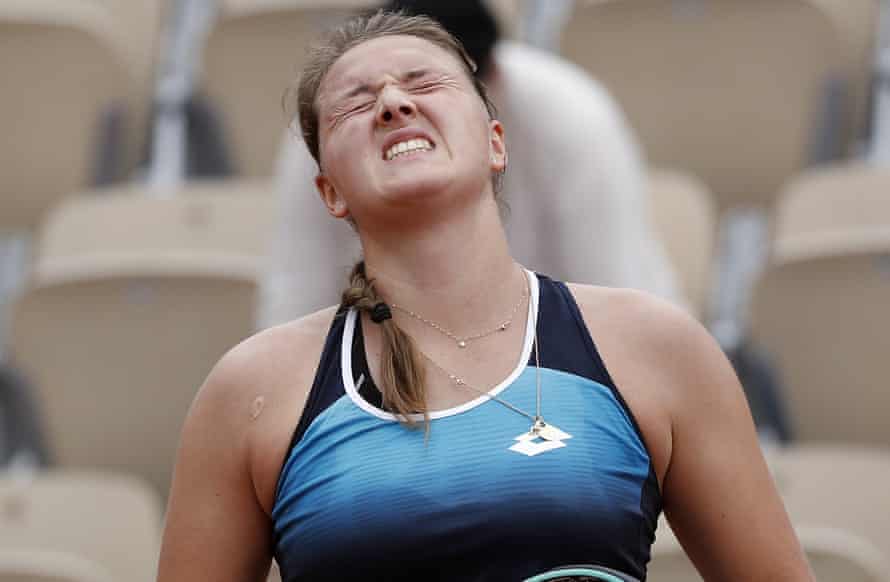 Linette breaks Jabeur and now leads 4-2 in the decider! She's been superb today, especially in this set and especially given she's injured, while Ons looks extremely displeased with life.
Stephens wins set two 6-4, then Niemeier takes a medical timeout before the decider. There is, though drizzle in the air, so let's hope that clears.
Jabeur goes long on the backhand to give Linette, leading 2-1 in the decider, a sniff at 30-all. But jabeur quickly closes out, and this is getting tense.
Stephens now leads Niemeier 5-4 in set two, having lost the first. I might move to start watching that, as this team match looks extremely over.
Back on Mathieu, Thiem is showing no signs, though he's just saved a break point. Thing is, he can hit winners here and there but the consistency is totally lacking, and to try and force the issue he starts serve-volleying, eventually staving off the double break. He's still in this, just. Dellien 6-3 6-2 3-2 Thiem
A Jabeur backhand drops long, handing Linette two set points … and she only needs one! A wild forehand flies wide, and the number six seed, played an opponent who's movement is hampered by injury, must play a decider! This has been a really fun match, and though Jabeur looks the better player, I'd not be staggered if Linette did enough to win the big points!
Jabeur gets the first mini-break but Linette clouts a forehand that breaks the sideline to redress the balance forthwith. Then, an error from Jabeur hands Linette a mini-break at 5-3…
Tremendous work from Linette to get to 40-0, but then a glorious forehand to the backhand corner gives Jabeur a minor sniff; she goes long, and we've got ourselves a breaker in set two…
An ace out, her seventh, wide gives Jabeur 40-30, an error from Linette follows, and at 4-6 5-6, Linette will again serve to stay in the match, while Thiem has ceded a break to Dellien in the first game of set three. He's not long for this competition.
Grigzy Dimitrov now leads Marcos Giron 6-1 6-1 3-0.
Dellien serves out easily, and now leads Thiem 6-3 6-2! Thiem looked alright in the first, but was very poor in the second when I assumed he'd improve.
Thiem hangs in there, forcing Dellien to serve for the second set at 5-2, while Jabeur saves a break point with a booming serve at 6-3 4-4, then Linette makes a mess of a gimme. A service-winner down the T follows, and Linette must now serve to stay in the match.
Cirstea has beaten Maria 3 and 3 – she meets Stephens or Niemeier next, on which point Niemeier has broken back in set two and now leads 7-5 1-2.
Thiem walks back to his seat, a look of resignation smeared across his coupon – he's been broken a second time in set two, and what looked like a decent contest now feels quarter to over Thiem just can't stop the cheap errors. Dellien 6-4 4-1 Thiem
Stephens is a break up on in Niemeier in set two now, trailing 5-7 2-0, while Cirstea, the number 26 seed, leads Maria 6-3 5-3.
It looked like Jabeur might stamp on the gas and leave Linette – the gulf in class was apparent at the business end of set one – but we're on serve in set two at 6-3 3-2. Except after making an ace for 40-0, Linette loses focus, at 15-40, Jabeur finds a nasty drop, the sidespin taking it away from her opponent, and we wind up on deuce; Linette saves a break point, then rips a a gorgeous forehand cross-court to eventually level things up.
Niemeier did indeed win that first set against Stephens, the 2018 finalist; she leads 7-5 0-1.
As I was saying would happen, Dellien has broken Thiem in the opening game of set two; he's won nearly all the big points so far, while his opponent has given away too many cheap ones trying to hit his way into form. Dellien 6-3 1-0 Thiem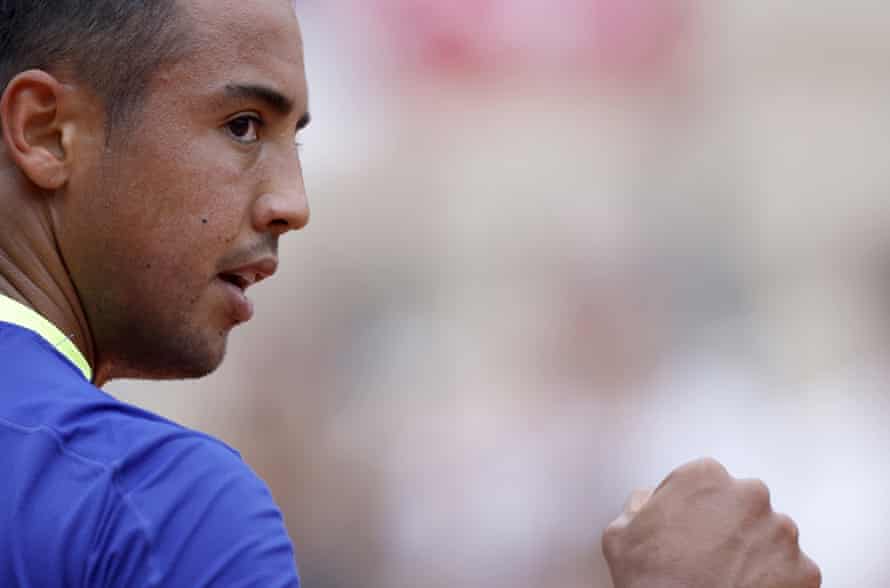 Dellien serves for the set at 5-3 and Thiem gets to 40-30, but a colossal forehand from the former, taken from well above shoulder-height, incites a backhand into the net. There's a long way to go here, though – Thiem is actually playing pretty well, he's just not quite winning the points he needs to, while Dellien has only made four unforceds. Meantime, Niemeier, a qualifier, is serving for the first set against Stephens at 6-5.
Linette takes a medical timeout for a thigh injury as Dellien holds for 5-2 – she's gone six minutes or so, but they're back at it now.
Dimitrov has taken the first set off Giron 6-1 and Cirstea has done likewise to Maria 6-3.
Yeah, Jabeur is into this now, serving out easily to take the first set 6-3. Linette made it hard at the start, but there's something different about her opponent this last year or so, and it's hard to see her losing these kinds of matches now.
Thiem is pushing, forcing Dellien to deuce, but a drop on advantage maintains his advantage – it's 4-1 now – while, on Chatrier, Jabeur leads Linette 5-3 and even if she loses the next game, will serve for the set after it.
Jabeur breaks Linette then struggles through a hold for 4-2 – she's being made to fight, but she's more than capable. Back on Mathieu, Thiem is 0-40 down, and though he gets to 40-30, this time Dellien secures the break for 3-1. However, you can see the Austrian is settling.
Linette breaks back immediately, and to love too. She and Jabeur are level at 2-2 now; Stephens and Niemeier are 2-2; Grigzy Dimitrov is a break up on Giron, likewise Cirstea on Maria. Meantime, Dellien has been warned for taking too long over his serve, taking issue with the umpire over spectators moving his eyeline. The umpire immediately apologises and retracts his call, no he doesn't.
Thiem saves break point with a trademark backhand down the line, taken early doors, then clinches the game by hitting to the backhand corner, opening the court, and cleaning up with a forehand into the space. Dellien 1-1 Thiem
Linette has started confidently, and Jabeur has to dig in to hold for 1-1 – she comes back from 15-30 behind. Meantime, Thiem is slowly easing himself in from 0-1 and 0-30 behind, making game point with a forehand drop. But he can't quite close it out, finds himself facing a break point and, as I type that, Jabeur converts one against Linette to lead 2-1 in set one.
As for Thiem, how good is it to see him back? He's been injured and out of form during the last bit, so is ranked well outside the top 100 in the world – which makes him an extremely dangerous floater in the draw.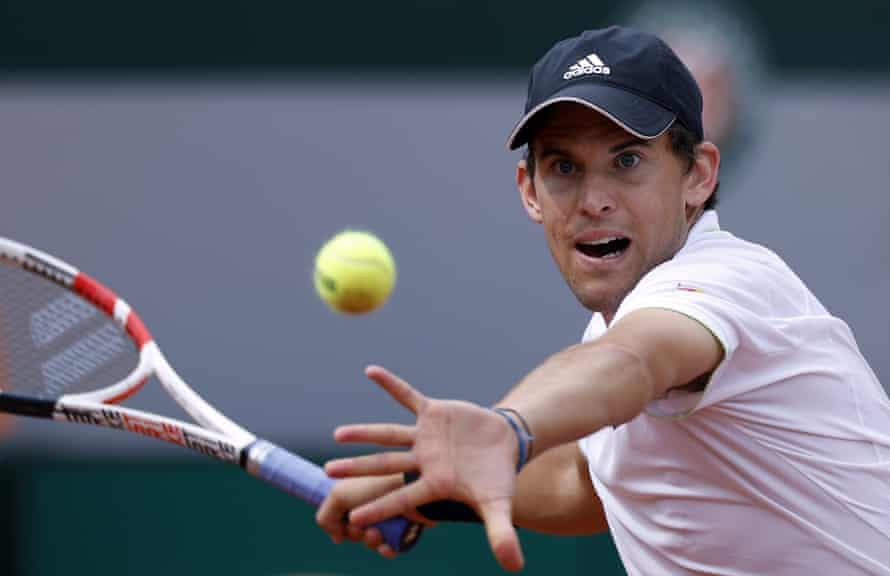 For now, at least, I'm watching Jabeur v Linette and Thiem v Dellien. Jabeur reckons she can win a major, and who wouldn't be overjoyed to see that. I guess she can, given who has, and given women's tennis is currently the least predictable sport in the world, but as an all-round package she's never be a favourite.
Order of play: show courts
Chatrier
Jabeur [6] v Linette
Auger-Aliassime [9] v Varillas [Q]
Burel v Sakkari [4]
Londero [L] v Alcaraz [6]
**
Lenglen
Stephens v Niemeier [Q]
Isner [23] v Halys
Zverev [3] v Ofner [Q]
Mladenovic v Fernandez [17]
**
Mathieu
Dellien v Thiem
Kanepi v Muguruza [10]
Fognini v Popyrin
Gauff [18] v Marino [Q]
Morning all, and welcome to Roland Garros 2022! It's almost embarrassing how much brilliant tennis we've got for you today – Ons Jabeur, Dominic Thiem, Sloane Stephens, Garbine Muguruza, Felix Auger-Aliassime, Carlos Alcaraz, Coco Gauff and yet still more. Like everyone else, I've not a clue who – if anyone – will succeed Barbora Krejcikova and Novak Djokovic as French Open champions, but also like everyone else, I know precisely how much fun it's going to be finding out. On y va!
Play: 11am local, 10am BST