Ruud romps to the third set 6-2!
Ruud has taken control of this third set and is now two sets to one up on Tsonga. You have to applaud the way that he's handled the pressure and the crowd. Tsonga's footwork and energy has sort of deserted him, and Ruud has been there to pick up the pieces. Steady, rather than spectacular, but his errors have been few and far between.
Kalinskaya has come back into it against Keys. After losing the first set 6-3, the Russian is 5-2 up in the second set.
Should mention, Halep's match with Shunk has been pushed back to 4.40pm BST, although that's just an estimate.
The crowd find their voice, and so does Tsonga, now grunting as he powers his way to break point. But another sloppy error lets Ruud get to deuce. That's 41 unforced errors for the Frenchman, with just 15 to Ruud. Ruud closes out the game nicely with a gorgeous drop shot and another wayward Tsonga forehand. Forty-two unforced errors now. That's 4-1 to the Norwegian.
Ah. The MBMers' curse. After saving break point with a smash to get to deuce, Tsonga double faults to hand the advantage to Ruud, and the Norwegian capitalises! Ruud rips an in-out forehand cross court and Tsonga doesn't have the mobility to get racket on ball! Ruud breaks! He's 3-1 up in the third.
Tsonga is just out here hitting bombs. Close your eyes, listen to the sound of that heavy forehand and it could just be 2012.
Caroline Garcia bounces into the second round, beating Taylor Townsend in straight sets on Lenglen. Another French player through!
Tsonga is oscillating between the sublime and the ridiculous. One-nil down in the third, he saves set point with some agile net play, then inexplicably bins one half-way up the net. But a couple of aces later, he squares things up at 1-1. We are level and on serve.
Madison Keys is going great guns against Anna Kalinskaya. The American prepared well for this tournament, in Madrid and Rome (even if results were a little disappointing) and is 6-3 and a break up in the second set against her Russian opponent.
Tsonga leaves the court for a comfort break. Whatever happens here, he can be proud of his performance. He needs to keep being aggressive, and keep the points short. If this goes to five sets, you have to fancy Ruud, with Tsonga having limited preparation for this tournament.
Ruud wins second set tiebreak against Tsonga
Tiebreak: Ruud 7-4 Tsonga. A soft Tsonga forehand into the net gifts Ruud a point on his serve and an even flimsier attempted drop shot drifts out to hand Ruud the break. Ruud then pushes Tsonga all round the back of the court to force an error that gives him two set points at 6-4. He takes the first of them, courtesy of Tsonga's marginally overhit return, and we're level at one set all. Will Ruud's stamina and clay-court smarts give him the edge from here on in? Michael will tell you, as he's back from his break. See you'se all later.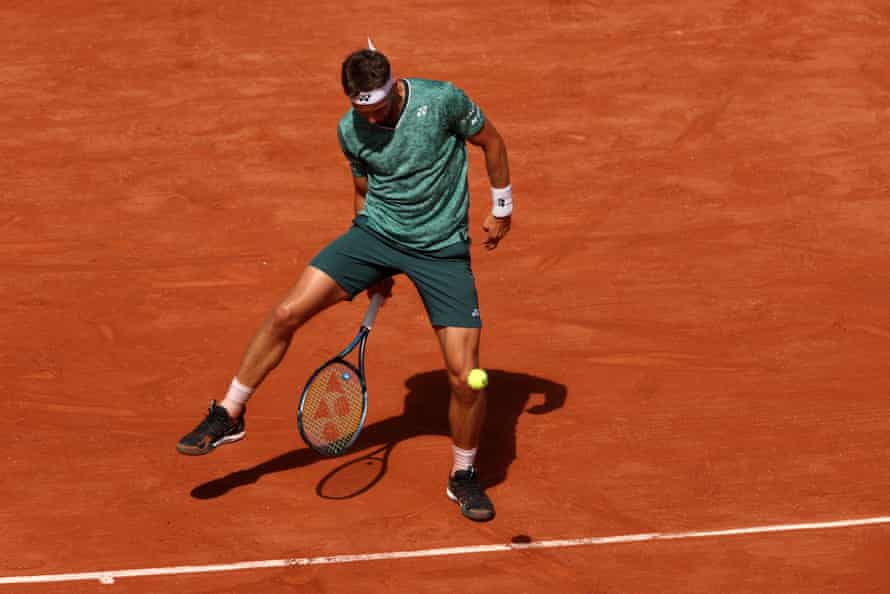 Tiebreak: Ruud 3-3 Tsonga. A deft drop shot at the net gives Tsonga the first mini-break of the tiebreak at 2-0, but he gives it back when he – just – overhits a forehand to the back of the court. Tsonga responds with a coruscating ace but an unkind net cord in the next point ensures they change ends level.
Ruud holds to love with a minimum of fuss to set up a tiebreak. Meanwhile Marion Keyes is swaggering through the first set against the Russian Anna Kalinskaya on Court 7, leading 5-1.
Ruud needs the morale-boost of an emphatic service game, which he duly gets, holding to love to draw level at 5-5 in the second set. A skimming on-the-line backhand winner sets Tsonga on his way in the next game. A netted forehand gives Ruud a glimpse at 30-15 but strong serving eases Tsonga to a 6-5 lead. Looks like we're headed for another tiebreak.
Ilya Ivashka has ended Benoît Paire's comeback, coming back from 5-4 down to take the fourth set and the match to wrap up a 6-3, 7-5, 1-6, 7-5 win. As Tsonga holds serve to move 5-4 up in the second set. Ruud now serving to avoid going two sets down.
Tsonga breaks back straight away! This is a compellin game: a beautiful back-hand pass from the back of the court at the start of Ruud's service game is a good riposte from Tsonga but the No 7 seed's response is strong, including a delicious drop shot that drops dead on landing on the other side of the net. A fantastic rally featuring smart drop shots from both players goes Tsonga's way to make it 30-30. And then it's Ruud's turn to be wasteful, walloping a routine forehand beyond the baseline. And Tsonga converts his break point, pushing Ruud around the back of the court before nailing a forehand to the corner. 4-4, second set.
Ruud breaks Tsonga. Two more break points for Ruud, looking as if he's regained some of his earlier spark, and this time he converts courtesy of an overhit forehand from Tsonga. A frustratingly careless shot. The Norwegian leads 4-3 in the second set.
More Parisien cheers as Caroline Garcia serves out the first set against Taylor Townsend to take it 6-3 but Ivashka has broken back against Paire to pull it back to 5-5 in the fourth set, Ivashka leading by two sets to one.
A bit of bother for Andrey Rublev on Court 14 – he's lost the first set on a tiebreak against Kwon Soon-woo while Paire is serving for the fourth set against Ivashka.
And Marion Keyes, seeded 22 in the women's draw, is under way against Anna Kalinskaya and 2-1 up in the first set. No breaks of serve there yet.
A real howler from Tsonga, whacking an attempted winger beyond the corner of an open court, hands Ruud two break points, but Tsonga manoeuvres him round the court well to save the first and saves the second with a gleeful low smash at the net. The Frenchman goes on to hold, and he's 3-2 and one set up.
Chance missed for Tsonga? Errors have crept into Ruud's game and two returns into the net dog are followed by a wild netted volley to give Tsonga two break points. Ruud saves them both with emphatic serves, the second an ace, and goes on to take the game and keep the second set on serve at 2-2. Ruud's serve got him out of jail there.
Thanks Michael. We're sure going to miss Tsonga's forceful elegance when he hangs his racket up, and he builds on that demanding tiebreak win by cruising through his first service game in the second set to 15. Ruud eases through his own service game too mind. 1-1 in the second set.
There's plenty of French interest on the courts at the moment, with Benoit Paire forcing his way back into his match against Ilya Ivashka, romping through the third set 6-1 to reduce the deficit to two sets to one. And Caroline Garcia is 4-1 up in the first set against Taylor Townsend on Suzanne-Lenglen.
You got the feeling that, had Tsonga lost that tiebreak and this momentum, he would have folded completely. But now, buoyed by the crowd, he's absolutely motoring. A real chance of a sensational upset here.
I'm off to get some lunch, and will leave you in the hands of Tom Davies. Enjoy the next hour or so. Cheers.
Tsonga beats Ruud to the first set! He wins 7-6 (6)
Ruud misses a simple forehand, and it's a third set point for Tsonga. What an uncharacteristic error from the No 8 seed! Tsonga serves for the set … he's done it! What a story we have here. Ruud is one of the best clay court players in the world, and Tsonga, all 37 years of him, has completely bossed the end of that set, closing it out with a smash at the net, after some booming groundstrokes. The crowd go crazy. Scenes!
Ruud claws it back to 5-4 … these are two huge serves for Tsonga to take the first set! A sharp volley gives him two set points … but Ruud saves them both. The first is a complete misjudgement by Tsonga who lets a shot go at the net, the ball bouncing just inside the baseline. Ruud is brave to save the second: coming into the net and expertly volleying past Tsonga to take it to 6-6.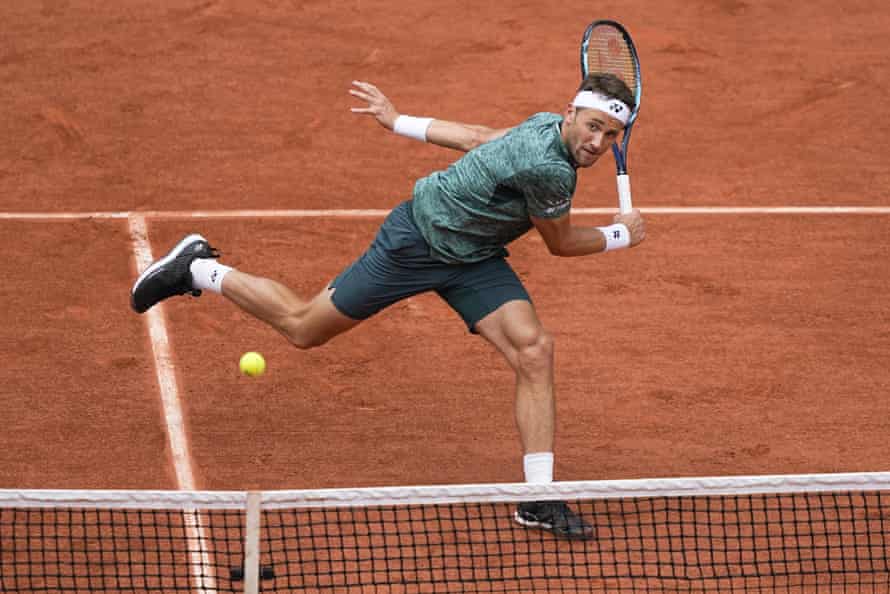 Four-two up, and Tsonga double faults! Ooooooo, his first of the match, and what a time to do it. Tsonga mutters to the sky, lets hope that doesn't throw him off. No! The Frenchman comes motoring into the net, and forces the error from Ruud. We're at 5-3!
This is magnificent stuff. Tsonga is bossing every point and finding the lines. Ruud has no answer to it, as Tsonga moves to 3-1 up in the tie-break.
Tsonga sends a clumsy drop shot down the middle but whips a forehand down the line to earn an early mini-break to go 1-0 up. He bins one in the net for 1-1. A nice unreturned serve out wide sees the Frenchman take a 2-1 lead over Ruud in the tie-break.
Another Tsonga service game, another 0-30 deficit. But a first serve gets him out of trouble for 15-30 and a booming forehand levels things up at 30-30. This is ELECTRIC tennis. Tsonga seems to throw every ounce of himself, and there are a few of them, at every forehand, and his power is too much for Ruud. Tsonga closes out the service game, we're going to a tie-break!
Elsewhere, No 7 seed Andrey Rublev has got underway against Kwon Soon-woo.
It's fairly quiet on the women's draw, with just Ekaterina Alexandrova in action against Greet Minnen.
To be fair to Ruud, he's holding serve with ease, and increasingly becoming wise to Tsonga's drop shots. The Norwegian moves into the lead at 6-5 in the first.
This is exhibition stuff from Tsonga! He's making things difficult for himself, getting himself 0-30 down on his own service games, but comes roaring back every time with some huge forehands and cute play at the net. The crowd are absolutely loving it, I reckon Chatrier is full now. It's 5-5 in the first, with the pressure is on Ruud.
Gasquet is through! He beats Lloyd Harris 6-1, 6-3, 6-4!
The sun has come out. Tsonga is really taking this all in, looking high up into the stands and smiling knowingly. He's loving it out there.
Tsonga showing brilliant feel at the net! He's banging down big serves and finishing things nicely up by the tape. He levels things up at 3-3 after a brilliant pick up off his toes.
We've got quite a game on our hands between Arantxa Rus and No 16 seed Elena Rybakina, with the latter winning the first set, before losing the second 7-5. Rybakina currently a break up in the third.