72 min "I wouldn't be too harsh on Alexander-Arnold," says Kári Tulinius. "That Valverde assist was both incredibly precise in terms of placement and pace, but it came from a really unlikely source. I think this is only his second assist all season. But if you keep your powder dry, that's the way to ignite it."
71 min Modric releases Vinicius, one v one with Konate. Vinicius charges infield and seems to have beaten Konate, who then makes a brilliant recovery tackle on the edge of the area. He's had a fine game.
69 min: Great save from Courtois! Henderson dumps a high, hanging cross beyond the far post, where Jota does well to loop a header back across goal. Salah scurries onto it, a couple of yards out, but Courtois charges back acrosss his line to block Salah's shot.
69 min Jota wins two corners in quick succession down the left. The second, taken by Robertson, leads to a short game of head tennis before Alaba blooters the ball clear.
67 min Kroos buys a foul from Salah, which eats up another 20 seconds. Every little helps.
66 min "I am currently at a stadium concert in the centre of Istanbul (mor ve ötesi) which my partner has surprised me with tickets," says Phil Reed. "I know one of their songs and do not speak Turkish… I am also trying to sneak a view of the score on mbm so thanks for your work Rob! You are saving my life (and relationship) here…"
65 min: Liverpool substition Diogo Jota replaces Luis Diaz, who was handled very well by Dani Carvajal. Mane moves left, Jota goes up front.
64 min Salah cuts inside from the right, 20 yards out, and shapes a curler that is pushed away by the diving Courtois. It was a camera-friendly save, fairly comfortable for a keeper of his class.
62 min Fabinho is booked for flattening Valverde.
61 min Vinicius got behind Alexander-Arnold, who will inevitably be criticised for his part in the goal. I'd like to see it a few more times to be sure. My first thought was that the angle of Valverde's cross shot made it extremely difficult to defend, even if Alexander-Arnold was sleeping a bit.
60 min The goal stands!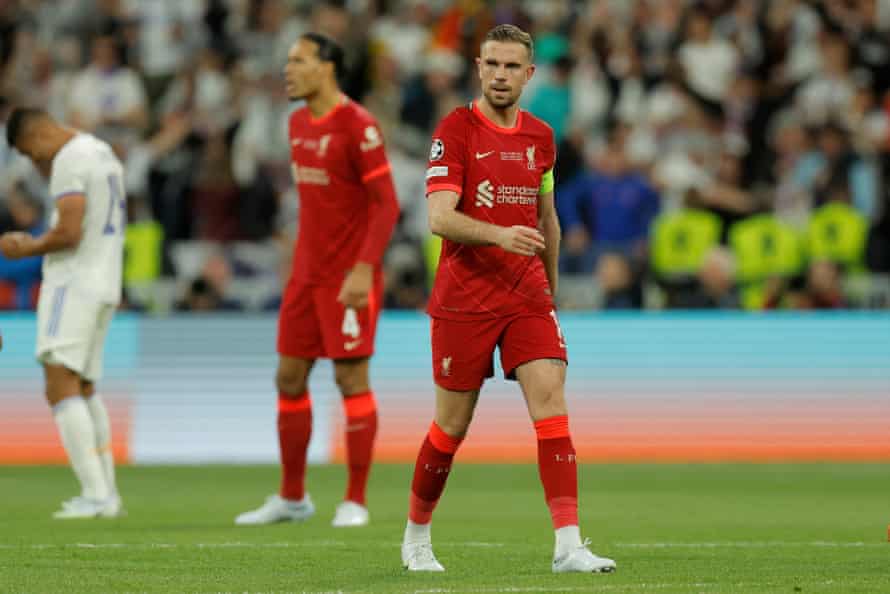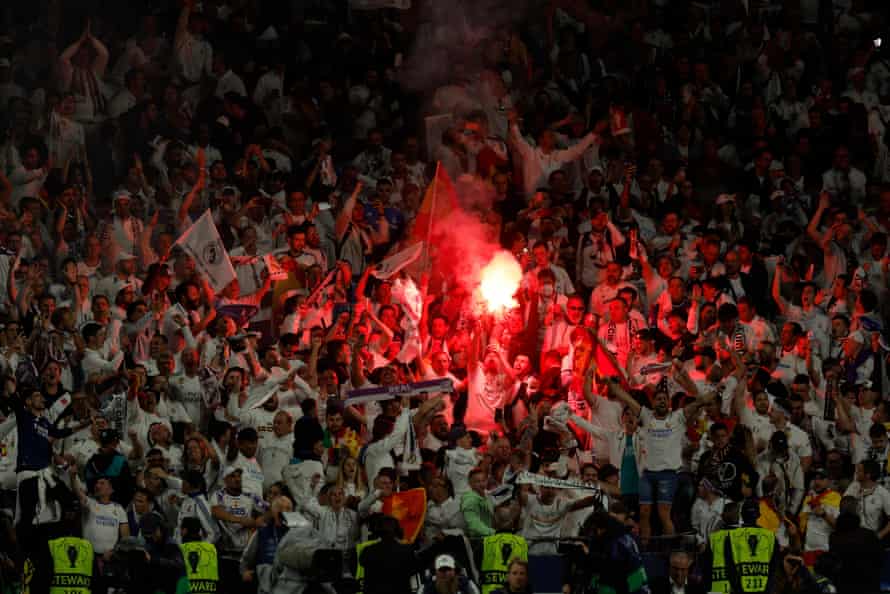 Valverde was found in space on the right. He cut inside, unchallenged the whole way, and drove a low cross shot that was turned in from close range by Vincius Jr. It's really close to offside, but I think he's okay.
GOAL! Liverpool 0-1 Real Madrid (Vinicius Jr 59)
Out of nothing – and a VAR check for offside permitting – Real take the lead!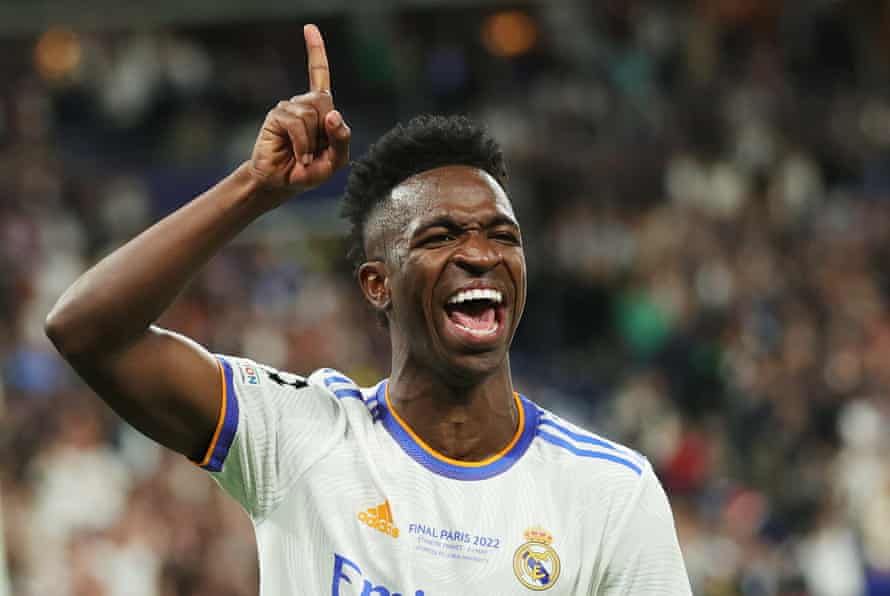 58 min Liverpool appeal for a penalty when Salah's snapshot hits a Real defender in the area. Nothing to see here. It may have brushed Alaba's fist, but it was tight to his body.
56 min There's a break in play while Eder Militao receives treatment. Luis Diaz fell on him accidentally after they wrestled for a 50/50.
54 min Mane forces a pass out to Diaz on the left. He teases Carvajal and then gives the ball back to Mane, whose first-time from the edge of the area is blocked by Militao. Real may have had a goal disallowed in strange circumstances but there's no doubt Liverpool have been the better team.
52 min It's been a pretty slow start to the second half, same as the first. Thiago Alcantara still looks fine, and has arguably been the perkiest of Liverpool's attacking players.
49 min "Not all MBM readers are in exotic places or camper vans," says Colum Farrelly. "Some of us are in Stansted Airport (for the last 8 hours!) because of a delayed and now cancelled flight home. MBM saves sanity."
47 min A wonderful first-time cross from Alexander-Arnold just evades Diaz, swooping at the far post. Carvajal did pretty well to put him under pressure from the wrong side, and the ball brushed one of their heads before drifting to safety.
46 min Peep peep! The second half ius under way. The consensus on the disallowed goal is non-existent.
On BT Sport, former referee Peter Walton says the goal could only have been given if Fabinho was deemed to have deliberately played the ball.
Apparently the Madrid goal was ruled out because the ball deflected off Fabinho, and therefore doesn't count. I'm not making this up by the way; that's the explanation that has been given.
Half time: Liverpool 0-0 Real Madrid
The kick-off was delayed, and the match still hasn't really got going. Liverpool were the better team for most of a relatively low-key half. Thibaut Courtois did brilliantly to push Sadio Mane's shot onto a post, and then Karim Benzema had a goal controversially ruled out for offside. See you in 15 minutes for the second half.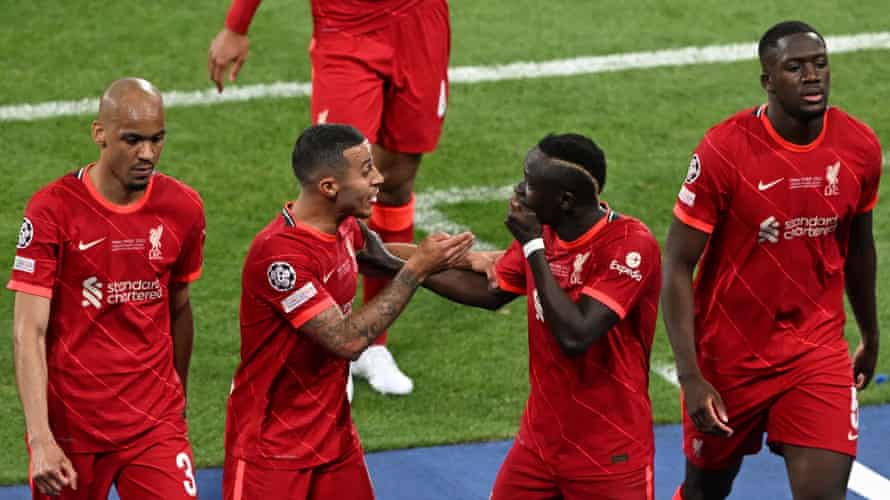 45+2 min There will be three minutes of added time, even though the VAR check took about half an hour.
NO GOAL! Liverpool 0-0 Real Madrid
Benzema was in an offside position when Valverde got a touch, though you could argue that it became a new phase of play after Konate pushed the ball off Fabinho and back towards the Liverpool goal. I thought Benzema's goal should have been given, though I'll be honest, I haven't a clue about the offside law any more.
It's still being checked…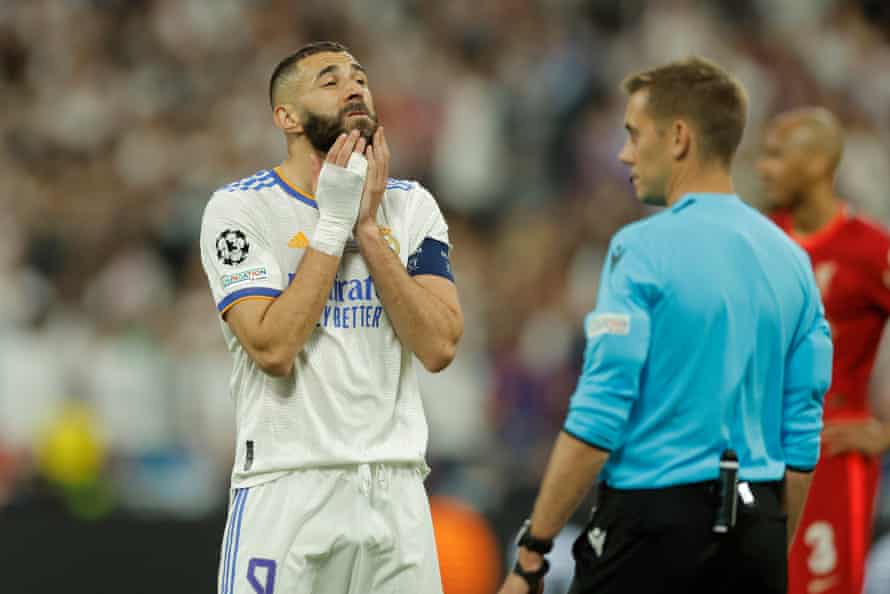 It started when Benzema ran onto a long ball forward and turned inside Robertson near the six-yard box. Alisson blocked the goal so Benzema waited and then poked the ball tamely across the area. Alisson pushed it away and then there was a scramble, with Valverde, Konate and Fabinho all touching the ball (in that order, I think) before Benzema swept it into the net.
VAR check! Benzema was definitely offside, because he was in front of the goalkeeper Alisson, but the issue is whether the ball was played through by a Madrid player (Valverde) or a Liverpool defender (Fabinho). If it's the latter, it'll be a goal. I think this will be given.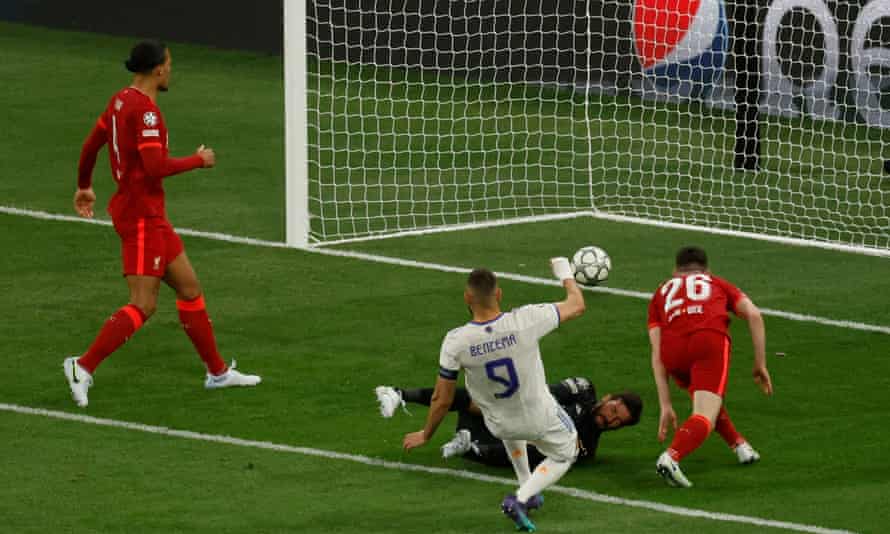 43 min: Benzema has a goal disallowed for offside!
42 min "I think the 37th minute was your first mention of Modric," says John Starbuck. "Hasn't he been as usually effective yet?"
I find MBMs aren't a great guide to individual performances, certainly not with subtler players like Modric or Xavi. But he has been pretty quiet.
41 min Robertson's corner is headed away by Benzema to Henderson, 30 yards out, and he whistles a shot well wide. It was beautifully struck but nowhere near the target.
40 min Robertson plays a short pass into Mane in the area. He spins away from Militao, who tracks Mane well and blocks the resulting shot on the stretch. Corner to Liverpool. Mane looks really sharp by the way.
38 min After a very quiet start, Vinicius and Benzema are starting to make mischief on the left wing. It's not an exciting game but it remains a thoroughly intriguing one.
37 min "It's incredible to watch Thiago's passing, really," writes Shiladitya Pandit. "The range, the vision, the elegance on the ball, all while not being at 100%. Being the best playmaker on a pitch that also has Luka Modric on it, is a feat in itself, irrespective of what happens in the game at the end."
36 min Vincius nutmegs Konate in the area and is about to shoot when Henderson appears on his blind side to poke the ball behind for a corner. Excellent covering.