Russia is continuing to ship gas to Europe through Ukraine, Gazprom has confirmed.
The Russian gas producer said its supply via the Sudzha entry point stood at 44.1 million cubic metres, up from 43.95 on Saturday.
The amount is still lower than that seen earlier in May, which stood at 95.8mcm before Ukraine stopped a route through Kyiv because of the war.
An application to supply gas via another entry point, Sokhranovka was rejected by Ukraine, according to Reuters.
This is Harry Taylor in London, bringing you more updates throughout today.
Their reports in the Observer revealed the reality of life in the occupied city. Now two female Ukrainian journalists are safe in England but want to continue their work. Here is an extract of a feature on the duo, by Miranda Bryant.
In a series of dispatches for the Observer at the start of the war, the two female Ukrainian journalists bravely documented the horrors of life in occupied Kherson – from the city's brave resistance to looming humanitarian disaster and burying the dead. But they also offered an insight into how, despite it all, residents fiercely continued to find glimmers of joy: a tale of young hospital interns getting married; drinking coffee at their favourite coffee shop under the roar of artillery strikes. There were scenes of dark humour too. In one dispatch, they described how a queue of civilians laughed a group of empty-handed Russian soldiers out of the butcher's shop because they were unimpressed with the quality of meat available.

Despite growing numbers of people leaving, the escalating danger – particularly for journalists – and dwindling supplies, the old friends, who are both in their 50s, hadn't planned to leave their home city.

Despite writing anonymously, they feared being identified by their reporting. One of their friends, Oleh Baturin, was detained and tortured for eight days and threatened with mutilation and death, and Maxim Negrov, the owner of the online newspaper Postfactum, was arrested and detained. They also worried that if the city were liberated it could lead to further killings by Russian soldiers.

But it was only when they were offered seats in friends' cars that they made the decision to go. Borisova in a car with her daughter-in-law and a baby, and Poliakova with a friend and her cat. Their husbands and sons remain in Kherson.

"I made up my mind very quickly, during half a day," said Borisova. "Not because of me, more for the sake of my daughter-in-law because my son begged me. Now with all these Bucha stories [of rape], he was very afraid. He said: 'I will sleep well when you girls get out of Kherson.'" She added: "That chance was given to me and it was too foolish not to take it."

They left just in time.
Read more here:
Russia has demonstrated is it prepared to leverage global food security for its own political aim and then present itself as the reasonable actor and blame the West for any failure, the latest UK Ministry of Defence intelligence update has said.
On 25 May, Russia's deputy foreign minister, Andrei Rudenko, said Russia is ready to provide a humanitarian corridor for vessels carrying food through the Black Sea in return for the lifting of sanctions.

The minister also requested Ukraine de-mine the area around the port of Odesa to allow the passage of ships. In this instance, Ukraine has only deployed maritime mines because of the continued credible threat of Russian amphibious assaults from the Black Sea.

Russia has demonstrated is it prepared to leverage global food security for its own political aim and then present itself as the reasonable actor and blame the West for any failure.

Russia's attempt to achieve a reduction in the severity of international sanctions also highlights the stresses sanctions are placing on the regime.
A dispatch here from the Associated Press in Pokrovsk, where some civilians were able to flee to as Russian forces pressed their offensive to take the eastern Ukrainian cities of Sievierodonetsk and Lysychansk, the last major cities under Ukrainian control in the Luhansk region.
Bouncing her 18-month-old son on her lap, Yana Skakova choked back tears as she described living in a basement under relentless bombing, and having to leave her husband behind when she fled with her baby and 4-year-old son.
Initially after the war broke out, there were quiet times when they could come out of the basement to cook in the street and let the children play outdoors. But about a week ago, the bombing intensified. For the past five days, they hadn't been able to venture out of the basement at all.
"Now the situation is bad, it's scary to go out," she said.
It was the police who came to evacuate them Friday from the basement where 18 people, including nine children, had been living for the past two and a half months.
"We were sitting there, then the traffic police came and they said: You should evacuate as fast as possible, since it is dangerous to stay in Lysychansk now,'" Skakova said.
Despite the bombings and the lack of electricity, gas and water, nobody really wanted to go.
"None of us wanted to leave our native city," she said. "But for the sake of these small children, we decided to leave."
he broke down in tears as she described how her husband stayed behind to take care of their house and animals.
"Yehor is 1 1/2-years old, and now he's without a father," Skakova said.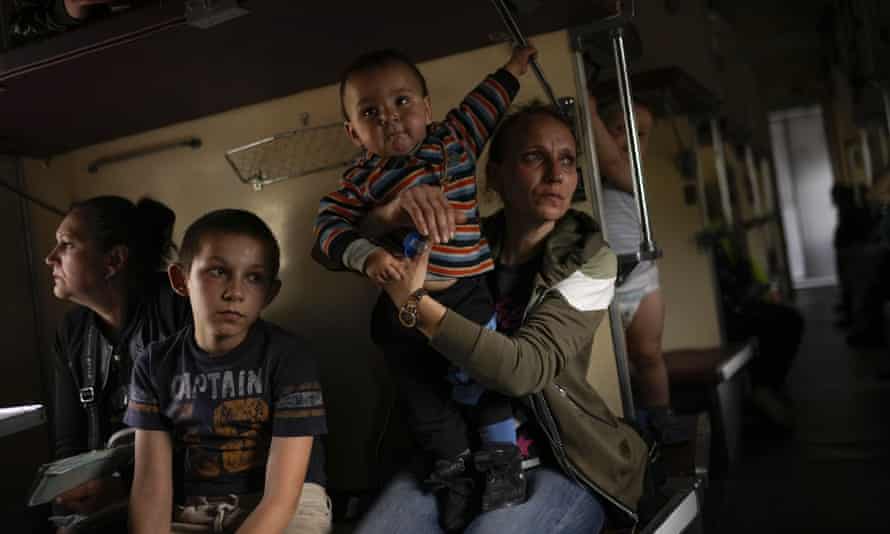 More than 682 children have been injured or killed in Ukraine, according to a government statement. It said 242 had died and 440 wounded, adding that the figures were not final as it was difficult to confirm reports in places of active fighting. The largest numbers were in Donetsk (153), Kyiv (116) and Kharkiv (108).
Ukraine's armed forces have accused Russian authorities in Crimea of ordering hospitals to refuse civilian patients in order to free up beds for Russian soldiers. In a statement on its Facebook page, the forces said donor blood was also being collected "intensively".
Ukraine's president Zelenskiy has ruled out the idea of using force to win back all the land Ukraine has lost to Russia since 2014, which includes the southern peninsula of Crimea, annexed by Moscow that year.
"I do not believe that we can restore all of our territory by military means. If we decide to go that way, we will lose hundreds of thousands of people," he said.
Fighting for the eastern Ukrainian city of Sievierodonetsk continues with Russian forces conducting assault operations on Saturday, the General Staff of Ukraine's Armed Forces said on Sunday.
"With the use of artillery, Russian forces carried out assault operations in the area of the city of Sievierodonetsk," the General Staff said in a statement on its Facebook page.
"The fighting continues."
"There remains a threat of the task from the territory of the Republic of Belarus of rocket and aviation strikes on Ukrainian infrastructural objects."
Hello and welcome to today's continuing coverage of the Ukraine war. Below is a quick summary of the latest developments.
Ukraine is in a race against time to save the eastern Donbas region as relentless Russian artillery and air strikes threaten to turn the tide of the war, and support for Kyiv's continued defiance among some west European allies appears to be slipping. You can read our latest wrap here:
Ukraine's president, Volodymyr Zelenskiy said in a Saturday night television address that conditions in Donbas were "indescribably difficult", and thanked Ukrainian defenders holding out in the face of the onslaught.
Ukraine is urgently pleading for heavy weapons to repel Russian forces in the eastern Donbas region, as relentless Russian artillery and airstrikes threaten to turn the tide of the war and support for Kyiv's continued defiance among some west European allies appears to be slipping.
Zelenskiy has conceded that not all the land that Russia has seized since it annexed Crimea in 2014 can be recaptured militarily. While he is certain his country will take back the territory Russia has claimed since its 24 February invasion, he said other territory could not be recovered by force.
Russia's defence ministry claims to have captured the strategically important city of Lyman and several other smaller towns and encircled Sievierodonetsk, which Ukraine denies.
At least six superyachts linked to UK-sanctioned Russian oligarchs have "gone dark" on ocean tracking systems, vanishing from the global maps used to locate marine traffic.
Russia's president, Vladimir Putin, has scrapped the upper age limit for military recruits in the face of mounting losses in Ukraine, Tass reported. UK intelligence estimated this month Russia had lost about a third of its ground forces.
Officials in the south-eastern port city of Mykolaiv said at least one person was killed, and at least six injured, in Russian shelling. Two rounds landed in courtyards of high-rise buildings, and one shell fell close to a kindergarten, CNN reported.
Boris Johnson and Zelenskiy discussed concerns over food supplies in a phone call. A Downing Street spokesperson said Johnson told Zelenskiy the UK would continue to support Ukraine's armed resistance, including by supplying equipment.

Putin spoke to French president Emmanuel Macron and German chancellor Olaf Scholz and, according to the Kremlin, he told them that continuing arms supplies was "dangerous", warning "of the risks of further destabilisation of the situation and aggravation of the humanitarian crisis". Russia said it was willing to discuss ways to make it possible for Ukraine to resume shipments of grain from Black Sea ports.
Spain is sending a battery of surface-to-air missiles and about 100 troops to the Nato forward presence mission in Latvia, joining about 500 compatriots already present in the Baltic state, El País reported.