11:40
Russia says Moskva 'still afloat' but Ukraine military claims warship started sinking when hit
Russia's defence ministry has said the fire on board the warship Moskva, the flagship of Russia's Black Sea fleet, is "under control".
The ship was reportedly struck by two Ukrainian missiles in the Black Sea late on Wednesday night. It was famously defied by Ukrainian troops on Snake Island at the start of the war.
In a statement, the Russian defence ministry said:
The fire on the cruiser Moskva is under control. There are no flames visible. Ammunition supplies are no longer exploding.

The cruiser Moskva is still afloat. The main missile armoury has not been damaged.

The crew of the cruiser were evacuated to Black Sea Fleet vessels nearby. Measures are being taken to tow the cruiser into port.

The causes of the fire are currently being established.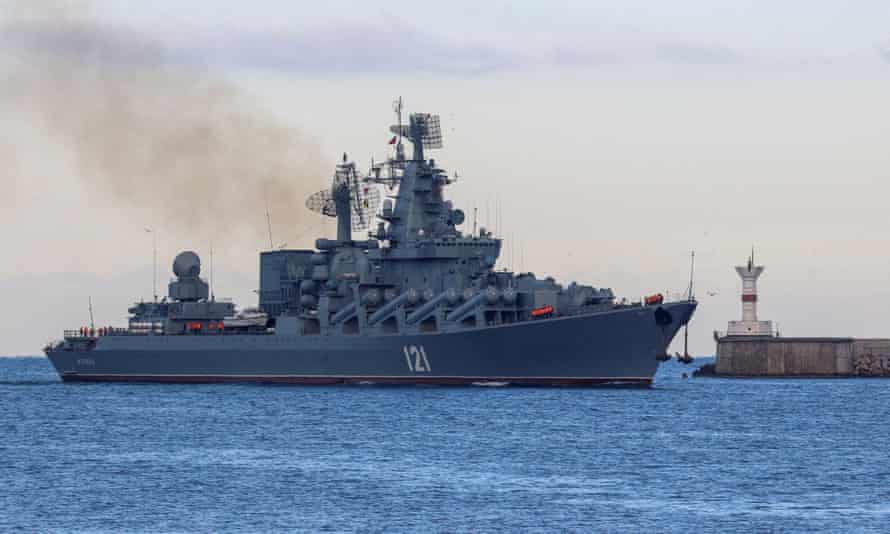 The ministry had earlier said that the ship had been "seriously damaged as a result of the detonation of ammunition that occurred as a result of a fire".
However, Ukraine's southern military command said the Moska had started to sink after it was hit by a Neptune missile.
In a Facebook post, the southern military command said the missile cruiser had received "significant damage" and a fire ignited on board after the strike.
The statement continued:
Other units of the ship's group tried to help, but a storm and a powerful explosion of ammunition overturned the cruiser and it began to sink.
Hello, it's Léonie Chao-Fong here. I'll be bringing you the latest developments from the war in Ukraine. Feel free to drop me a message if you have anything to flag, you can reach me on Twitter or via email.