Ukraine launches strikes on Snake Island
Ukraine's army said it had launched airstrikes on Zmiinyi Island, also known as Snake Island, causing "significant losses" to Russian forces.
In a post on Facebook, the military's southern operational command said it had used "aimed strikes with the use of various forces" on the island.
The command added:
The military operation continues and requires information silence until it is over.
A Russian mine detonated on a beach in the Odesa oblast, damaging one house. Local authorities reissued warnings to not visit beaches or swim during this time.
At least 15 civilians were killed in the Kharkiv region today by Russian shelling, Reuters is reporting.
Six people have died in and around Kharkiv, and another six in Chuhuiv, located to the southeast, regional governor Oleh Synegubov said. Three have died in Zolochiv, located to the northwest of the city.
Hundreds gathered today in Lviv for the funeral of 27-year-old Artem Dymyd, who was killed defending Ukraine in the Donetsk region on 18 June. He was living in the US when Russian forces first invaded his homeland, and his first instinct was to immediately return and fight.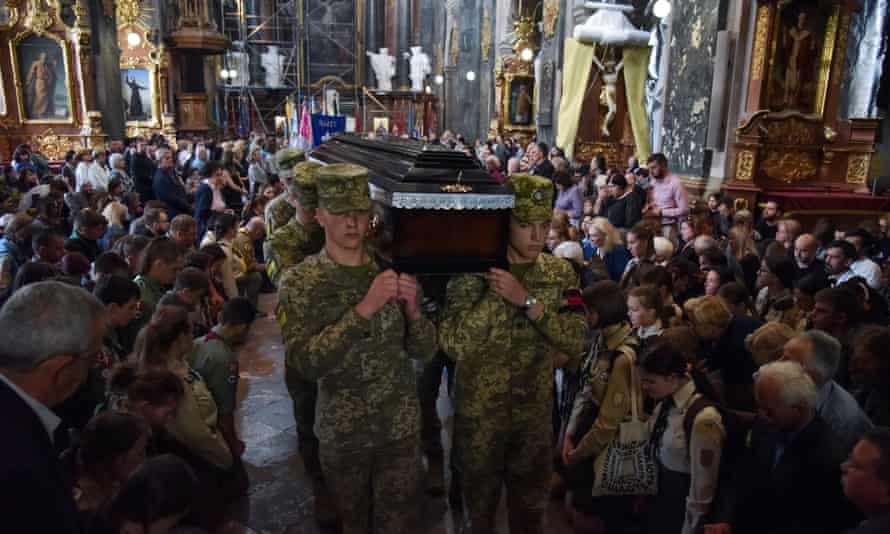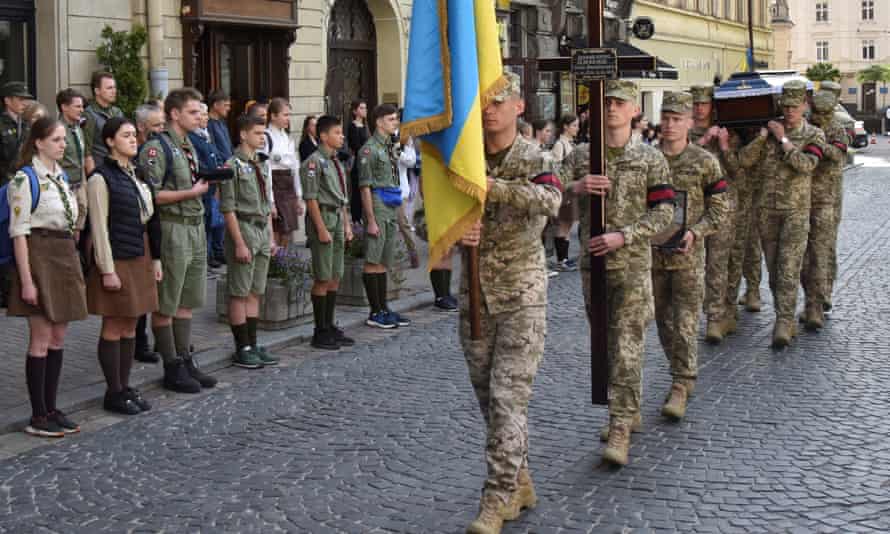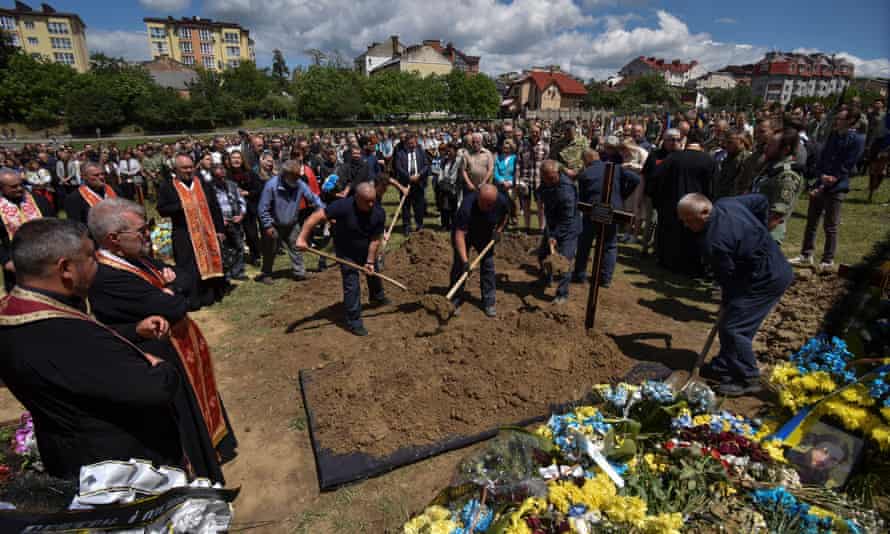 Estonia has summoned the Russian ambassador to protest the violation of its airspace by a Russian helicopter on 18 June.
The Kremlin has not provided the US any additional details on the whereabouts of two Americans captured in Ukraine, according to Ned Price, a spokesman for the US state department.
"We have no additional details beyond what's been reported in the media," Price said. "We've been in direct contact with Russian authorities. We have not been provided, either by Russian authorities or by Russian proxy forces or any other entity, with additional details on the whereabouts of these Americans. We are pursuing every channel, every opportunity we have, to learn more and support their families in this difficult hour."
Alexander Drueke and Andy Tai Ngoc Huynh were two US military veterans volunteering to defend Ukraine against Russian invaders when they were captured by Russian forces. The Kremlin acknowledged in an interview with MSNBC yesterday that Drueke and Huynh were being held and were under investigation for "crimes", but would not say more about where they were being held.
The Interfax news agency today reported that they were in the Russian-backed separatist region of Donetsk in eastern Ukraine, where Britons Shaun Pinner and Aiden Aslin and Morroccan citizen Brahim Saadoun – also volunteer fighters – were sentenced to death earlier this month. Dmitry Peskov, the Kremlin spokesperson, said Drueke and Huynh could also face the death penalty.
"We have both publicly as well as privately called on the Russian government and its proxies to live up to their international obligations in their treatment of all individuals including those captured fighting in Ukraine," Price said. "We expect and, in fact, international law and the law of war expects and requires, all those captured on the battle field be treated humanely and with respect consistent with the laws of war."
Lysychansk in the eastern Donbas is getting hit hard, with Serhiy Haidai, governor of the Luhansk region, describing it as the city getting shelled "en masse".
Here are some images of what life is like in the Lysychansk at the moment: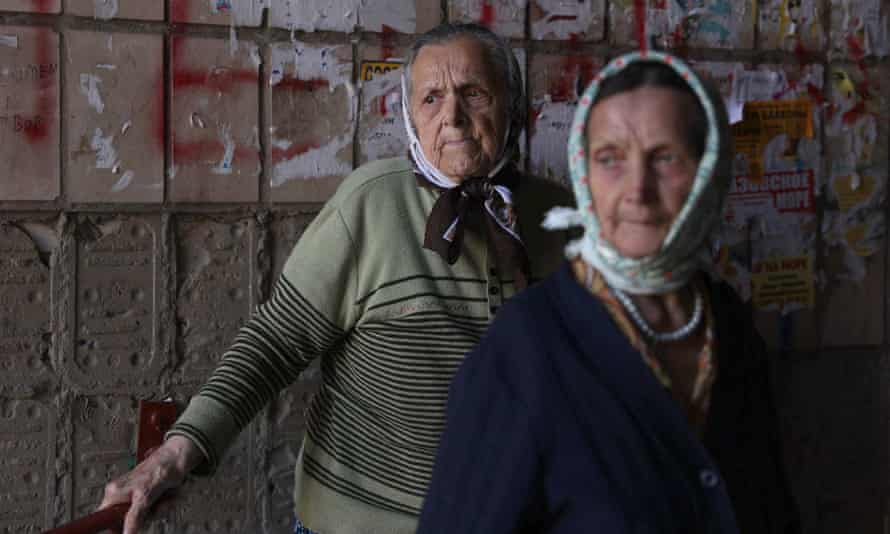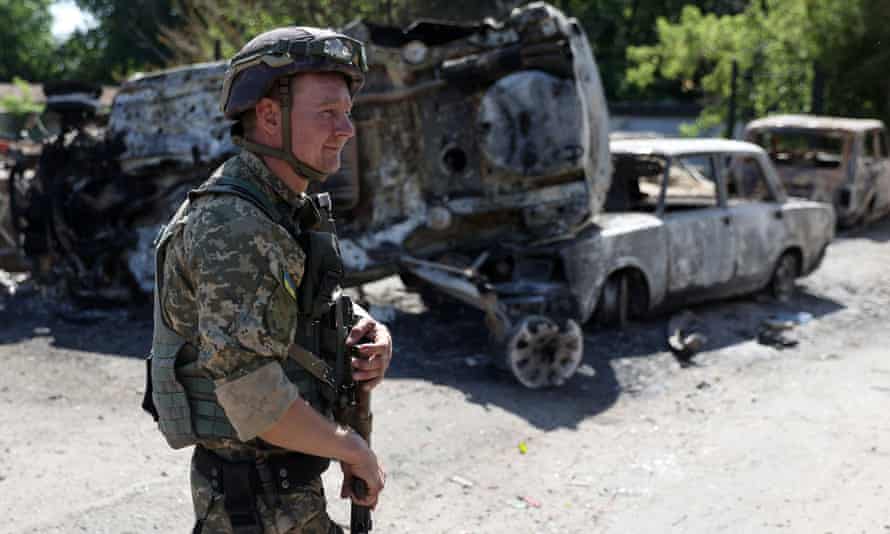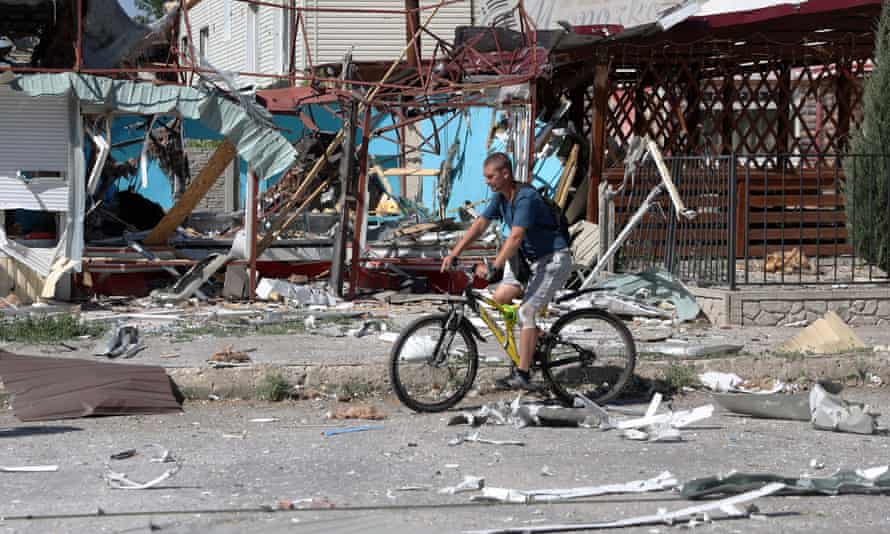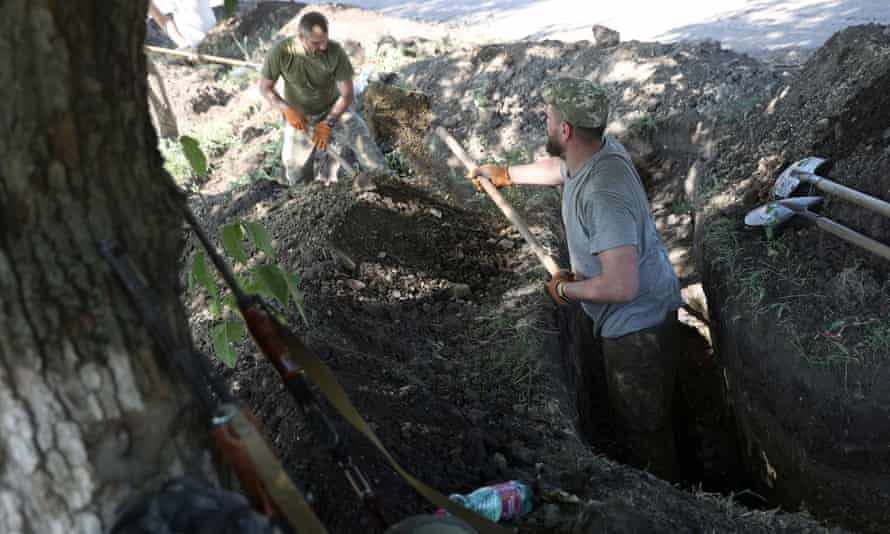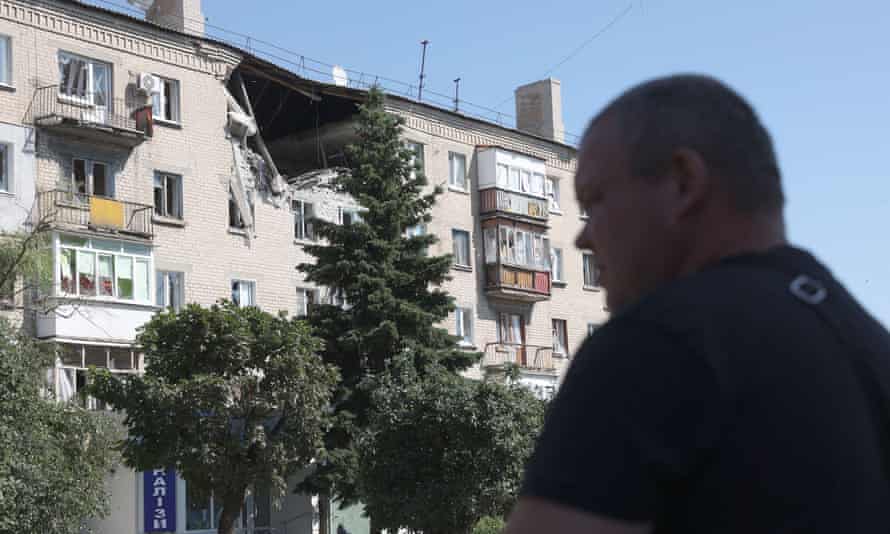 The US state department spokesperson Ned Price has responded to the botched phone call between the US basketball star Brittney Griner and her wife by confirming that the call has been rescheduled.
He reiterated that the state department has classified Griner as "wrongfully detained by Russia and has been wrongfully detained for far too long and whose case we are working on assiduously to see her released as quickly as can be achieved".
"We deeply regret that Brittney Griner was unable to speak to her wife over the weekend because of a logistical error," Price said. "It was a mistake. It was a mistake that we have worked to rectify. As we said before, the call has been rescheduled and will take place in relatively short order."
Griner had dialled into the US embassy in Moscow 11 times – the embassy was then to connect her with her wife in Phoenix – but apparently nobody was working the desk where the phone rang on Saturday. Price attributed this "logistical error" to restrictions put in place on the embassy by the Kremlin.
"It was a logistical error that was compounded in part by the fact that our embassy in Moscow is under significant restrictions in terms of its staffing," Price said. "When we have issues with the telephone system there, for example, the technicians are not located on site, in fact they're not even located in Russia. They have to be located in a third country because of the onerous restrictions that the Russian federation has placed on our embassy and its operations."
The White House has responded to yesterday's report by the Associated Press that the US state department bungled a scheduled phone call between the US basketball star Brittney Griner, who has been held in custody in Russia since February over the possession of hashish oil, and her wife – the first phone call the couple would have had in the entirety of the four months of Griner's detention.
"This was such a big moment because this would have been the first time where I truly could tell if she's OK," Cherelle Griner told the Associated Press. "This would have been the first time for me to actually just hear her in real time and to truly know if she's OK or to know if she's seconds away from not being in existence anymore."
Brittney Griner had tried to call 11 times over a period of several hours, dialling a number she'd been given at the US embassy in Moscow, which the couple had been told would then patch the call through to Cherelle Griner in Phoenix. But each time, the call went unanswered because apparently nobody worked at that specific desk at the embassy on Saturdays.
It's 9pm in Kyiv. Here is where we stand:
That's it from me, Léonie Chao-Fong, today. My colleague Vivian Ho will be here shortly will the latest from Ukraine. I'll be back tomorrow.
Drone footage released on 19 June obtained by Reuters shows artillery strikes on the Ukrainian village of Toshkivka in the Luhansk region.

The aerial images show columns of smoke rising over several burned out buildings as shells blast approaching armoured vehicles.
Turkey's military delegation will travel to Russia this week to discuss a possible safe sea corridor in the Black Sea to export Ukrainian grain, according to Turkish presidency sources.
A four-way meeting between Turkey, Ukraine, Russia and the United Nations will be held in Istanbul in the coming weeks, possibly with the participation of Turkey's president, Recep Tayyip Erdoğan, and the UN's secretary general, António Guterres, Reuters cited the sources as saying.
The sources said the plan included creating three corridors from Ukraine's port city of Odesa under Kyiv's supervision, and that both Ukrainian and Russian food products would be shipped from there.
Between 30 and 35 million tonnes of grain could be shipped from there in the next six to eight months, the sources said.
Asked about the plan's outline, UN spokesperson Stéphane Dujarric said "the discussions on these issues are continuing", without further elaborating.
Russian state-owned news agency Tass confirmed plans for the talks, citing Kremlin spokesperson Dmitry Peskov.
Ukraine's defence minister, Oleksii Reznikov, said German self-propelled howitzers have "finally" arrived in Ukraine, in the first delivery of heavy weapons promised by Berlin.
Reznikov tweeted that the Panzerhaubitze 2000 "are finally part of 155 mm howitzer arsenal of the Ukrainian artillery" and thanked his German counterpart, Christine Lambrecht.
The Panzerhaubitze 2000 is one of the most powerful artillery weapons in Bundeswehr inventories and can hit targets at a distance of 40km (25 miles).
Germany pledged last month to send seven self-propelled howitzers to Ukraine, adding to five such artillery systems the Netherlands has promised.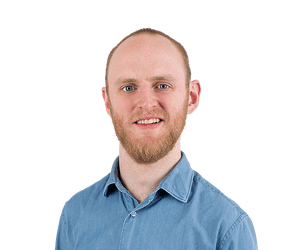 Ben Beaumont-Thomas
Kalush Orchestra, the Ukrainian group who triumphed at the 2022 Eurovision song contest, are to perform at Glastonbury festival for their first ever UK concert.
Their winning song, Stefania, blended hip-hop with the intricate flutes and heartfelt vocals of their national folk music, and saw a huge response from the public, who swept them to victory in the Eurovision phone voting – a clear demonstration of solidarity with Ukraine during the war with Russia.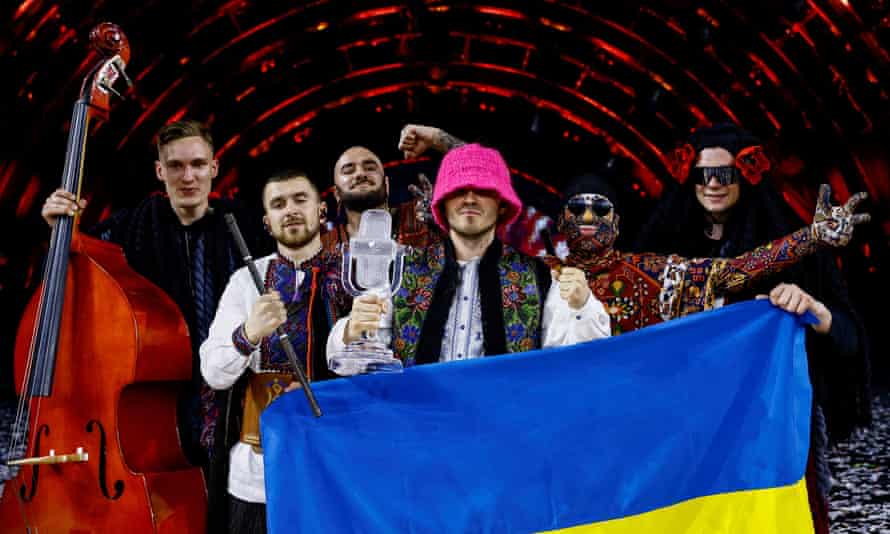 The sextet will appear at the Truth stage on Friday night (technically early Saturday morning, at 1.10am), in the festival's fantastical, highly politicised Shangri-La area.
Frontman Oleh Psiuk said: "This is the perfect place for our first ever British performance and we hope it will be the start of many in the UK. We are very grateful for all the support we receive from the people of Britain, both for us and our country, and we are preparing a very special Ukrainian surprise for the fans at Glastonbury. What is it? You'll soon see."
Ukraine launches strikes on Snake Island
Ukraine's army said it had launched airstrikes on Zmiinyi Island, also known as Snake Island, causing "significant losses" to Russian forces.
In a post on Facebook, the military's southern operational command said it had used "aimed strikes with the use of various forces" on the island.
The command added:
The military operation continues and requires information silence until it is over.
Russia's defence ministry said its missiles had struck an airfield near the Ukrainian port city of Odesa, Russian news agencies reported.
The strikes were carried out in response to an alleged Ukrainian attack on gas production platforms in the Black Sea, it said.
It has not been possible to independently verify these claims.
Turkey should be cautious about delivering more weapons to Ukraine, the head of Turkey's weapons-production agency said, months after Turkish-made drones played a critical role in Kyiv's defence against Russia's invasion.
In an interview with the Wall Street Journal, Ismail Demir, the president of Turkey's defence industry agency, said:
Turkey is the only country I guess that can give a call to both parties and call them to the peace table. How can you do this if you send tens of thousands of weapons to one side?
Demir's comments show how Ankara is increasingly playing both sides of Russia's war in Ukraine in contrast to other Nato allies, the paper reports.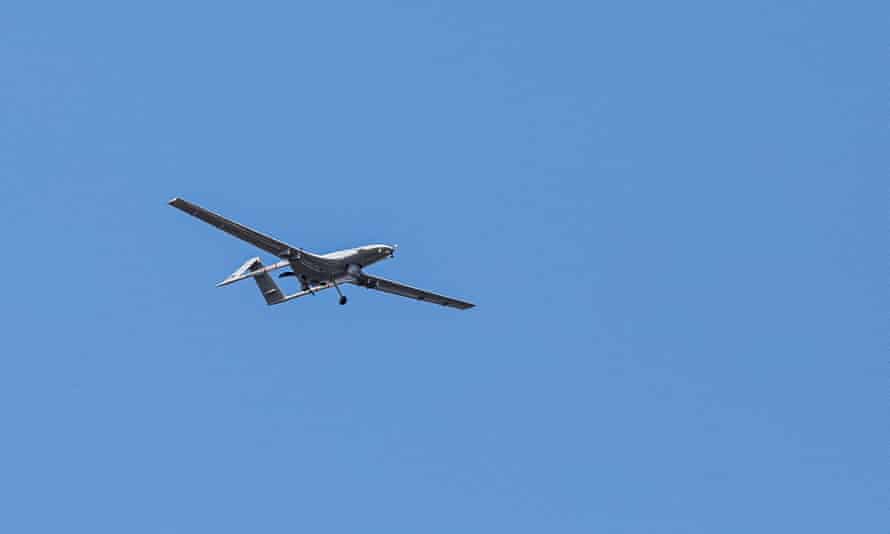 Asked if Turkey would continue to supply weapons including Bayraktar TB-2 drones, which were instrumental in Ukraine's initial resistance to the Russian invasion, Demir replied:
There are things going on, but I'm not in a position to say, but we are much more careful.
He added:
We have to be able to talk to both sides, someone should be close enough to both parties, to build trust. Our priority is to make sure that peace prevails.
The US disagrees "vigorously" with the Russian position that captured Americans are not covered by the Geneva conventions, a state department official said.
The official's remarks came after the Kremlin spokesperson, Dmitry Peskov, said two Americans detained in Ukraine while fighting were mercenaries who endangered the lives of Russian servicemen and should face responsibility for their actions.
The US has conveyed its stance on the issue to the Russian government, the US state official added.