Senior US senators visit Zelenskiy
The US Senate minority leader, Mitch McConnell, has joined the growing list of US politicians making visits to Kyiv, it has emerged.
The Ukrainian president, Volodymyr Zelenskiy, welcomed McConnell's visit as a powerful signal of bipartisan support for Ukraine.
McConnell led a delegation, which included Republican senators Susan Collins of Maine, John Barrasso of Wyoming and John Cornyn of Texas, to the Ukrainian capital, where he was hosted by Zelenskiy.
In remarks and video posted on Instagram on Saturday, Zelenskiy told the visitors Ukraine was defending not only its own state but all democratic values and freedoms and the right of people to freely choose their own future.
Thank you for your leadership in helping us in our struggle not only for our country, but also for democratic values and freedoms. We really appreciate it.

Russia is committing genocide against the Ukrainian people. [Putin] commits war crimes that horrify the whole world – torture, mass executions, rape. Europe has not seen such crimes since world war two.
The visit comes as a $40bn US military aid budget has stalled in the Senate over demands issued by the Kansas senator Rand Paul for a watchdog to track the spending.
In a rare bipartisan request, McConnell and the Senate majority leader, Chuck Schumer – a Democrat – offered Paul a vote on his amendment to the package. That offer was rejected, with Paul saying he wanted changes to the underlying bill.
Relatives of wounded Ukrainian soldiers holed up in a besieged steel plant in the port city of Mariupol have been talking with the US news network CNN, saying: "Our children are in hell."
Earlier today, Turkey proposed carrying out a sea evacuation of hundreds of wounded fighters from the Azovstal plant in the city under Russian control, although Moscow has not yet agreed to the plan.
Speaking with CNN, Stavr Vishnyak, whose son Artem, 21, is among the cut-off Ukrainian troops, called on Turkey and China to facilitate the safe removal of the fighters before it was too late:
Our children are in hell. We ask the world community again and again to make the extraction procedure. The petition to save Mariupol has collected one-and-a-half million signatures. We have already reached out to everyone.

Only Xi Jinping remained. We ask [the] president of China to mediate, intervene and become a peacemaker in this war. Our heroes have almost no time left. Our warriors have already been to hell. Give them the opportunity to step on the earth and see the sun.
A number of civilians who were sheltering in the steelworks were evacuated earlier this month with the help of the International Committee of the Red Cross and the UN.
Under the Turkish plan, evacuees would be taken by land to the port of Berdyansk on the Sea of Azov, and be picked up by a Turkish vessel that would take them across the Black Sea to Istanbul.
Ukraine has not commented on a possible sea evacuation, but the country's president Volodymyr Zelenskiy has said talks were under way to evacuate a large number of wounded soldiers from the steelworks in return for the release of Russian prisoners of war.
According to CNN, a Ukrainian soldier inside the plant described horrific and unsanitary conditions for the wounded on Ukrainian TV on Saturday:
Fighters are simply lying without limbs, without arms, without legs.
The Observer's Jon Ungoed-Thomas has been looking at how fraud at Russia's National Bank Trust could end up helping to fund the country's war in Ukraine, and how the film star Bruce Willis inadvertently got caught up in the scheme:
In one of Russia's most high-profile marketing campaigns, film star Bruce Willis appeared in cinematic advertisements with a car chase and a rooftop rescue, ending with the slogan, "Trust is just like me, but a bank."
The campaign for National Bank Trust in 2011 – which included cardboard cutouts of Willis popping up in 400 branches across Russia – was credited with raising the bank's profile and boosting business.
Ministers are now under pressure to impose sanctions on the bank over its efforts to recover hundreds of millions of pounds in debts from the UK.
A decade ago, money was pouring in to the bank's coffers from clients and large chunks were sent around the world in loans for a network of offshore companies. But it was subsequently alleged that the elaborate corporate structure incorporated fake documents and was a fraudulent scheme that concealed bad debts and enriched key executives.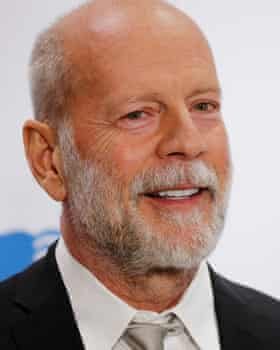 Willis, whose family announced earlier this year he had the neurological disorder aphasia, had no knowledge of the alleged scheme.
The high court in London ruled in January 2020 that the bank was owed $900m (£735m) compensation from three former bosses, two settled in Britain, allegedly involved in the scheme. The bank is now seeking to recover money owed in the UK, but ministers face questions on whether sanctions will stop it getting the cash.
National Bank Trust is now majority owned by the Central Bank of the Russian Federation, so any money recovered in Britain could flow back to the Russian state.
Christine Jardine, the Liberal Democrat Treasury spokesperson, said:
There are too many question marks around the National Bank Trust and whether it is, in fact, able to channel funds to the Putin regime.

We need crystal-clear answers about whether it is able to raise foreign cash, that the Kremlin is so desperate for, and send it back to Russia.
Read the full story:
Slovakia is weighing in on plans by Finland and Sweden to join Nato. The country's foreign minister, Ivan Korčok, told reporters on Saturday he is confident all 30 member states of the alliance will welcome them.
Arriving for the gathering of Nato leaders in Berlin, Korčok said Slovakia was "absolutely ready" to support admission of the two Nordic nations, Reuters reports. He was also asked how long the allies were willing to support Ukraine's efforts to repel the Russian invasion:
Until they win. Russia has lost this war politically, it has achieved the contrary which Russia wanted to achieve.
Good afternoon, good evening, or good morning, depending on where you are. It's Richard Luscombe in the US, and I'll be guiding you through the next few hours.
Retired lieutenant general Mark Hertling, former commander of the US Army in Europe, has retweeted a video apparently showing an undisciplined Russian tank crew in Mariupol running over civilian vehicles, presumably for their own amusement. Hertling says he would court martial the occupants.
The translation from the Ukrainian text in the original tweet reads: "The garbage that captured Mariupol for fun shoots houses and crushes the cars of locals with tanks. It is obvious that the Russians came not to defend, but to rob, kill and destroy. Defenders do not behave this way".
Norway on Saturday backed plans of Finland and Sweden to join Nato against criticism from Turkey.

Norwegian foreign minister Anniken Huitfeld said as she arrived for a meeting with her Nato counterparts in Berlin:
We don't know what Turkey really means but from [the] Norwegian perspective, we are 100% behind Finland and Sweden if they decide to apply for membership in Nato.

This will also strengthen the Nordic cooperation because we chose differently after World War 2, so I think that this is a historic moment right now.
Dutch foreign minister Wopke Hoekstra echoed her, and said it was important that all Nato members showed unity, Reuters reports.
Russia has denied responsibility for rising food prices and the risk of a global hunger crisis, and has reacted sharply to such accusations by German foreign minister Annalena Baerbock.
Writing on her Telegram channel on Saturday, Russian foreign ministry spokeswoman Maria Zakharova blamed rising prices on Western sanctions, dpa reports.
"If you don't understand that, it's either a sign of stupidity or deliberately misleading the public," she told Baerbock.
Another reason for the global food crisis is, according to Zakharova, the collapse of Ukraine's statehood, for which she also holds the west responsible.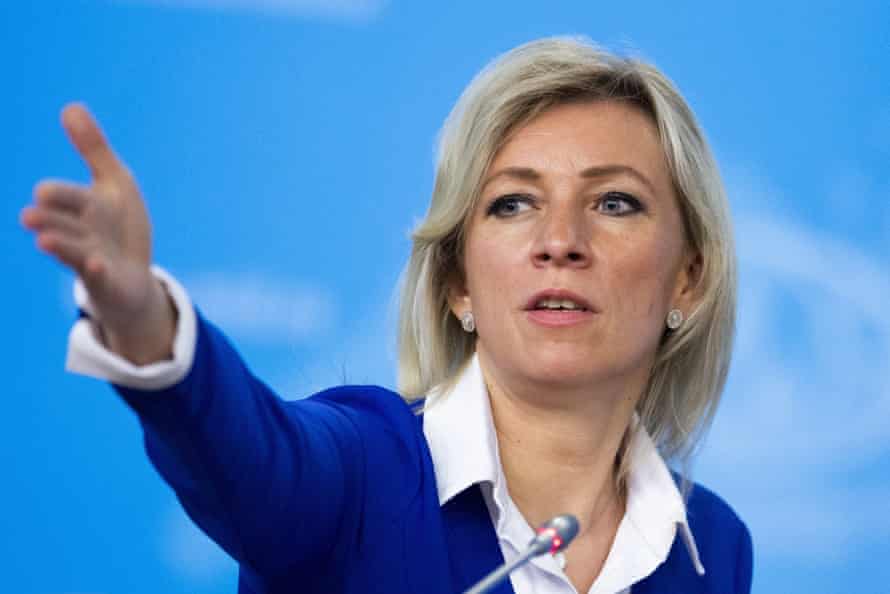 "One of the reasons for this is the predecessors of Ms Baerbock, who not only interfered in the situation in the country, but also shaped Ukraine's domestic and foreign policy by hand," Zakharova claimed.
Baerbock had previously expressed concerns about an imminent global famine at the Baltic Sea G7 meeting, and had accused Russia of blocking Ukraine's seaports and thus preventing grain exports.
Ukraine is one of the most important grain producers in the world.
The foreign ministers of Finland and Turkey will meet in Berlin later on Saturday to try to solve disagreements over Finland's and Sweden's plan to join Nato, Finnish foreign minister Pekka Haavisto said.
He told reporters he was "confident that in the end we will find a solution and Finland [and] Sweden will become members of Nato" as he arrived for a meeting of Nato foreign ministers in Berlin, adding he had spoken to his "good colleague" Mevlut Cavusoglu by phone on Friday.
Referring to a phone call initiated by Finland's president to Vladimir Putin, Haavisto said it was "very important that we communicate with our neighbour" even if "we don't ask any permission for our political steps".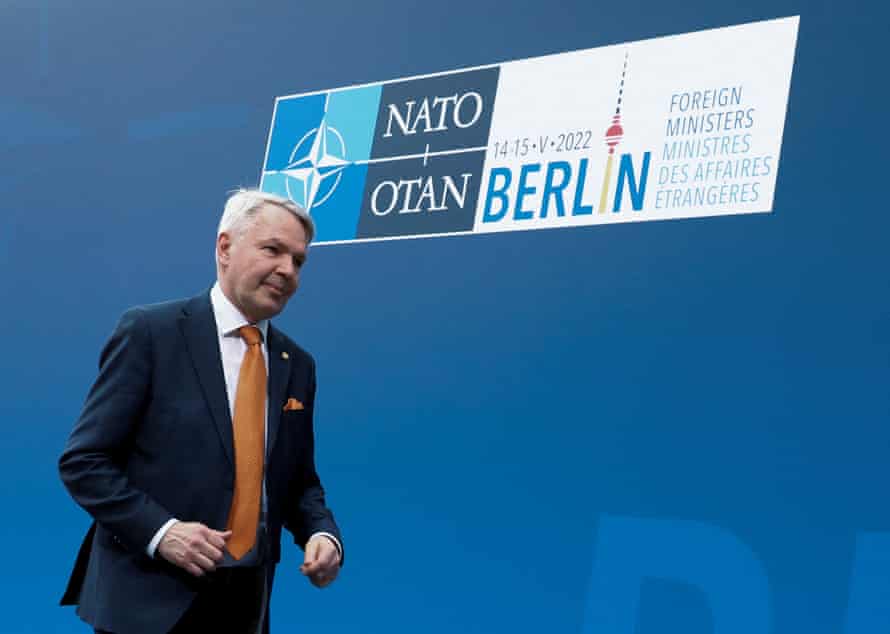 People fleeing the war in Ukraine are being put up with UK hosts who have not had a criminal record check, it has emerged, adding to concerns about the government's response to the refugee crisis.
46,100 Ukrainians have so far arrived in the UK, and in many cases, people have been housed for weeks by hosts who still are waiting for their Disclosure and Barring Service (DBS) checks.
My colleagues Mark Townsend and Anna Fazackerley have more.
Portugal has blocked the sale of a €10m mansion belonging to Russian billionaire Roman Abramovich, Publico newspaper said on Saturday.
The property registry of the mansion in the luxury Quinta do Lago resort in the Algarve was frozen so the ownership cannot change on 25 March at the request of the foreign ministry, according to the report.
The sanctioned former Chelsea owner tried to sell the property 15 days before Russia's invasion of Ukraine began through the Delaware-based Millhouse Views LLC, owned by his investment holding.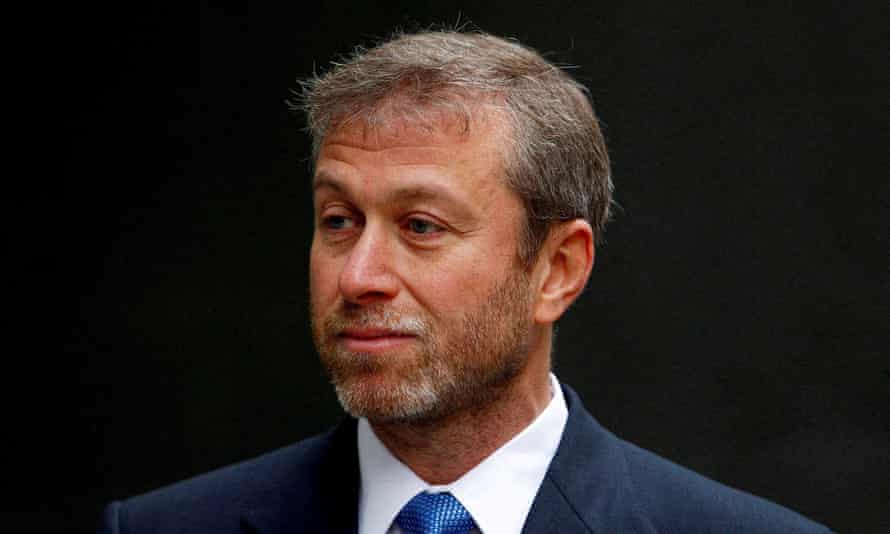 Portugal's largest bank, Caixa Geral de Depositos, alerted authorities, the newspaper said. The bank declined to comment, and a spokesperson for Abramovich did not respond to phone calls and messages from journalists.
Abramovich has been sanctioned by the British government, the EU and Switzerland over his links to Russian president Vladimir Putin, an allegation which he denies.
He was granted Portuguese citizenship last year based on a law offering naturalisation to descendants of Sephardic Jews who were expelled from the Iberian peninsula during the mediaeval Inquisition.

Turkey has proposed carrying out a sea evacuation of hundreds of wounded fighters holed up in a steel plant in the Ukrainian city of Mariupol, president Tayyip Erdoğan's spokesman and top foreign policy adviser, Ibrahim Kalin, said on Saturday.
Mariupol is under Russian control, and a number of civilians who were sheltering in the steel works were evacuated earlier this month with the help of the International Committee of the Red Cross and the UN.
Kalin told Reuters he had personally discussed the proposal with Ukrainian president Volodymyr Zelenskiy in Kyiv two weeks ago and that it remained "on the table" although Moscow had not agreed to it.

Under the plan, evacuees would be taken by land to the port of Berdyansk on the Sea of Azov, and be picked up by a Turkish vessel that would take them across the Black Sea to Istanbul, he said.
"If it can be done that way, we are happy to do it. We are ready. In fact our ship is ready to go and bring the injured soldiers and other civilians to Turkey," Kalin said.
Ukraine and Russia did not immediately comment on the possibility of an evacuation by sea.
Zelenskiy has said complex talks were under way to evacuate a large number of wounded soldiers from the steel works in return for the release of Russian prisoners of war.
Kalin said the Russian position "changes day to day".
Turkey objected to Russia's invasion and has supplied Kyiv with armed drones, but opposes western sanctions on Moscow.
That's it from me for today. Thanks for reading. I'm handing you over to my colleague Jedidajah Otte, who'll take you through the next few hours. Here's a summary of the day's main developments:
The US Senate minority leader, Mitch McConnell, joined the growing list of US politicians making visits to Kyiv. The Ukrainian president Volodymyr Zelenskiy welcomed McConnell's visit as a powerful signal of bipartisan support for Ukraine.
Finland's president Sauli Niinistö told Vladimir Putin Helsinki plans to join Nato. Niinistö delivered the news during a phone call with the Russian leader.
In response, Putin said abandoning neutrality would be a mistake and that there are no current threats to Finland's security. Russia has described Helsinki's bid to join Nato as a hostile move that "definitely" would represent a threat – to which Moscow will respond.
Russian troops have withdrawn from the Kharkiv city area, its mayor Ihor Terekhov said. He said that, "due to the efforts of Kharkiv territorial defence and Ukrainian Armed Forces, the Russians have withdrawn out far from the city area in the direction of the Russian border".
The war will be over by the end of 2022, Ukraine's head of military intelligence said. Major general Kyrylo Budanov claimed Moscow was suffering heavy casualties and predicted a turning point by mid-August – adding his belief that "most of the active combat actions will have finished by the end of this year".
Moscow is failing to reach its political aims in Ukraine, the UK's Ministry of Defence (MoD) said. The fact Russia has only succeeded in imposing a pro-Russia local leadership in the city of Kherson "highlights the failure of Russia's invasion to make progress towards its political objectives," the latest intelligence update said.
"Very difficult negotiations" on the next stage of evacuations from Mariupol were ongoing, Zelenskiy said. The city's last remaining Ukrainian defenders were holed up in the Azovstal steel plant.