Russian troops have reportedly captured the east Ukraine town of Kreminna while local authorities have urged residents in the Donetsk and Luhansk regions to evacuate.
"Currently, control over the city of Kreminna is lost, street fights are taking place," Luhansk regional governor Sergiy Gaiday said in a statement on his official Telegram channel on Monday night.
"Russians shot dead people trying to leave Kreminna," he added, claiming four people had been killed as they tried to evacuate in their own vehicles on Monday morning.



The Russians opened fire on a car with civilians. Four people died."
Homes, buildings, a sports complex and other facilities were also destroyed as a result of shelling in the town as well as in the nearby towns of Rubizne and Lysychansk.
In Lysychansk, the building of the regional patrol police department was destroyed, resulting in the hospitalisation of six policemen, Gaiday added.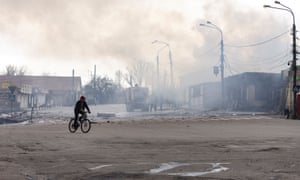 I strongly urge people to evacuate … There are no safe places left in the region – evacuate, we can still save you."
The head of Kreminna's military administration, Oleksandr Dunets, told Radio Donbas: "The fighting lasted three days and Russia used a large number of armoured vehicles to attack the city."
Kreminna as well as nearby Rubizhne, Severodonetsk and Lysychansk, have withstood heavy shelling from both sides for several days on the frontline. Rubizhne, which had more than 60,000 residents before the war began, came under intense Ukrainian artillery and mortar fire on Monday, AFP journalists saw.
Kreminna, with a pre-war population of nearly 20,000 people, is around 50km (31 miles) northeast of Kramatorsk, the region's administrative centre, and is a strategic target for invading Russian forces.