Self Esteem reviewed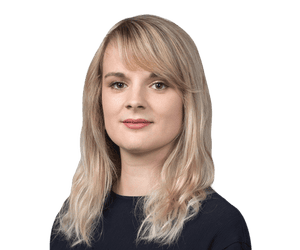 Elle Hunt
John Peel stage, 3.15pm
Rebecca Lucy Taylor, AKA Self Esteem, arrives on the John Peel stage heralded by heavy bass and percussion, and the mission statement of her 2021 album, Prioritise Pleasure projected on the screen behind her: "There is nothing that terrifies a man more than a woman that appears completely deranged." She herself is poised and imperial in a silver-threaded cape and a sheer black shirt, open to reveal a glittering bustier: its design inspired by the roof of her local shopping centre in Sheffield. But as we quickly clock from her cheeky over-the-shoulder grin as she sheds her cape to face us bra-first, this is no untouchable queen to rule over us from on high: Taylor stands alongside us in the trenches, keeping up morale and sharing her hard-won wisdom.
By the end of her defiant, triumphant curtain-raiser I'm Fine, Taylor has the crowd barking like dogs, hungry for her brand of idiosyncratic pop that manages to be at once funny and profound, conversational and operatic, energetic and serene. She concludes Fucking Wizardry in an angelic assembly with her trio of backing singer-dancers, their hands held in prayer and their faces sombre. But then the winking holier-than-thou facade drops to reveal the down-to-earth Yorkshire lass the audience knows and clearly loves, with "Prioritise Pleasure" reflected back at her on the crowd's T-shirts and flags: "I feel like Robbie Williams!" she tells them.
Taylor's certainly not short on swagger – but this is of the essentially feminine kind, with a sisterly dynamic on stage (bar Taylor's "token male" on drums) elevating her dancers from more than mere backup to real, nourishing support. She concludes the title track being cradled in their arms, singing "I thought that you would be kind to me." It's one of many beautiful moments in a set that celebrates female friendship, wisdom and power in earnest, without being cloying or trite.
In amongst the hackneyed therapy speak of pop stars beseeching us to love ourselves, there is something genuinely, quietly empowering about Taylor's sanguine shrug in The 345 (which, in the shadow of Roe repealed, she dedicates to "our sisters in America, fucking hell"): "The thing is, you just gotta keep going, I suppose."
More than girl power, Taylor's approach to feminism is one that centres and celebrates community and inclusiveness. She dedicates a song to Big Jeff, a titan of the Bristol indie scene currently in hospital: "I want to see you back out in the crowd soon." This one is by no means a melon party, or whatever one might call the female version of sausage-fest; and her life lessons are one that everyone can benefit from.
As my colleague Laura Snapes observes, drawing a comparison with Jessie Ware (who similarly set her stage alight at the recent Primavera festival in Barcelona and headlines the Park stage tonight), Taylor makes a compelling case for a moratorium on all pop stars until they are into their 30s, when they have experiences to draw from and something to say that isn't about the punishments of celebrity (as is the case with stars too young to have known anything else). Taylor's lyrics are raw and sometimes confronting on the page, but you can see in her face how heartfelt they are.
"Never have I just enjoyed the moment," she sings in Prioritise Pleasure, her expression sombre, full of the sadness of that realisation. But as she launches into the triumphant chorus of "I'm free", doing high kicks with the biggest grin on her face, you believe she is enjoying this one. In fact, as she takes in the thunderous applause, she misses her cue for her next song. She restarts, apologetically: "I was taking it in, guys. That's what Robyn would do!"
By the end of Taylor's set, her crowd extends beyond the tent and is shedding many happy tears, echoing back her manifesto in I Do This All the Time: "Don't be embarrassed that all you've had is fun." This is more than fun; this is euphoria.
London Trans Pride at Shangri La
Tara Joshi
Down in Shangri-La, London Trans Pride are taking over the Nomad stage with the Chateau. During the day that means workshops such as banner and sign-making for the forthcoming London Trans Pride March (on 9 July), making DIY packers and breastformers (gender affirming items that are often prohibitively expensive to buy), and inviting people to make collages of their gender expression. Against a backdrop of rampant transphobia in the UK, it all feels very nourishing.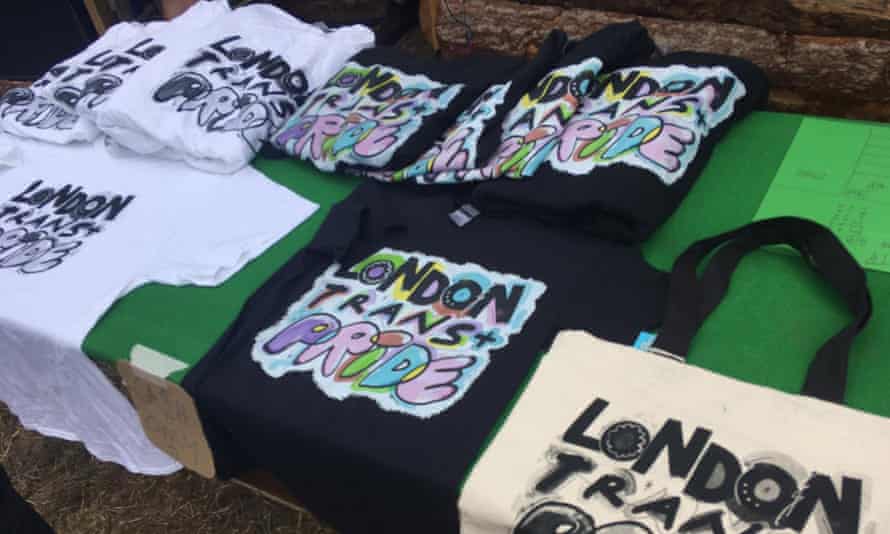 Speaking to a few of the committee members from London Trans Pride (who didn't wish to be named individually), they talk about the importance of trans visibility and advocacy for trans youth, notably in a country often referred to as "terf island" (not least after the recent decision to ban gay conversion therapy, but not trans conversion therapy). As they say, trans rights are human rights.
Statistically, one of them adds, most people don't know a trans person, and media depictions aren't always accurate – so having this space in the daytime is a good way for people to have conversations, and build solidarity and community outside of nightlife. But rest assured there will be some dancing too, with DJ sets from the likes of Shivum Sharma later on. Catch you down there!
AJ Tracey reviewed!
Tara Joshi
Pyramid stage, 4pm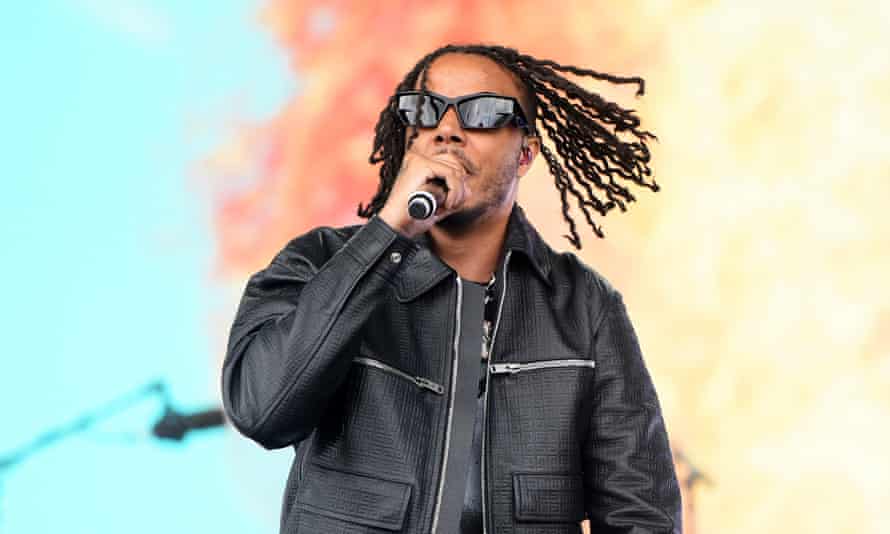 I missed the first half of this trekking across the site – but even from afar the West London rapper's easy command of the stage is apparent. Strutting around in his sunglasses, he looks nonchalant surveying the absolutely massive crowd – and with the live band behind him replete with roaring guitars, it honestly feels more like a rock show. Although it's a gig weighted (towards the end at least) with tracks from his most recent album, Flu Game, he does treat us to a rare performance of Thiago Silva, his infamous duet with Dave (though mercifully he does not attempt another "Alex from Glasto" moment). He brings out rap's prince of the north, a grinning Aitch, so they can do a joyful rendition of Rain (before Aitch gets booed for trying to shout out Manchester United). Then AJ finishes, of course, by asking people to say where he's from – the chants of Ladbroke Grove lead us into the euphoric final track of the same name.
We have been reliably informed that Sam Fender and his band are roaming the site wearing multicoloured wigs as a disguise.
And Catie, 33, is taking him to "Maceos to get him in the photo booth and then I'd sneak him in the back of NYC Downlow so he can dance in the stage in his undies. And then Stone Circle where we'll share a balloon and watch the sun rise. I hope he doesn't forget his acoustic guitar."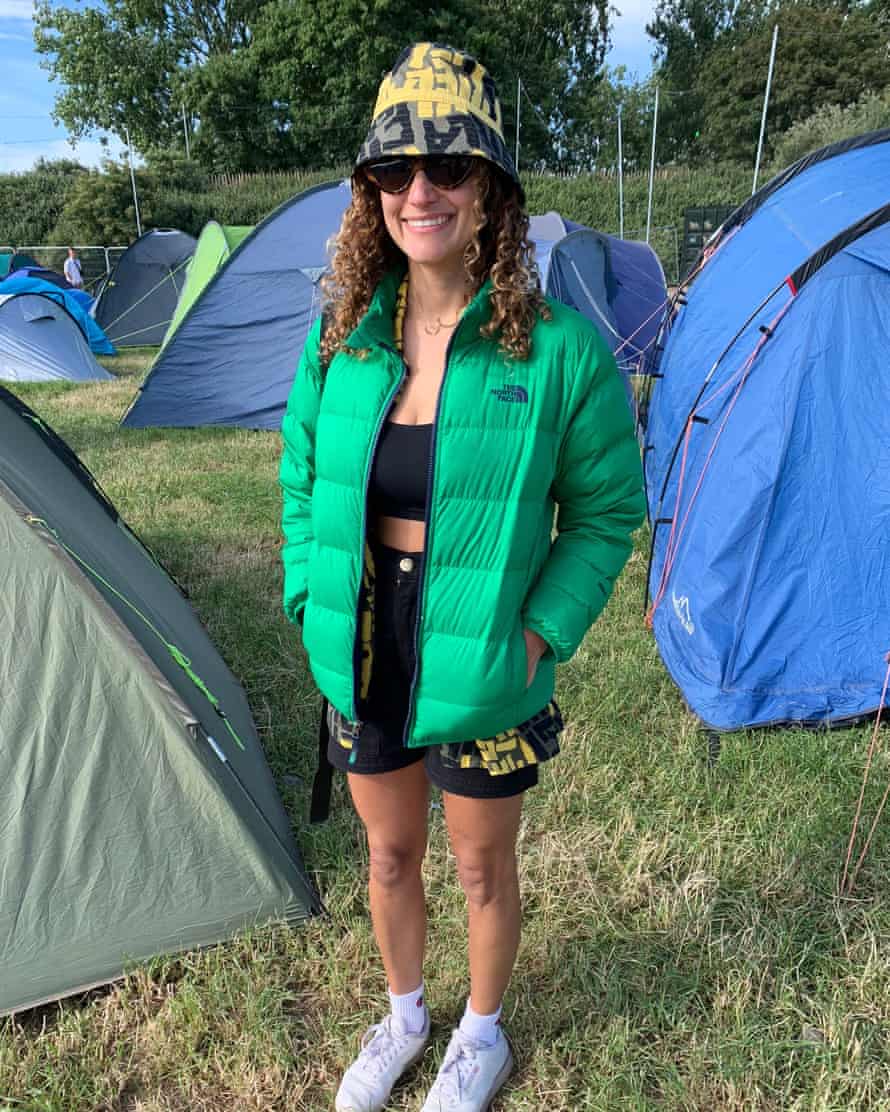 Greta Thunberg on the Pyramid stage!
Sophie Zeldin-O'Neill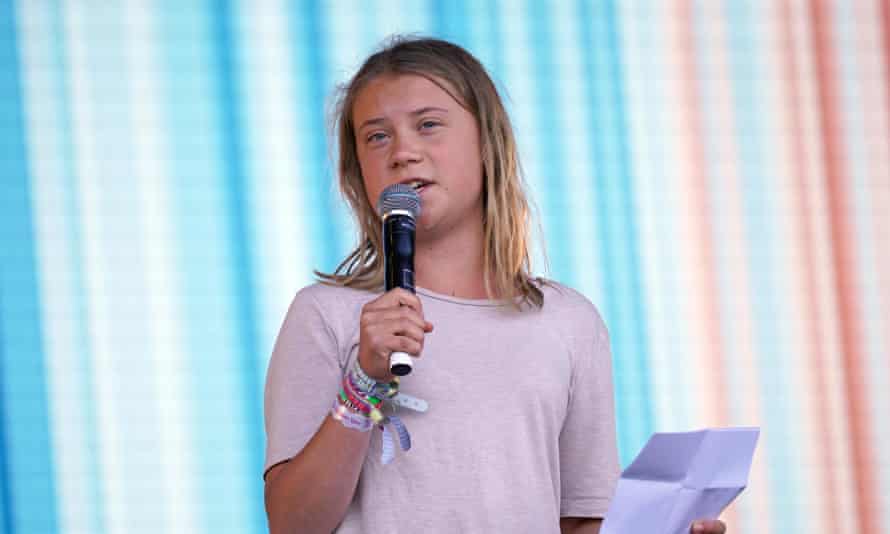 "We have been lied to and deprived of our rights as democratic citizens, and left unaware. But there is hope. Because when we understand the full extent of the crisis, we can act. There are no limits to what we can do. We need the full story. There is still time to choose a new path and step back from the cliff. A sustainable path. A just path. Right now we are in desperate need of hope. But hope for who? Hope is not about pretending everything will be fine or listening to fairytales about non-existent technologies. Hope has to be earned. Hope is taking action, stepping outside your comfort zone. Imagine what we can do if we really try. We are standing at the precipice. All those who have not been greenwashed need to stand their ground. Right here and right now is where we stand our ground. This story must be told in news articles, at dining tables, in schools, board rooms and marketplaces, football games, hospitals, old people's homes, social media, at music festivals, everywhere, all the time. The time has come for us to retell the story and perhaps even change the ending."
We've been out and about meeting more of Glastonbury's most stylish people.
Jazz, 31, and Owen, 35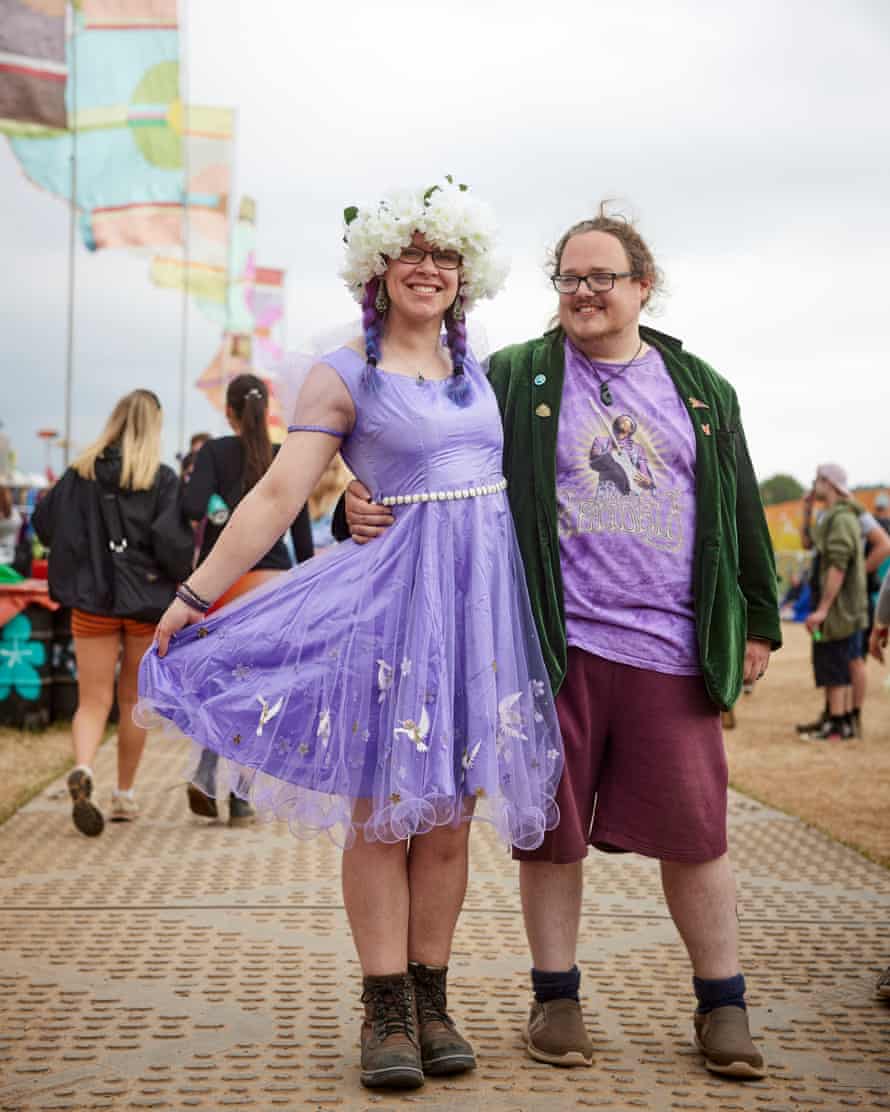 Jazz: This outfit was made by one of my best friends: the dress was a bridesmaid's dress for her wedding and the headdress was for my hen weekend – we're getting married on Pennard Hill in the summer and you'll be able to see the Pyramid stage from our wedding ceremony. This place obviously means a lot to us.
Owen: I used to go as a kid, so I feel like I've grown up here. It does mean a lot. But my look is just what I wear every day. I've not made any effort at all: I just rolled out of bed and put on what I normally put on. I'm seeing Gong later, that'll be good.
Jazz: I'm really interested in seeing the Ukrainian Eurovision acts, some comedy and cabaret, a little bit of everything…
John, 39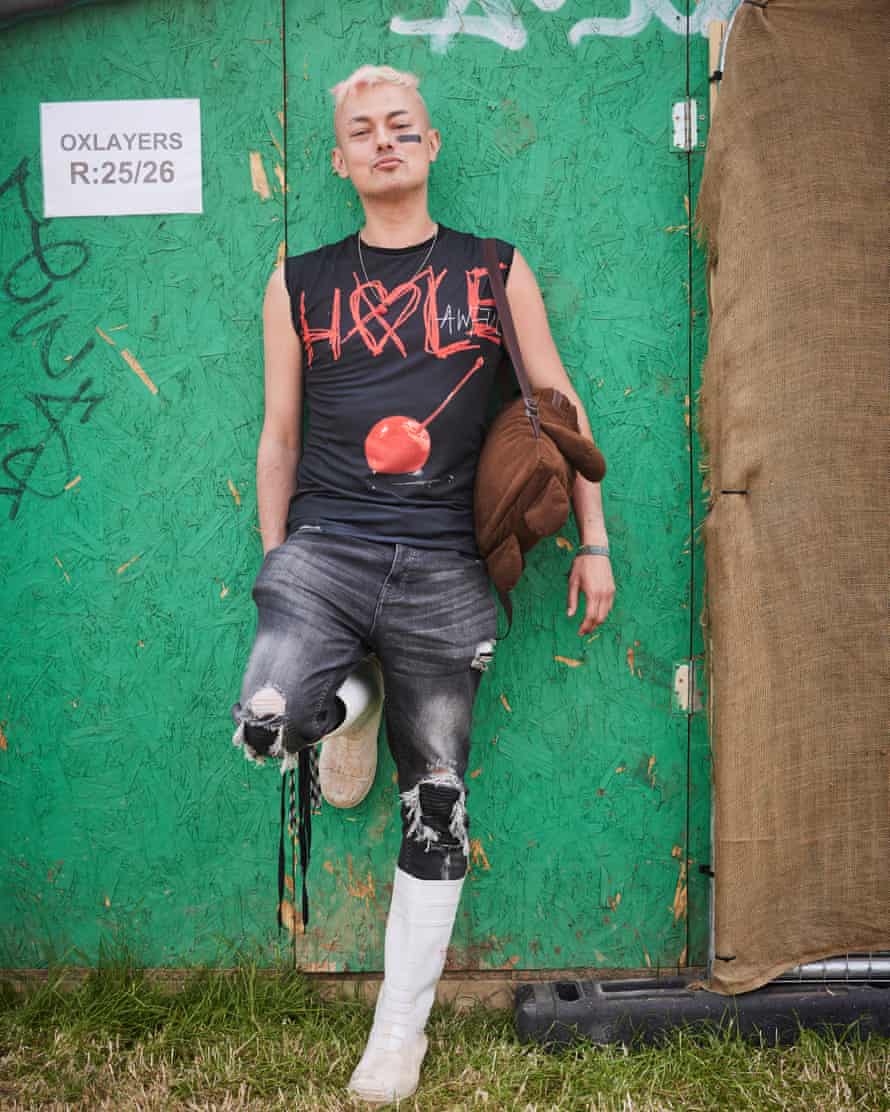 The face stripe is for TLC, and inspired by Lisa "Left Eye" Lopes. The Hole T-shirt is because they played here on the Friday many years ago. It's a mix of references, a weird combination of influences, but that's Glastonbury. I'm going to see Wolf Alice, Diana Ross, Megan Thee Stallion. But to be honest I would come here even if there were no bands playing: just for the stalls, the activities, the gathering together of people. It's just a vibe. Everyone here is so nice and chill. The first year I came, in 2003, I was a bit of a clean freak and was so horrified of the toilets I held in my poo for three days and was in serious discomfort. But you've just got to get over that, get into the vibe and the way things are, and go with the flow.
Jack, 37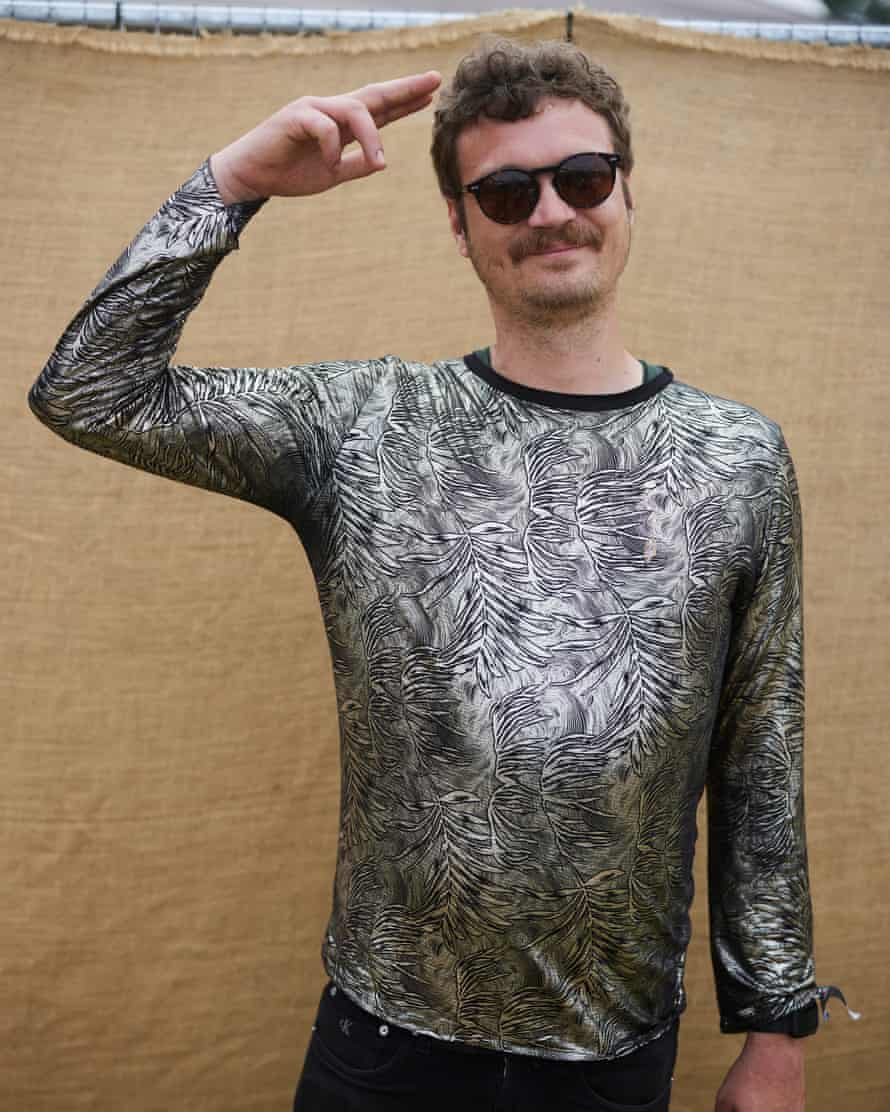 I've just joined the RSPB to get this new owl badge that looks like my recently deceased cat Pricilla so that she's here with us in spirit. The rest of the top has a Mr Spock vibe I think – my wife made it, she's a professional. This is a significant Glastonbury for me: my 20th anniversary. I got lost and accidentally joined the Hare Krishnas at my first one in 2002.
John, 64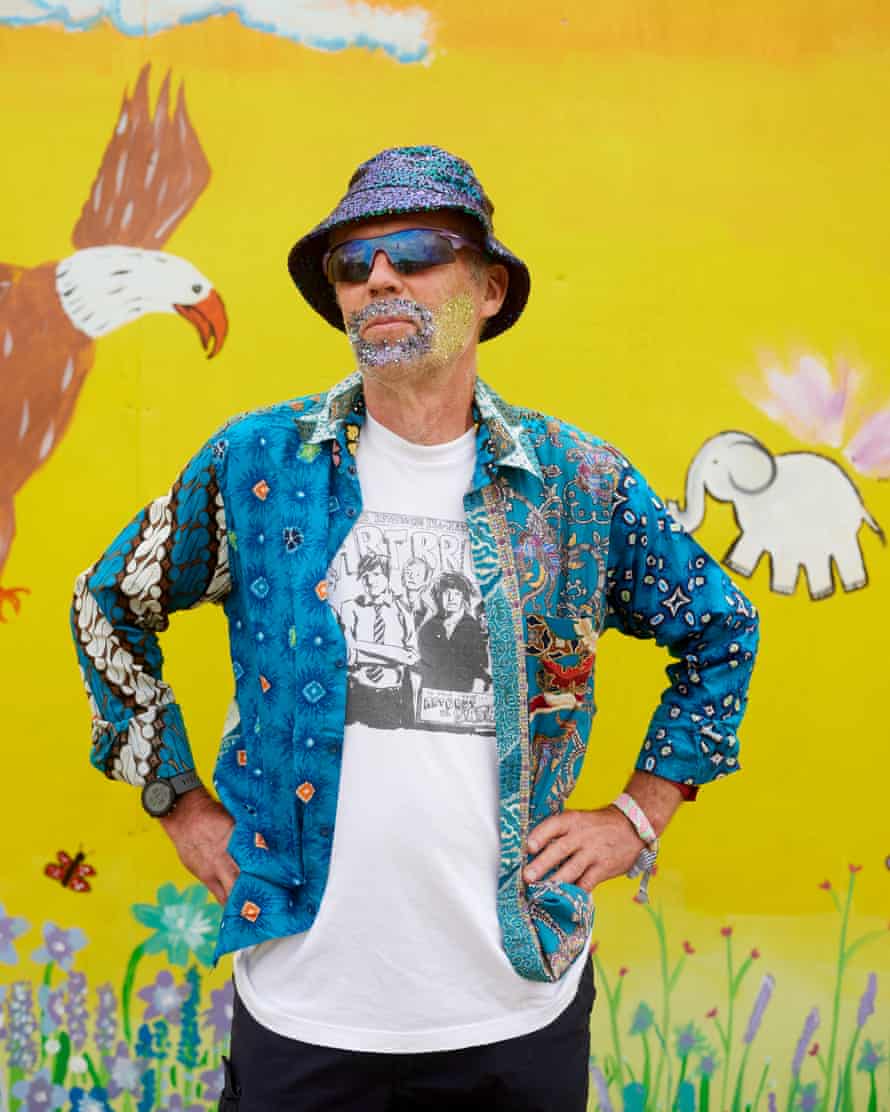 I don't know what started it, but every year I come here now, I get my face or beard painted. I don't have a regular face-painter to do it, but you're always guaranteed to find one. I work here, on the recycling team, and there's great craic on the team. So I'm here for the vibe, the music, the atmosphere: you can just let Glastonbury come to you.
Jen, 50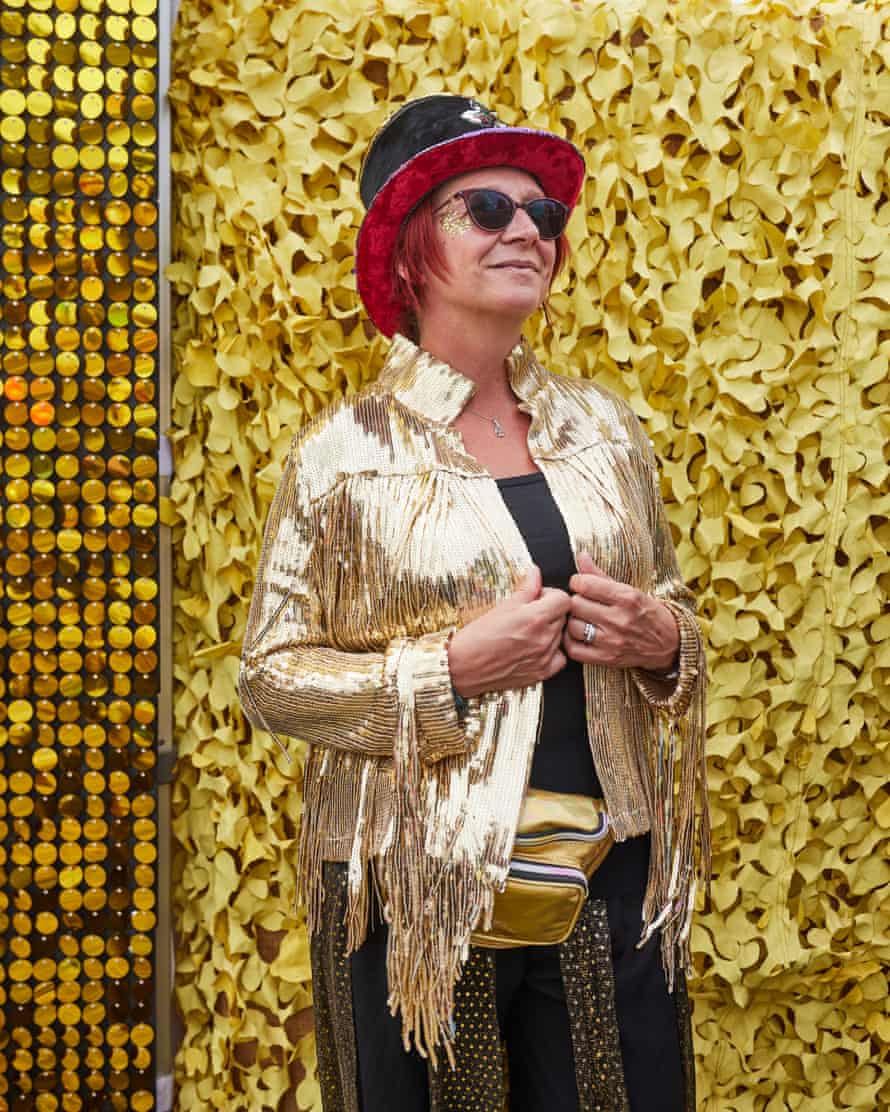 I turned 50 this year and it's Glastonbury's 50th anniversary, so me and our group thought we'd all mark the golden anniversary. There's a gang of us all wearing bits and pieces of sparkle: all the gold we could get our hands on, basically. We go to a lot of festivals but there's nothing like this. Now we're 50 though, we come in vans so we can take it easy up in the camper van fields.
Emily Eavis is introducing Greta Thunberg on the main stage, and calling this year's Glastonbury the best festival ever, Sophie Zeldin-O'Neill says.
Yves Tumor reviewed!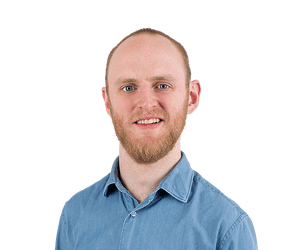 Ben Beaumont-Thomas
West Holts stage, 4pm
Yves Tumor walks on stage – or rather sashays with the withering contempt of a supermodel giving a paparazzo the slip – in the weekend's most powerful look: studded leather underpants and a matching waistcoat with 69 on the back. If the message wasn't clear, the latter is soon removed to reveal a waistband studded with the word SEX. They later thrust their crotch into the video camera, spit on the lens and rub it with their fingers.
Yes, you rather think Tumor probably wouldn't stay the night, much less buy the coffees in the morning, but the West Holts audience are seduced nonetheless with this display of dream pop and punk chaos. Gospel for a New Century is anchored with an almost hip-hop beat, but for the most part these songs sound at risk of splitting apart: a gorgeous, dangerous sound.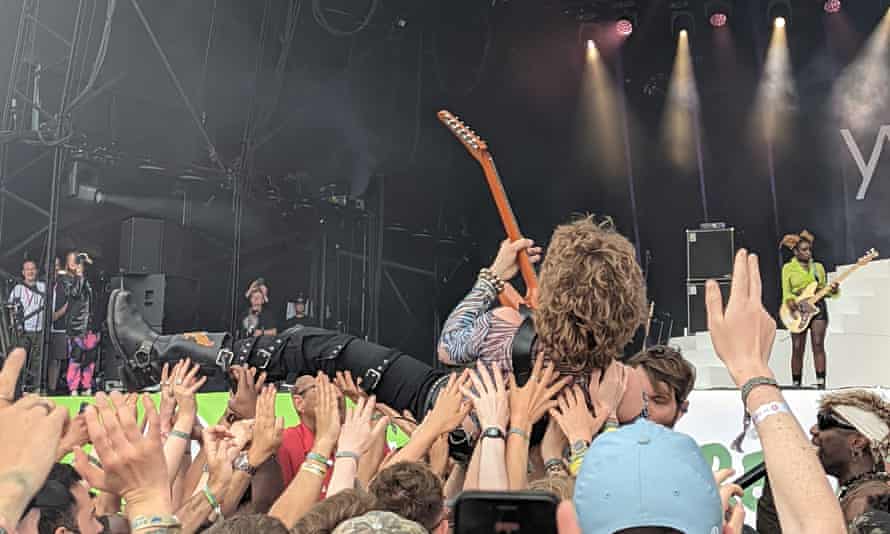 The sublime madness is heightened by Tumor's guitarist who almost steals the show. Looking like the kind of 70s street punk who might threaten old ladies on the subway in a public information film, he does Van Halen tapping, plays behind his head, and on Kerosene delivers an un-toppable solo of the weekend, unlocking new echelons of the sky with every piercing note.
But Tumor's show it is, and he ends it by strutting up and down the front row, intimidatingly flirting with the security and jumping in the crowd. "Be aggressive! Be be aggressive!" he'd made us chant earlier – and this was a blast of necessary aggression to make the festival truly come alive.
With a little help from my friends
To celebrate Paul McCartney's 80th birthday last week, Shane from Clapton tells our Kate Hutchinson that he would take him to "NYC Downlow, I'd get him a pink moustache on the door and show him a good time. I think he'd love the music and the people – I think he's a bit of an untapped queer icon."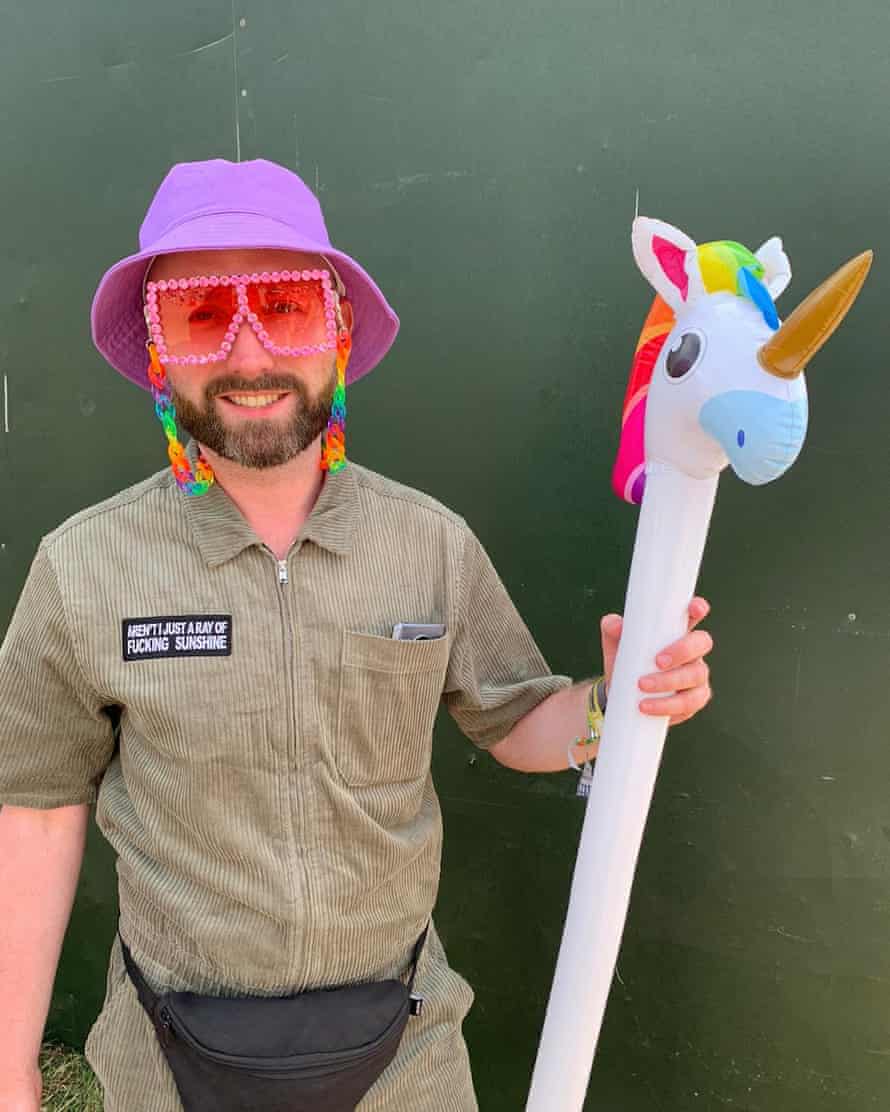 Just in from Ben Beaumont-Thomas: "Yves Tumor was sick af!!!!!!"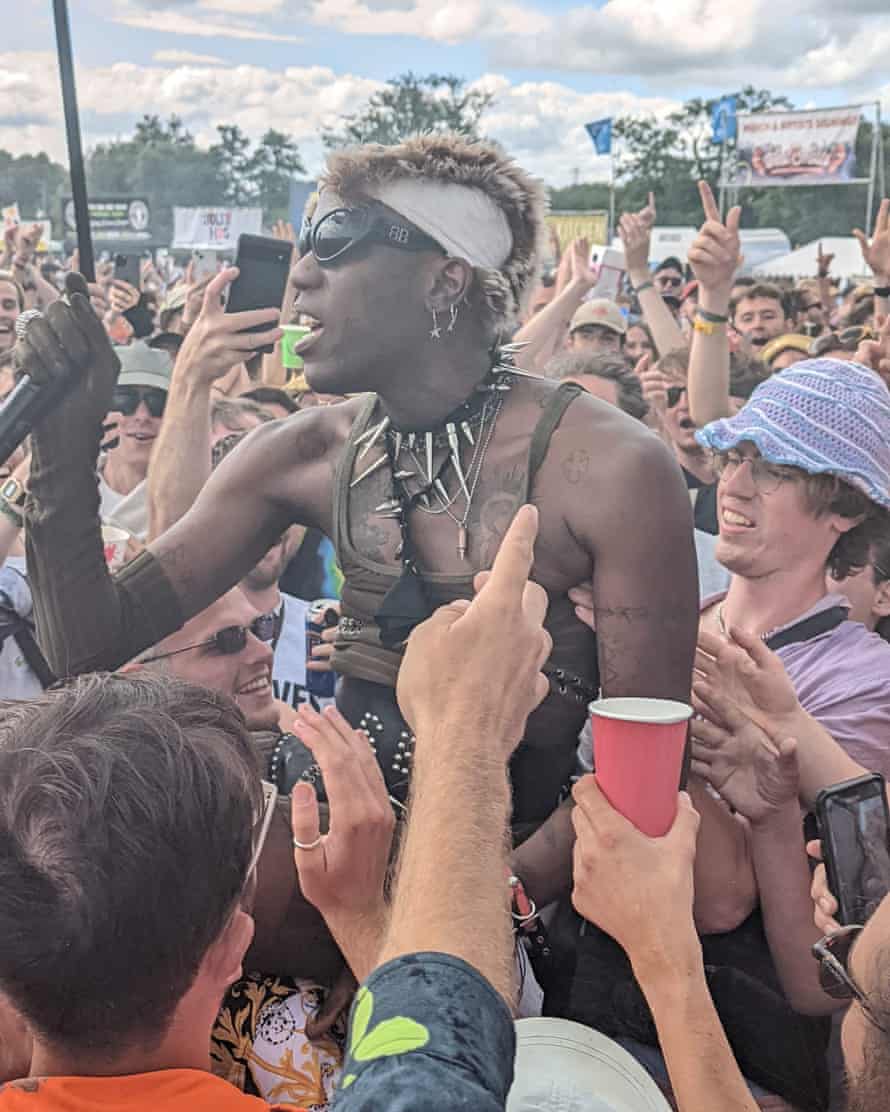 Out and about on Saturday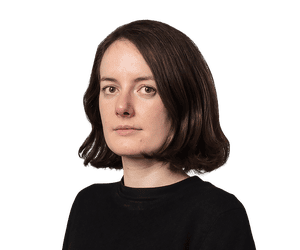 Laura Snapes
While I recover from that emotionally obliterating Self Esteem set, let's have a look at what else has been going on today.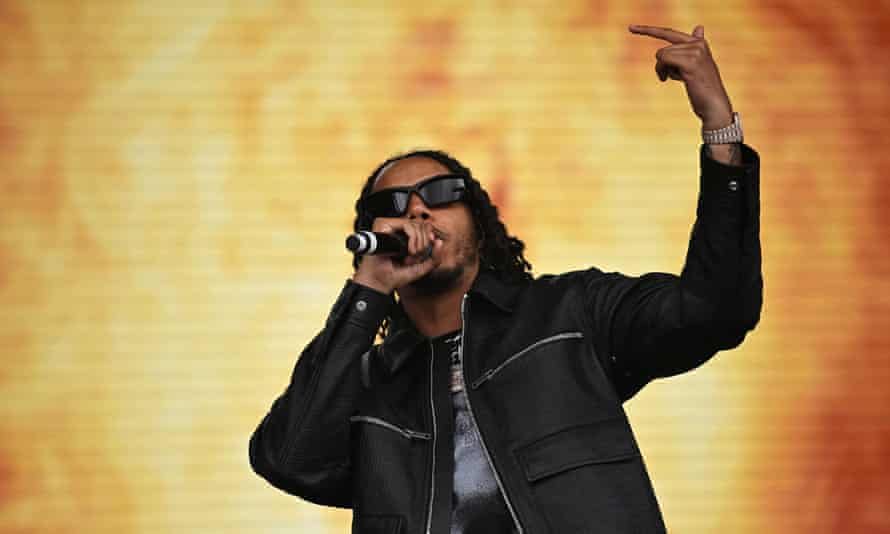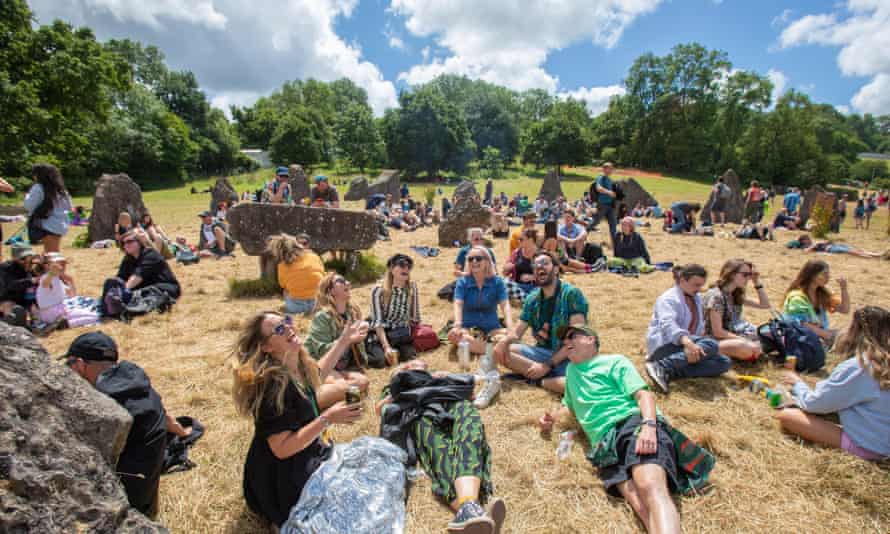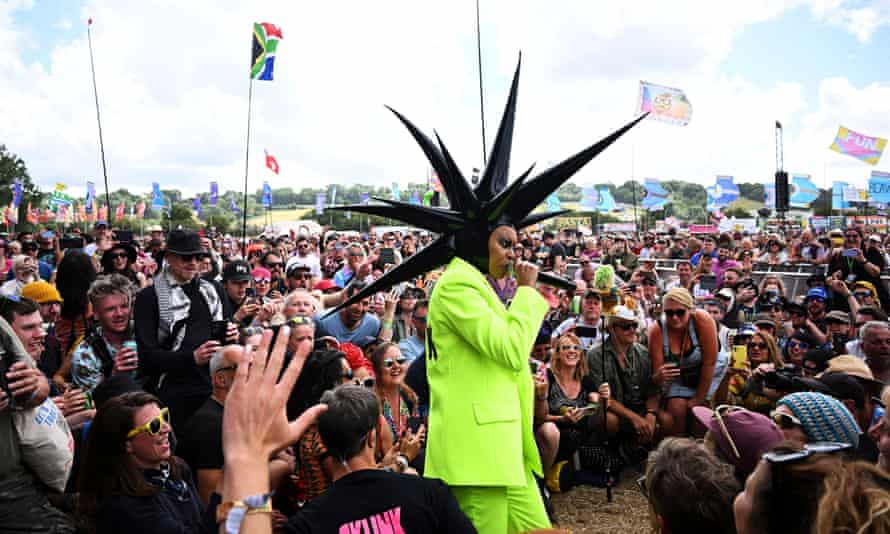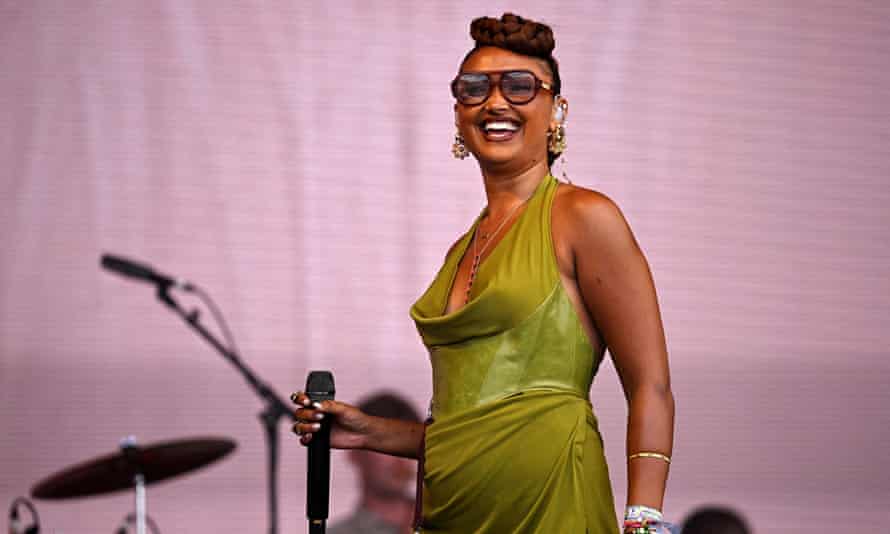 Self Esteem interviewed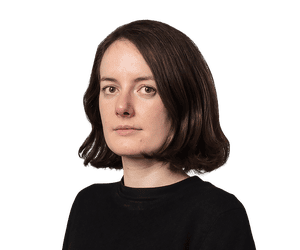 Laura Snapes
All weekend, we're hosting morning interviews with musicians up on the William's Green stage. Yesterday we had Sleaford Mods with music editor Ben Beaumont-Thomas, and today Alexis Petridis spoke to the frankly fantastic – I'm already saying queen of Glastonbury – Self Esteem, AKA Rebecca Lucy Taylor. Read it here!