Texas officials: 'No excuse for not tackling shooter'
The head of the Texas department of public safety has said "there's no excuse" for officers not trying to break into an elementary school classroom where a gunman was killing 19 students and two teachers.
Steven McCraw was facing questions over law enforcement's response to Tuesday's shooting at Robb elementary, at a lunchtime briefing in Uvalde.
Reporters wanted to know why law enforcement officers waited outside for about an hour while the killing continued, and before a Swat team eventually breached the classroom and shot the killer dead.
Parents and locals pleaded with officers in vain to go in and end the massacre, even as the sound of gunshots was audible from outside.
"It was the wrong decision," McCraw conceded.
"The on-scene commander at the time believed it had transitioned from an active shooter to a barricaded subject," he said, adding the commander thought "there were no children at risk".
"Obviously, based upon the information we [now] have, there were children in that classroom at risk".
Asked about a "40-minute gap" in which 911 operators were aware children were alive, but officers still didn't go in, he added:
The decision was made that this was a barricaded subject, there was time to retrieve the keys and wait for a tactical team … that was the decision, that was the thought process.

With the benefit of hindsight, of course it was not the right decision, it was the wrong decision. Period. There's no excuse for that.
That's all for live coverage today. Some links and updates from the day:
Charlie Scudder reported for the Guardian from outside the NRA convention today, where politicians spoke alongside those who lost loved ones to gun violence.
Scudder writes that lawmakers promised action on gun control:
US Congresswoman Sheila Jackson Lee, said that Democratic House leadership would consider gun control bills in the coming weeks. "I have no need to challenge your guns. I have no need to challenge the constitution," she said. "We have heard your voices… I have been in the fight for [too] long."

Harris County Judge Lina Hidalgo, the county's primary executive in Houston, called on state legislators to pass similar measures. "We should not make the grandmothers cry," Hidalgo said. "You did not elect me to offer thoughts and prayers."
Trump and other Republicans have also called for metal detectors in schools in response to the Uvalde massacre, even though experts have repeatedly dismissed this as an ineffective response that can have harmful consequences.
From a 2019 USA Today report after a California school shooting:
Chris Dorn, senior analyst for the campus safety group Safe Havens International, is not convinced that's a worthwhile investment.

Dorn said metal detectors are costly – proper use requires an armed guard – and tend to jam up entrances. They can also create a prison-like feeling among students, have been linked to diminished academic performance and, worst of all, don't work well in school settings.
And as NBC News reported this week, the state of Texas had granted Uvalde funding for these kinds of security measures, but that did not prevent the bloodshed:
In 2020, the Texas state government awarded Uvalde a $69,000 grant to be spent on hardening measures, such as metal detectors, barriers, security systems and "campus-wide active shooter alarm systems," according to state records. The funding was part of the state's 2019 initiative for physical security upgrades.
Donald Trump has also echoed his Republican colleagues by claiming that the best way to prevent mass shootings is to have armed officers in place with proper training on how to respond to active shooters.
But the revelations from the last 24 hours about how the Uvalde tragedy unfolded have highlighted how a large law enforcement presence, with officers trained in active shooter situations, can still fail to stop mass casualties.
More reading here on what went wrong:
Donald Trump speaks at the NRA convention
The former president Donald Trump, who rejected calls to cancel his appearance at the annual NRA convention, has taken the stage. He started with a brief moment of silence for the victims of the school massacre, but went on to praise the "wonderful NRA".
On the calls for greater gun control, Trump said, "There's always a grotesque effort by some in our society to use the suffering of others to advance their own extreme political agenda."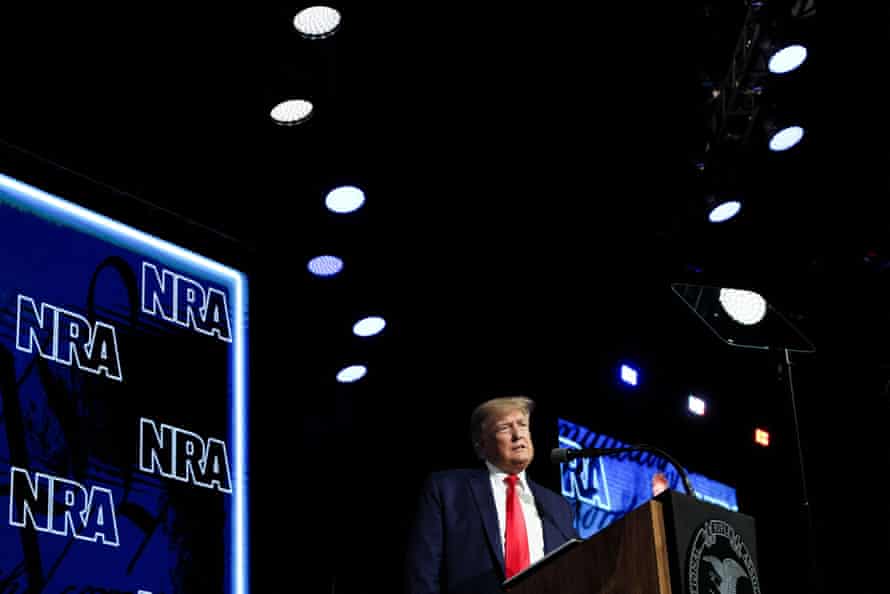 Polls, however, suggest these are not extreme views, but rather the majority of Americans supporter stronger gun laws. In a poll this week, 84% said they supported background checks for all firearm sales, 70% said they supported backing "red flag" laws to allow police to confiscate guns from people considered a threat, and 72% said they support raising the minimum age to purchase a gun from 18 to 21.
Trump, like his Republican colleagues in Texas and across the country, has focused on mental illness in his remarks, saying, "We need to drastically change our approach to mental health." Experts, however, say this focus is misguided, since just 3-5% of violent acts can be attributed to mental health problems, according to the US Department of Health and Human Services. People with mental illness are significantly more likely to be victims of crime than perpetrators.
From our previous reporting after mass shootings in 2019, Arthur C Evans Jr, CEO of the American Psychological Association, said, "Blaming mental illness for the gun violence in our country is simplistic and inaccurate and goes against the scientific evidence currently available."
More reading here on the problems of blaming mental illness for mass shootings:
Growing scrutiny of Uvalde school district police chief
Pete Arredondo, the school district police chief, is facing growing scrutiny over the response to the shooter.
Arredondo led the response, which state officials now say included the "wrong decision" of having armed police wait for an extended period outside the classroom where the gunman was killing children and teachers, without storming in. Arredondo has served as the chief of the school district's police force for two years and was also recently elected the city council, the New York Times reported.
The Times also noted that the department he leads, which includes five others, had done in-person training exercises to prepare for mass shootings, which included role-playing in school hallways. Arredondo had told district officials the training exercises were "very successful", the paper reported. CNN has further context on Arredondo:
Arredondo posted on Facebook that his department was hosting an "active shooter training" at Uvalde high school in an effort to prepare local law enforcement to respond to 'any situation that may arise'. A flyer for the event he posted stated that topics covered would include priorities for school-based law enforcement and how to 'stop the killing'.
Fact checking Texas governor's claims on mental illness
Texas governor Greg Abbott has again rejected calls for stricter gun laws at a press conference, deflecting questions about proposals to ban 18-year-olds from purchasing assault rifles and expand background checks:
"Ever since Texas has been a state, an 18-year-old has had the ability to buy a long gun, a rifle … We're focusing our attention on the wrong things."
He argued that teenagers' access to assault rifles was not contributing to the problem, but rather mental health problems were to blame, saying, "Anyone who suggests that maybe we should focus on background checks as opposed to mental health is mistaken."
But, as the Washington Post noted in its coverage this week, although conservatives and commentators across the political spectrum have been focusing on "mental illness", research has consistently shown that a very small percentage of violent acts can be linked to mental health challenges:
Despite public perception and misleading commentary from many elected officials, decades of research have found that people with mental illness are responsible for a tiny fraction of interpersonal and other gun violence.
Some more details from a 2019 McClatchy fact check of Donald Trump, who suggested without evidence that mental illness was a main cause of gun violence noted:
Just 3-5% of violent acts can be attributed to mental health problems, according to the US Department of Health and Human Services, whereas mentally ill people are more than 10 times more likely to be victims of violent crime than are the general population.
The 18-year-old Uvalde gunman legally purchased his rifles, modeled after military weaponry, shortly after his 18th birthday.
Governor Abbott says he was 'misled' by law enforcement
Texas governor Greg Abbott, facing mounting questions about why the police's narrative has changed so dramatically, said he was "misled" and is "livid" and blamed local law enforcement officials for giving him incorrect information:
I was misled. I am livid about what happened. I was on this very stage two days ago, I was telling the public information that had been told to me… I wrote down hand notes in detail about what everyone in that room told me in sequential order about what happened.

It was a recitation of what people in that room told me. The information that I was given turned out in part to be inaccurate. I am absolutely livid about that. My expectation is that the law enforcement leaders that are leading the investigation … that they get to the bottom of every fact with absolute certainty. There are people who deserve answers the most – the families who lives have been destroyed. They need answers that are accurate. It's inexcusable that they may have suffered from any inaccurate information.
Governor Greg Abbott, who at the last minute canceled his scheduled appearance at the NRA's convention, is speaking at a press conference now.
He says there will be a mental health help line available for residents of Uvalde 24/7 at: 888-690-0799.
He says an anonymous donor gave $175,000 to cover funeral costs.
He says the mental health care services are available to "anyone in the community who needs it – the totality of anyone who lives in this community".
Every family impacted by the shooting has been assigned an advocate to help them with their needs, he says, noting that includes airfare for travel for funerals and healthcare costs.
He says people can make donations to support victims at onestarfoundation.org/uvalde.
Hi all – Sam Levin taking over our live coverage.
Senator Dick Durbin has announced that the Senate judiciary committee will hold a hearing on 15 June focused on gun violence and youth:
The Democrat noted that gun violence in 2020 became the leading cause of death among children and adolescents in the US, overtaking car accidents. Durbin also lamented today that every single Senate Republican voted against his domestic terrorism prevention act.
More here on the relevant gun violence research from our earlier coverage:
It's Richard Luscombe signing off. I'm handing over the blog to my colleagues on the west coast now, who will guide you through the next hours. Greg Abbott, the Texas governor will speak to reporters shortly and is sure to face questions about law enforcement's failure to tackle the Uvalde gunman.
I wanted my final post of the day, however, to be about the victims. Please take some time to read here about the children and their teachers who were killed on Tuesday in their elementary school.
Patricia Paduay-Oliver, whose 17-year-old son Joaquin was among the 17 victims of the 2018 Parkland high school shooting in Florida, met Beto O'Rourke are she joined the anti-NRA protest in Houston today.
She and her husband, Joaquin's father Manuel Oliver, founded the advocacy group Change the Ref, which urges citizens to be part of the fight for gun reform instead of leaving it to politicians. He told CNN this afternoon:
We have to make the difference. It's on us. If you're expecting these guys to solve the problem while you're watching TV in your living room you're wrong, because you can be the next victim.
Charlie Scudder reports from Houston…
Around 1.30pm, Beto O'Rourke gave brief remarks to the crowd of several hundred outside the NRA convention hall. The Democrat is running for Texas governor, and confronted his opponent, Governor Greg Abbott, at a press conference in Uvalde this week.
In Houston, O'Rourke spoke briefly. Talking about meeting families of the victims in Uvalde, he said he would never forget their names.
"The time for us to have stopped Uvalde was right after Sandy Hook," he said, referring to the killing of 20 children and six adults in Connecticut in 2012.
"The time for us to have stopped Uvalde was right after Parkland."
Seventeen people died in that shooting, at a high school in Florida in 2018.
"The time for us to have stopped Uvalde was right after Santa Fe high school."
Ten people were killed there, in Texas, three months after Parkland.
O'Rourke said: "To the attendees of the NRA convention across the street, you are not our enemy. Join us to make sure this never happens again."
The speech was brief and many attendees left the rally as other speakers began speaking. About 500 people stayed to chant and listen to speakers, across the street from the convention's main entrance.
Texas governor Greg Abbott will speak to the media a little later this afternoon about the Uvalde school shooting, but not all of his focus is there. Martin Pengelly and Charlie Scudder have this report:
Amid mounting fury over the National Rifle Association holding its convention in Houston three days after 19 children and two adults were shot dead at a school in Uvalde, the governor of Texas withdrew from speaking in person at the event.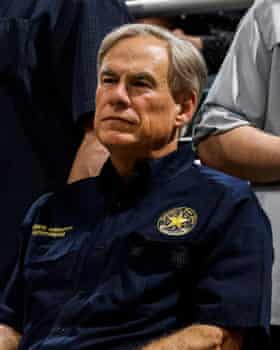 Greg Abbott was still due to address the NRA by video, while visiting Uvalde and holding a press conference there.
The Republican governor stirred controversy by attending a political fundraiser on Tuesday, the day the shooting occurred. His staff then said he would suspend all political activity.
In a dramatic scene on Wednesday, as Abbott and others gave a briefing about Uvalde, they were confronted by Beto O'Rourke, the Democratic candidate for governor.
O'Rourke, who is strongly pro-gun control, told Abbott: "This is on you."
Abbott's lieutenant governor, Dan Patrick, withdrew from speaking to the NRA, saying he did not want "to bring any additional pain or grief to the families and all those suffering in Uvalde".
Other prominent Republicans to withdraw included Dan Crenshaw, a congressman, and Senator John Cornyn. Cornyn is involved in negotiations in Washington over gun law reform, although a spokesperson said his withdrawal was for personal reasons.
Prominent Republicans still planning to speak included former president Donald Trump, the Texas senator Ted Cruz and the governor of South Dakota, Kristi Noem.
Cruz, a leading recipient of gun group donations, has maintained a high profile since the shooting, angrily clashing with one reporter who asked about gun reform.
Read the full story:
Charlie Scudder reports from Houston…
A series of speakers outside the NRA convention hall spoke to several hundred people through the early afternoon. Between speeches from politicians, people who lost loved ones to gun violence shared their stories.
One woman who introduced herself as Adrienne said her son died after being shot in a road rage incident on Halloween 2019.
"I had to bury my baby on his 19th birthday. No parent should have to have that. My son was my life," she said. "I'm the one serving a life sentence, not the monster who shot my son."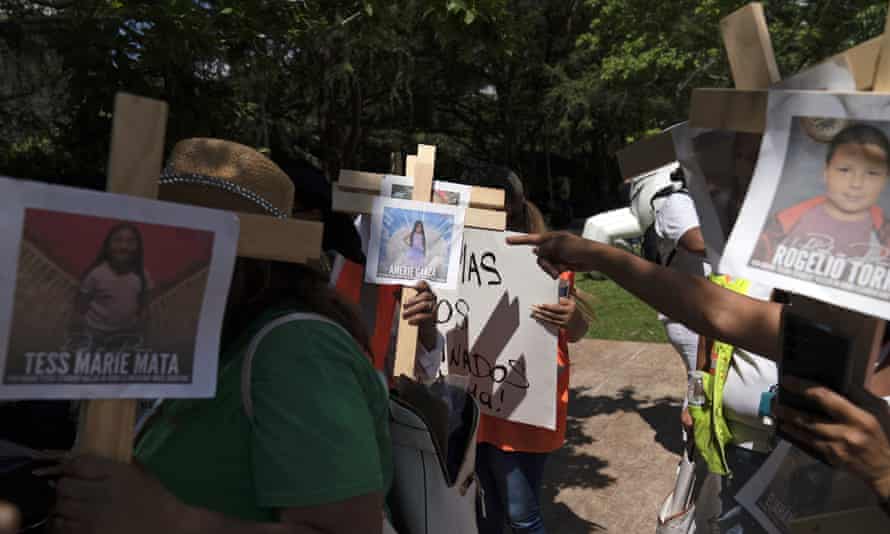 The US representative Sheila Jackson Lee said she and democratic House leadership will consider bills on gun control in the coming weeks.
"I have no need to challenge your guns. I have no need to challenge the constitution," she said. "We have heard your voices … I have been in the fight for [too] long."
The Harris county judge, Lena Hidalgo, the primary executive in Houston, called on state legislators to pass similar measures.
"We should not make the grandmothers cry," Hidalgo said. "You did not elect me to offer thoughts and prayers."
Here's our news story about this afternoon's press conference in Uvalde, Texas, in which we learned that children inside classrooms at Robb elementary were frantically calling 911 for help as a gunman murdered their schoolmates, and up to 19 police officers stood outside in school hallways without intervening: