00:54
Here's a quick rundown of how we're going to do things in the next couple of hours …
As we've seen a few times now, curling starts off the day's action, but we'll soon thereafter have multiple sports vying for our attention.
Here's where it gets difficult. We have two medal events kicking off at the same time, 40 minutes from now — the women's freestyle skiing slopestyle final and the women's snowboarding big air final.
So if you're like me, you'll have two screens devoted to people doing flippy-twisty things in the air. And if you're reading this, you'll see me go back and forth between the two events with unnerving regularity.
Here's what I'll do:
All updates from the snowboarding big air final will start with "Big board," and everything from the freestyle skiing slopestyle final will start with "Freeslopestyle."
Got it?
Once that's done, the women's downhill will be the only event running for about an hour, and then we'll get the men's hockey playoffs. Then it'll be the men's turn to do flippy-twisty things in the freeslopestyle qualifiers and the big board final. But someone else will be taking that for you while I catch up on curling highlights.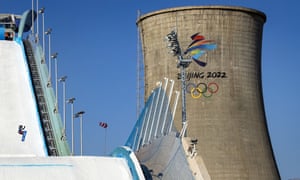 00:35
Hello again, everyone. I'm Beau Dure, and I'll be your live blogger for the next few hours. A quick catchup on the Olympic news …
Slovakia's Petra Vlhova, who won the Alpine skiing World Cup last year and rallied to win the slalom last week, will not race in the combined due to an ankle injury. That leaves the door that much more open for Mikaela Shiffrin, who'll race in a couple of hours in the downhill, which she's using as preparation for that combined. Shiffrin is the world champion in the event. The bad news for Shiffrin, aside from the fact that she isn't one for bad sportsmanship and would rather see a healthy Vlhova here, is that her chief rival for the overall World Cup trophy will have a few extra days to rest.
Also bowing out of competition due to an injury: US freestyle skier Marin Hamill, who qualified for the slopestyle final coming up in less than an hour but suffered a terrible crash on her next run.
In better news for the USA — for the 56th straight year, the USA won the Super Bowl.
00:15
Coming up today
Times are all in local Beijing time. For Sydney it is +3 hours, for London it is -8 hours, for New York it is -13 hours and San Francisco is -16 hours.
9.05am and 2.05pm and 8.05pm Curling – more 12-round robin contests 🥌
9.30am-10.24am and 12.30pm-1.33pm and 7pm Freestyle skiing – the rescheduled three runs of the women's slopestyle are first, then at lunchtime it is the rescheduled men's slopestyle qualification and then in the evening it is qualification for the men's aerials. Although frankly this programme seems to change from hour to hour so your guess is as good as mine 🥇
9.30am-10.24am and 1pm-1.45pm Snowboard – women do the big air final in the morning, the men do the big air final in the afternoon. That's a lot of big air 🥇
11am Alpine skiing – it is the women's downhill 🥇
2.30pm-4.47pm Speed skating – a brilliant day ahead at the National Speed Skating Oval as the men's and women's pursuit competitions both reach their finals 🥇
12.10pm and 4.40pm and 9.10pm Ice hockey – it is the play-off round for the men with four matches 🏒
4pm and 7pm Nordic combined – it is the individual Gundersen large hill/10km cross-country which deserves a gold medal for longest event title surely? They jump at 4pm, and then at 7pm the best ski jumpers desperately try to hold on to the slim time advantage they gained with their extra metres 🥇
5pm Biathlon – the men do their 4×7.5km relay 🥇
6pm Figures skating – the women's single skating short program will be the next instalment of the Kamila Valieva story ⛸
8.15pm and 9.50pm Bobsleigh – the final two heats for the men's two-man teams 🥇